Randy Kochenderfer
By Kristi Quinn, Sister
Randy Kochenderfer was born in Hot Springs, South Dakota on April 29, 1953. He was the youngest of three and the only boy. Being the son of a teacher and Superintendent of Schools, the Kochenderfer's moved every 2-4 years to various small towns in South Dakota. In 1966, Randy and his family moved to Sioux Falls, where they lived for 47 years.
As a youngster, Randy loved hats! It didn't matter what kind of hat; he was known to wear baseball hats, football helmets, fireman hats, police hats, hard hats, military hats, and more. His family remembers him going to a basketball game in Fairfax, wearing a WW2 gas mask!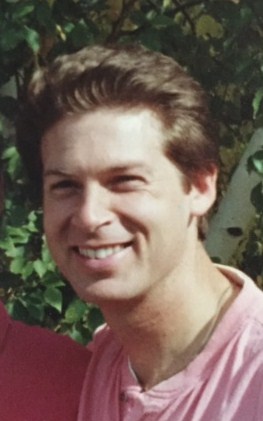 Randy was small for his age, but always gave 100% to the sports of baseball, basketball,
and track. It was at the age of 13, when the Kochenderfer's moved to Sioux Falls, that Randy became interested in tennis. His Uncle, Dr. Art Kilness,( Augustana Hall of Fame athlete ) started him on the courts at McKennan Park. He had the build, the discipline, and the love of tennis from the very beginning. It became a passion for Randy. He and Art, and his father "Koke" would volley for hours at McKennan Park, during the heat of the South Dakota summers. If his parents couldn't find him, they could rest assured he would have found a few players at the park, with whom to volley, or play some serious tennis. His family still remembers those skinny, but strong "bird legs" attached to a huge pair of feet, flying towards the net, then reversing for a kill at mid court. As he developed physically, Randy had strong legs and he was quick, confident, bold, and untiring. Randy was known to be extremely calm and cool on the court, with the integrity of the best in the game, and was highly respected by his fellow competitors.
Chris Dummermuth remembers friend Randy Kochenderfer
As a Lincoln Patriot, Randy was a two-time high school state doubles champion with Bill Clayton in '70 and '71, and a finalist in "69. The 1971 Patriots were state champions and were honored as contributors to tennis by the South Dakota Tennis Hall of Fame in 2009.
As an Augustana Viking, following a 9-1 season, Randy was a finalist at Flight 2 singles and captured the Flight 1 conference doubles championship with Mark Van Hoef. Randy was the conference finalist in Flight 1 singles in '74, and became one of eight Augie players ever to capture the North Central Conference Flight one singles championships in 1975.
After college, Randy continued his outstanding doubles play, reaching the finals of the SD Open in 1973 with Jim Van Gerpen, in 1974 with Marty Johnson, and in 1976 with Ron York.
Randy is a second generation member of the Augustana Sports Hall of Fame. His dad, Maurice, or "Koke" ('34) was inducted in 1972.
Randy and his Lincoln High Teammates from the 1971 State Championship team were awarded the SD Tennis Achievement Award in 2009 for their unbeaten season.

Randy attended Patrick Henry Junior High, and Lincoln High School, where he continued the love of the game. In high school he fondly remembered double teams championships with Billy Clayton as his partner, but also as a competitive rival. He also went toe to toe with the highly respected Marty Johnson. He started at Augustana the fall of 1971, and coach Ole Odney respected his drive and talent. He worked summers at the Westward Ho Country Club, as a tennis instructor. He also learned to string rackets, in the days of cat-gut and wooden frames. He drove a rusty, noisy 1953 Chevy that he had hand-painted bright yellow, and was probably the oldest car in the country club parking lot. In 1973 Randy and Mark Van Hoef won the No.1 NCC doubles championship. In April 1974 he and Dave Dummermuth were the top men's Augie players. In that year, Randy was the conference runner up to the great Marty Johnson. In 1975 Randy won the No.1 singles championship at the NCC, and became one of eight Augie players to capture the crown. Randy majored in math at Augustana, and after graduation he enrolled at the University of Minnesota and studied architecture, and continued to play tennis. One summer he spent a glorious time traveling through Europe with his family. He brought one pair of jeans, two tennis racquets, and a pair of "whites". He played casually in at least 8 countries and delighted in expanding his interest in architecture. He later moved to San Francisco, where he started a private architectural firm in San Rafael, California, and became proficient in Toastmaster's.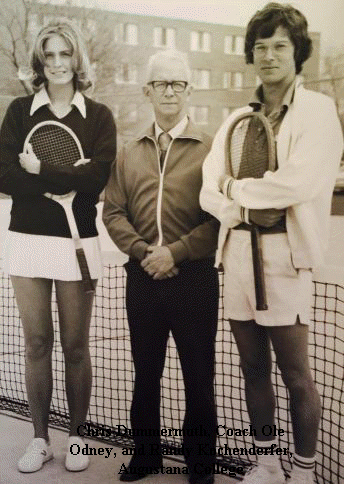 Randy never married. In 1987 he was diagnosed with malignant melanoma, which was removed, and his family breathed a sigh of relief. Six years later, he developed severe headaches, then seizures, and it was determined that the melanoma had metastasized to his lungs and brain. After multiple radiation treatments, which were a futile endeavor, he passed away on December 28, 1993. Randy was 40 years old. On October 10, 1997, Randy was posthumously inducted into the Augustana Athletic Hall of Fame. Photo (right): Chris Dummermuth, Coach Ole Odney, and Randy at the Augustana College Courts, early 1970's.
If he were here today, he would be grateful for this honor, but also very humbled by it. He would give honor to his coaches and to his competitors. He would thank them and his family for their love and support and their belief in his abilities as a tennis player. Then he would go out on these courts, at the age of 62, and teach these young and eager children how to pursue their dreams of a future in the great game of tennis, to the best of their abilities.