The Paul and Kari Richardson Family
by Doug Smith
Paul Richardson and Kari Sandvig had a mere passing aquaintance as kids. Paul was one of the Aberdeen boys to whom Wes and Betty Sandvig generously opened their home during summer tournaments in Sioux Falls in the early 1970's. Kari was the youngest child in the Sandvig line and a budding McKennan prodigy following in the footsteps of her older siblings. Separated by three years in age, however, Paul and Kari never really interacted socially until they both ended up in St. Louis, Missouri in the mid-1980s. From that point on they made up for lost time, marrying and raising three daughters who are all now college graduates. Throughout their lives together, tennis has been an abiding family staple.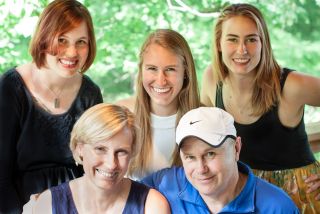 Photo: Back Row: Elyse, Emily, Laura Front: Kari and Paul Richardson
Paul was a product of the Aberdeen Racquet Club's youth movement who became a Top 10 ranked player in what is now known as the Northern Section. An ESD champion himself, he was an integral cog in the Aberdeen Central High School tennis machine which won three straight State Championships in 1972-74. The development of an irregular heartbeat kept him out of action during his Senior year of high school as well as his Freshman year at the University of South Dakota, after which he was finally given medical clearance to resume playing. Ultimately varying between the #1 and #2 positions in the Coyote lineup, Paul proceeded to win a North Central Conference championship for USD. While in college he also spent several summers teaching classes for the Aberdeen Racquet Club, probably never thinking he might one day make a career as a teaching pro.
When Kari was about to enter high school, her family moved from Sioux Falls to Rochester, Minnesota and then to Arden Hills where she played #1 for Mounds View High School and was a perennial State qualifier. Throughout her junior tennis years playing in what was then ungeographically called the Northwestern Tennis Association, year after year she was consistently ranked #2 in the Section. After spending her freshman year at the University of Arizona, Kari transferred to Minnesota where she started out as the #6 player and won a Big Ten title at that position. She finished her college tennis career playing #1 for the Gophers.
With a degree in criminal justice, Paul entered the work force as a probation officer in Aberdeen. Feeling burned out after several years of that pursuit, he followed what turned out to be a bit of a South Dakota pipeline to St. Louis, where he quickly became a valued instructor at Sunset Tennis Center. During the three decades that followed he taught both adults and juniors and mentored many juniors who became highly-ranked players in the Missouri Valley section. He loved teaching, but the thirty years of wear and tear on his knees and wrist finally led him to retire from the profession last summer.
After college, at her brother Craig's suggestion, Kari too migrated to St. Louis where she also began teaching at Sunset. Thus it was that, after having not really known each other during their junior tennis years in any greater capacity than as mere passing acquaintances, Paul and Kari met again. A love match developed and blossomed into a marriage, followed by the birth of three daughters over a span of six years. While Paul continued his teaching career at Sunset, Kari shifted gears to pursue a Master's Degree in speech and language pathology which led her to a career in special education. They both continued to play tennis, however, and as their girls grew of age Paul and Kari introduced them to the game which had brought their parents together.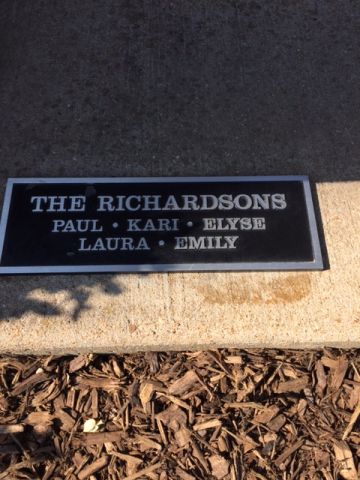 Photo: The Richardson Family is honored with a marker at the Dwight Davis Tennis Center in St. Louis
Elyse, the first-born, dabbled with tennis but followed a path of her own which culminated in a B.A. in English at uncle Craig's alma mater, the University of Iowa. Blessed with an artistic sensibility, Elyse is an avid writer who in college expanded her knowledge of sports to a level which surpassed that of both her parents. Paul and Kari credit Elyse as the family member who most kept the others grounded by making sure that tennis alone did not become everyone's complete raison d'etre.
Laura, the middle child, took quickly to tennis, and by the age of 12 she was a Top 10 ranked junior in the Missouri Valley section. In 2007 she was presented with the MVTA Sportsmanship Award. In high school she played #1 all four years and finished 2nd in the State Tournament her Senior year, all of which led to a tennis scholarship at the University of New Mexico where she was named to the Mountain West All-Conference team. During her summers Laura helped teach classes for Sunset, and she spent the past year teaching tennis in Australia.
Emily, the youngest daughter, took a page from sister Elyse by demonstrating her own writing ability in winning the Arthur Ashe Essay Contest. But then she followed in Laura's footsteps as a USTA/MVTA junior competitor and also as her high school's #1 player after Laura departed for college. Voted her team's MVP, Emily received a tennis scholarship to the University of Evansville where she played two years for the Aces before transferring to Indiana/Purdue at Ft. Wayne. She finished her college career there, competing in the Summit League with, ironically, teams from South Dakota. She graduated this May.
Paul and Kari have returned to play in the South Dakota Open a number of times, and Kari continues to play at the 5.0 level in USTA leagues where her teams have, in fact, advanced to USTA Nationals three times. With this family's tennis immersion, it is easy to see why the St. Louis District Tennis Association selected the Richardson Family as its Family of the Year in 2004. And though their second generation developed in Missouri, this family tree had its roots in South Dakota where Paul's sister Sarah and brother Jim and Kari's sisterChris all now reside. The South Dakota bond is ever-abiding.