Angela Breitag Kopfer
By Terry Nielsen
Beginning at age 10, and over a span of the next eight years, Angie Breitag pretty much accomplished everything in tennis in Sioux Falls, the state of South Dakota and in the Northern Section/United States Tennis Association. For her many accomplishments, Angela Breitag Kopfer is being inducted into the SD Tennis Hall of Fame for 2020.
Highlighting her career would be two trips to the national Seventeen tournament, winning the Northern Section Sportsmanship Award, earning top Sectional rankings in doubles with sister Tonya, as well as winning a state high school singles title in SD (1982). Additionally, she claimed four #1 doubles titles at the SD state tournament for Lincoln High School, making it a junior career to remember!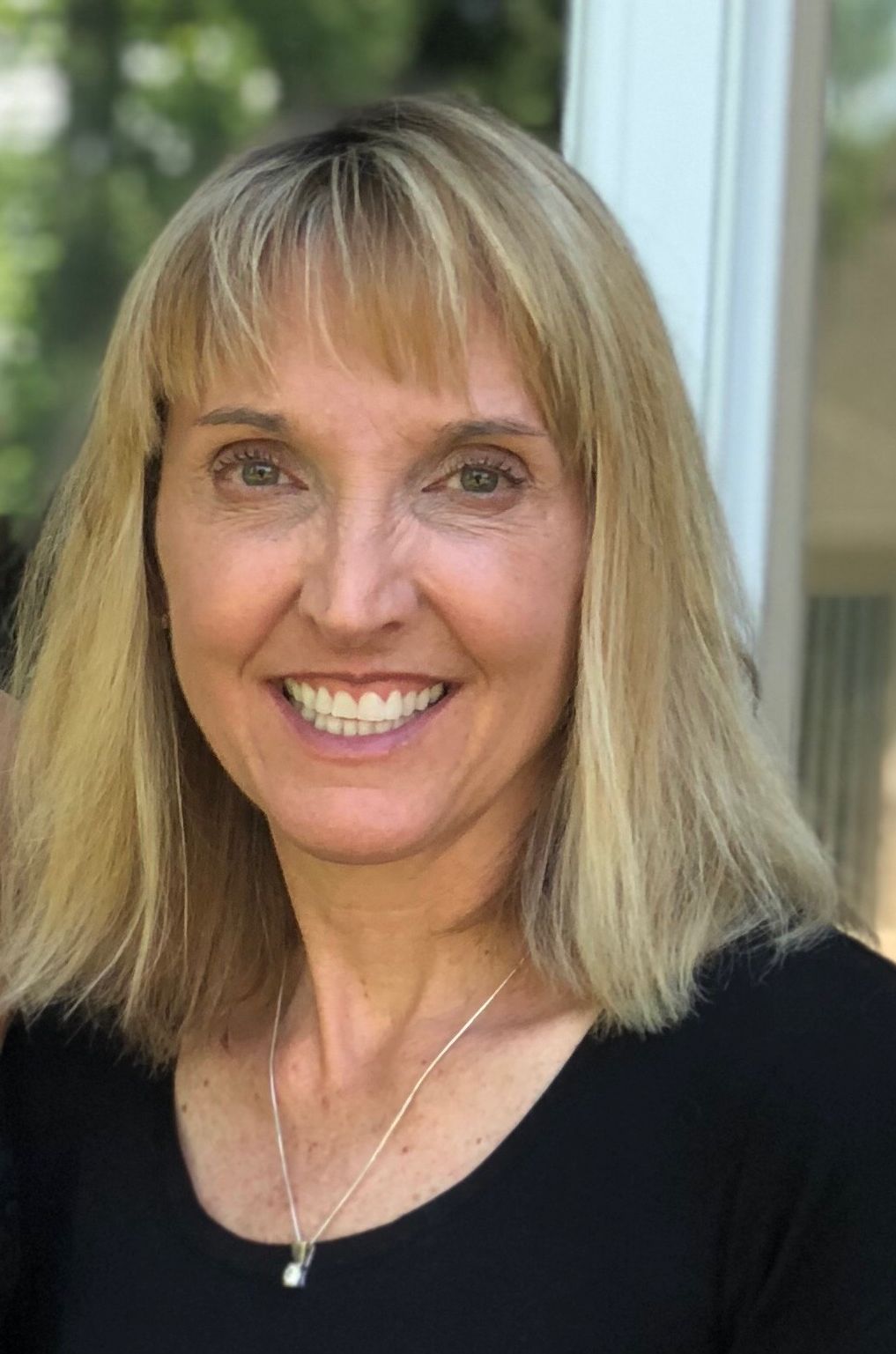 A 1985 Lincoln grad, Angela resides in Eagan, MN with husband John Kopfer and daughters Jordyn (22) and Taylor (20). Angela is a 1990 nursing graduate of the University of Minnesota, and a 1992 master's grad of their public health program, specializing in Occupational and Environmental Health nursing. She has held various leadership/management nursing positions and provided consulting services in the health care industry in the Twin Cities. She also taught nursing at Metropolitan State as an adjunct faculty member for ten years. Most recently, she has been involved in a COVID-19 nurse triage team for Presbyterian Homes and Services.
The daughter of Jim Breitag and Judy Johansen, Angela recalls following her parents to the courts at age 10, along with her nine year old sister Tonya. The sisters were instant playing partners, and hours and hours of daily practice sessions became a reality. Angie said in the late 1970's, she recalls big water coolers saving the day at McKennan Park, and great times with the likes of Jessie Daw, Sarah Zimmer, Jenny Luke, Kathy Kessinger, Jodi Sorrell and Mary Darr, to name a few. "And I was very thankful for Chris Dummermuth and Karen Bernard Heege being available to hit anytime, as well as Brian Balcer and Mike Hoeger," said Angie.
"Brian actually traveled with our family to my first national tournament (12s) in Florida," said Angie. "I quickly found out there were 100's of girls way better than I was, plus I was introduced to girls with official coaches and tennis clothing like Fila!. They didn't just hit the ball around at the park and wear yellow and red checkered tennis dresses made with grandma's sewing machine. ('I loved ours, by the way, from Grandma Eris!')."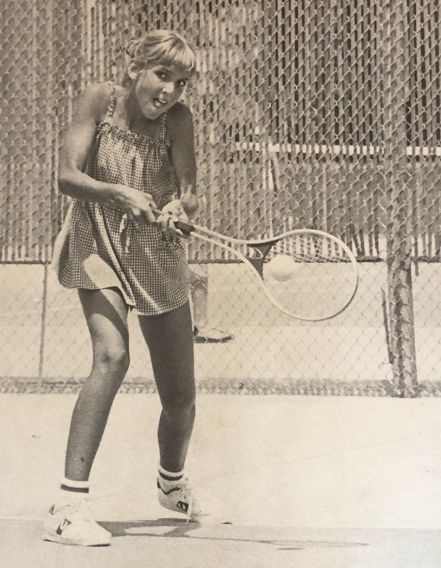 Angie continued : " I played Chris Evert's younger sister Jeanne Evert and lost 6-0, 6-1 but I got my picture in the World Tennis magazine getting a hug from my mother!"
The summer she was 16, she and Tonya trained in Wisconsin with Sioux Falls native, U of MN Gopher standout Mike Hoeger. Mike made tennis workouts super fun and tough at the same time. While there, she had a fall, breaking her left hand. She said despite the injury, it helped her develop a one handed backhand slice.
For several years, other coaches of note were teaching pros Ron Selkirk and Marty Johnson. She attributes her backhand to Selkirk and her volleys and cross court forehands to Marty. "No one could seem to get me to go up after my serve," said Angie, "but I made do. I always attributed my skills to just being a "park" player and you did what you had to do to get the W with strokes and strategy. "
"Even back then, traveling to tournaments was expensive. My parents made many sacrifices for trips to the Twin Cities, Rapid City, Aberdeen and other intersectional and national tournaments. There weren't a lot of rules for daily matches, and it was not uncommon to play 4-6 singles and doubles matches in a day. I recall starting at 8 and playing nonstop until the evening, grabbing a bite to eat in between matches. My mother had the challenge of coordinating hotels and navigating to tourney sites in strange cities before the days of Google maps. One time I was playing in the semifinals of girls 16s of Sectionals and we got lost going to the courts. We could literally SEE the courts but couldn't find the road leading to the UMN campus. We were about 20 minutes late and the tourney director offered the default to my opponent and she took it. My mother, grandmother and I cried all the way back to the car!!"
"I earned extra money working the desk and stringing racquets at Woodlake. Owner Reid Hans was so good to us with court time."
Her high school coaches were Chuck Wise and JoLynn Kouri. As a freshman at state, Angie won #1 doubles with Jessie Daw, then took the top singles title as a sophomore (over Jenny Luke of O'Gorman). Her junior and senior years singles play was dampened by injuries, but she won #1 doubles grades 10-12 with sister Tonya. Right before her junior year she had the hand fracture, then a torn meniscus. Rehabbing allowed her to at least play some doubles. As her senior year was unfolding, she got mononucleosis, but still won the doubles. Lincoln won team titles in 1981, 1982, 1984 and 1985.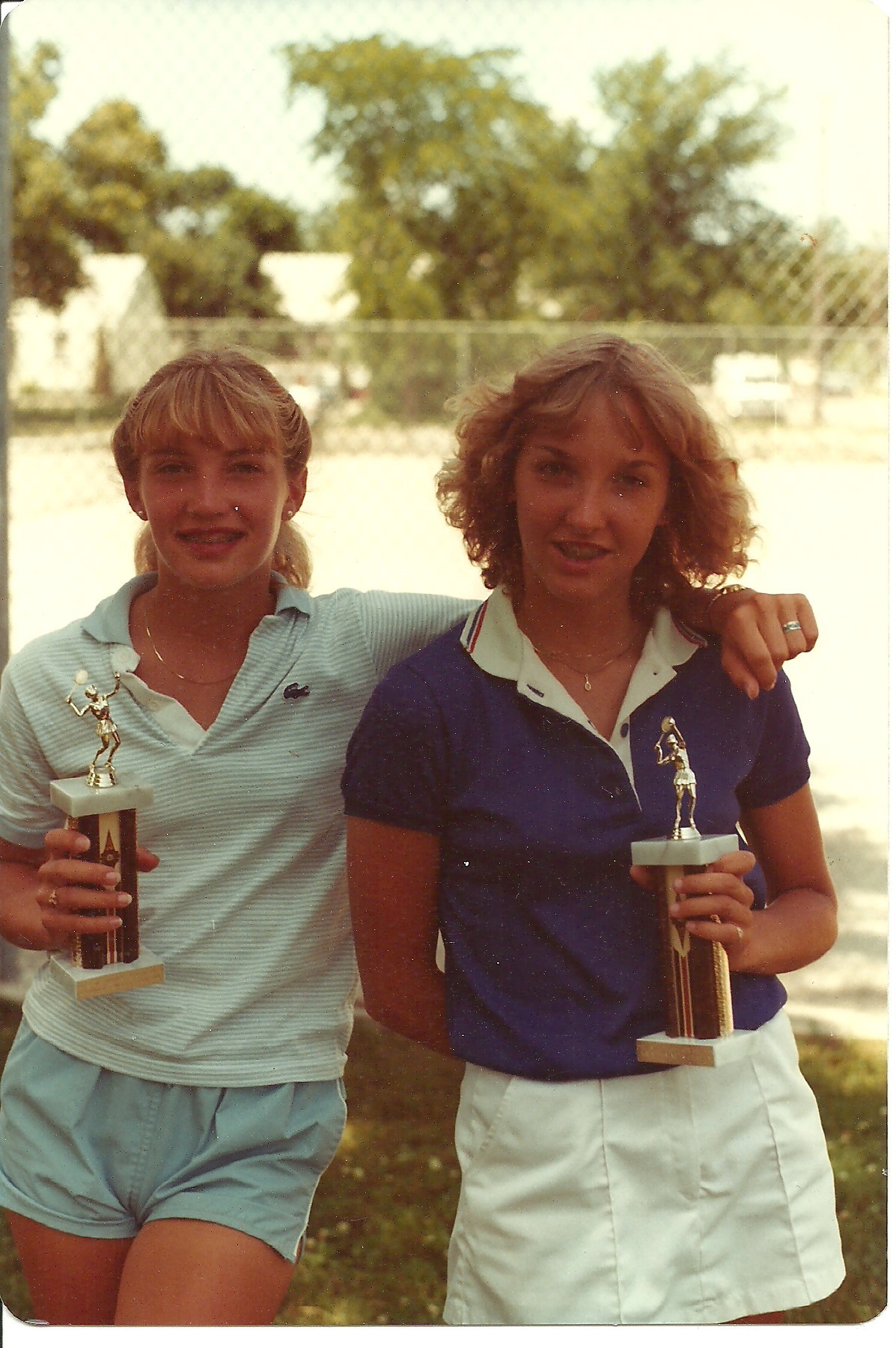 Fall high school tennis can be brutal weather wise, and she credits an idea from Coach Wise. They used tube socks with holes in them for fingers, for getting through cold weather issues.
The 1985 Northern Section yearbook lists Angie and Tonya as ranked #1 in 18 doubles and Angie #4 in singles. By winning the Sectional Junior Sportsmanship Award in 1984, she was given a trip to the US Open in New York.
Photo: Sisters Tonya and Angela adding to their trophy collection
After graduating from Lincoln High, Angie started at Gustavus Adolphus then transferred to Augustana where she was runner-up twice for conference singles titles. Once she headed to nursing at U of MN, tennis went on the back burner. Her love for the sport, however, was passed on to her daughters, who both starred at Eastview High in Eagan MN. The two girls qualified for the Minnesota state high school tournament a combined total of five times and Jordyn won third place for the overall singles title in 2013.
Jordyn attended Valparaiso University on a tennis scholarship and is now in the graduate program there for Physician Assistant. Taylor will be a junior at Bethel University in St. Paul, majoring in nursing. Husband John, from WI, played outfield for the Golden Gophers of the U of MN and is a CPA/ accounting graduate from the Carlson School of Business and specializes in forensic accounting.
It seems athletic ability often is in the genes. Angie's father Jim was a multi-sport athlete at Leola, SD and Northern State University in Aberdeen. And her mother Judy grew up during the days of limited sports activities officially offered for females (beyond cheerleading!) . But as this writer will attest, when the neighbor kids chose up sides on the ball field "back in the day," Judy was often picked first!
So, Angela got a good start in life!