John & Horace Barton Bio
John Barton and son Horace, who dominated area tennis for 20 years starting in 1911, are being inducted into the 1999 South Dakota Tennis Hall of Fame.
Not only did the Bartons lead the way locally, they defeated many nationally-ranked players who regularly stopped for SD Open Tournaments. And their biggest prize as a doubles team came in 1927, while Horace was at his prime as a star tennis player for the University of Michigan tennis team (Big Ten). They traveled to the Longwood Cricket Club in Boston, MA and won the National Father-Son Doubles championships, a USTA event, played on grass courts.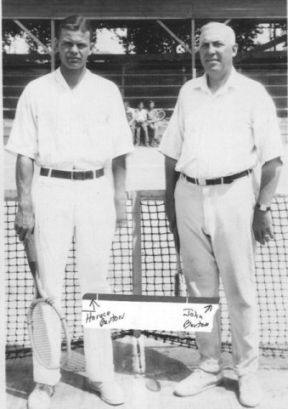 John, a local banker who died in the mid-1960's, started playing tennis as a youngster around 1890. "He won various singles and doubles titles in SD and Iowa—partnering some with Ken Phillips, Clark Stone and Carl Stuggerman," said Horace's son, James Barton of Canaan, CT.
John helped organize tennis and tournaments and won the "First Annual Open of the SD Tennis Association" in 1911—according to historian Don Grebin, who researched newspaper files. "It was his first of seven singles and 11 doubles titles of the early years of the SD Open" (last run in 1940), said Grebin.
"What was so impressive in my research," said Grebin, "is how John and Horace handled not just SD players, but top players from across the country that came here." In 1914, John won the prestigious Missouri Valley tennis title. When he returned home he started forming an association to raise money and construct tennis courts at 26th and Summit Ave. They developed a clay, six-court complex—one of the best in the region.
Horace, who has another son, John, living in San Rafael, CA, got started by his father in tennis at age eight. By age 15 he took over the "Ad court" and became his dad's favorite doubles partner, winning three SD Opens and many area tourneys.
"After winning the 1924 doubles title, they faced each other in the singles championship," said James Barton, "the match went five sets (common in those days) and at 5-5 in the final set, Dad asked the Lord for guidance. He did the right thing—losing to his father, John, 7-5."
During 1925-29, Horace attended the University of Michigan where he captained the tennis team for three years. While there, the Wolverines twice won the Big Ten team title. As a senior, Horace lost in the conference finals to George Lott, Jr., later a National Doubles champion. Lott was ranked from 1926-31 in the top ten of the USTA men's singles.
In one of the greatest South Dakota tournaments ever held (1925 in Sioux Falls), two California rising tennis stars came to town—John Doeg and Howie Bancroft. The two defeated John and Horace in the doubles finals—6-4, 6-4, 5-7, 4-6, 6-4. Three years later Doeg was playing Davis Cup for the U.S. and by 1930 was ranked #1 in the country. While here in 1925, Doeg and John Barton played an exhibition set, won by Barton with eleven of the games going to deuce.
Following his graduation from Michigan, Horace continued his tennis career, winning state singles titles in Michigan and the province of Ontario, Canada. He was also the Detroit and Grand Rapids city champion for several years, then retired from the game in 1938 for health reasons. Horace's working career was as a bond salesman.
Woody Wilson, age 85, of Sioux Falls, remembers shagging balls for the Bartons and others at the 26th and Summit complex. "The Bartons were very fine, classy people—very nice to us kids. We shagged balls for playing time on what was a beautiful, light brown clay court complex. The facility hosted tremendous tournaments, had a clubhouse with showers and bleachers for the big crowds," said Woody.
Horace won three SD Open singles titles and five doubles titles (three with his father). Later, the Barton Cup, honoring John and Horace, was yearly given to the SD Open champion. The cup was retired in 1960 by legendary champion Wendell Ottum. Horace Barton, while playing for the University of Michigan, teamed with his father, John (right) to win the National Father-Son Doubles Championship, a USTA event, in 1927. Horace captained the University of Michigan tennis team, where he played from 1925-29.
Horace Barton, age 92, lives in Grand Rapids, MI, and is shown holding his National Father-Son Doubles championship medal, along with SD Open title cups.