Becky Blue
By Dick Hahn
Community…the word that describes what is best about tennis in Brandon, SD. And when you think Brandon Tennis, the name Becky Blue surely surfaces first.
The Brandon Tennis Association (BTA) was formed in 2006. Becky Blue has been its President, leader and driving force from the beginning.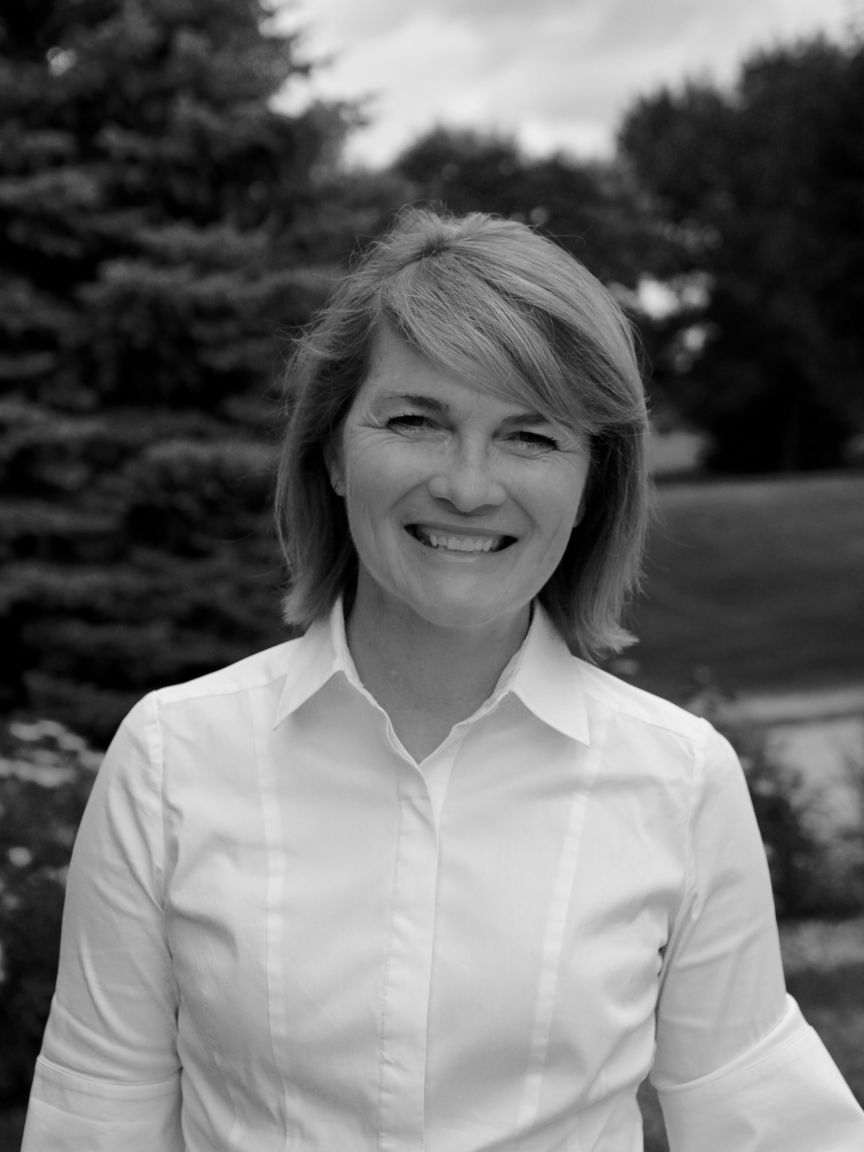 Becky's introduction to tennis was a curious one. She graduated from Hurley, SD High School but her only recall of tennis in those days was a single town tennis court across the street from her grandmother's house. Little did she know that her passion for the sport would start on her own concrete driveway of all things, when her oldest son Ian was about ten years old and took a liking to the game. The Blue driveway in the Brandon area was long enough, so Becky realized she could improvise with a few "tennis lines." Before long neighbor kids took an interest and a few college kids came out to offer some instruction.
The BTA has won many awards along the way including…
· 2007 Northern Section Organization Member of the Year
· 2008 Brandon Business of the Year (from the Chamber of Commerce)
· 2008 Community Tennis Association of the Year for the entire USTA. BTA was recognized for this award on the big screen at Arthur Ashe Stadium during the 2009 US Open.
A new facility was completed in 2008 that includes eight courts and an equipment/concession building. The fundraising was a community effort between the BTA, the schools, the Chamber of Commerce, the City and the USTA.
The BTA has an active program with 150 local kids in summer lessons. The teachers are current or former Brandon High School players. This is a way of the older players giving back and helping the next generation of younger players. They also host the Brandon Junior Open each July. The tourney draws approximately 100 junior players from the region. The Junior Team Tennis Area Playoffs are held in Brandon, and when the South Dakota High School State Championships are held in the eastern side of the state, Brandon serves as a host site. Local volunteers make these and other events happen.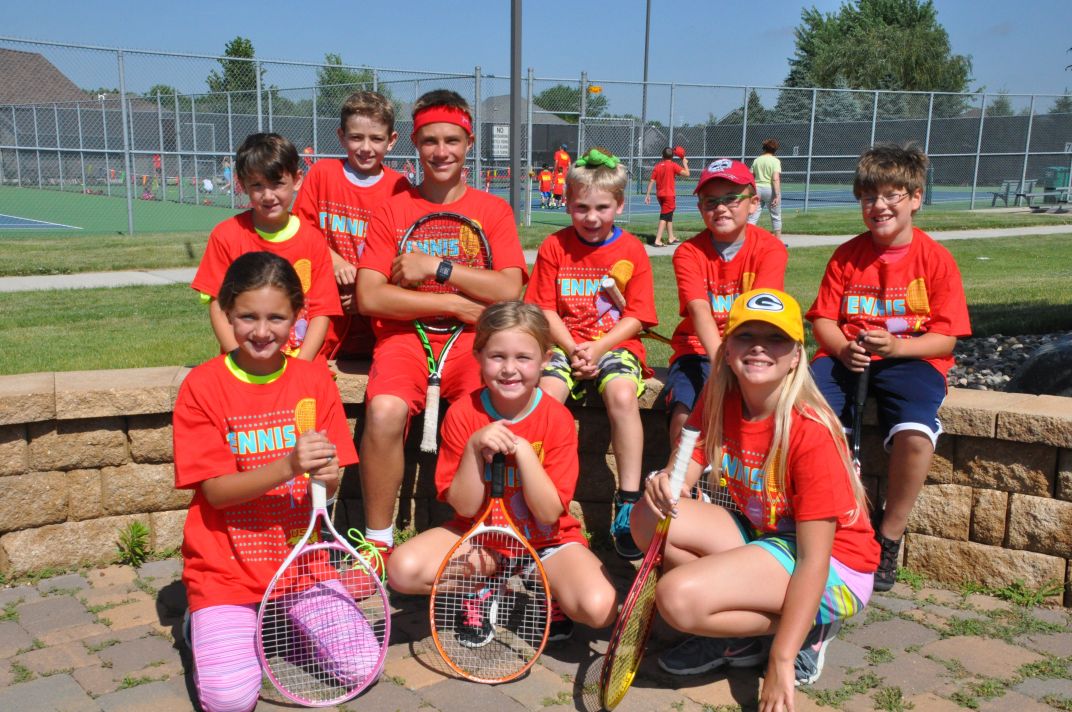 Photo: Brandon Valley Tennis Camp
A number of fun events are held in Brandon each summer including mixers scheduled around the major tournaments and fun themed events. One of the favorites is the "Big Apple Open" held during the US Open. The winners get a homemade apple pie baked earlier that day by Becky.
Becky and husband Dr. Dan Blue both finished at Augustana College in 1981. She was a graduate registered nurse, while Dan was off to medical school at the University of SD.
Now married 35 years, she and Dan have a lot to be proud of as parents. Ian is now 28, a software applications developer (married to Paige, in the music industry) and lives in Nashville, TN. Julia (24) is a medical student at Des Moines University and and Elliot (22) starts medical school at USD in August.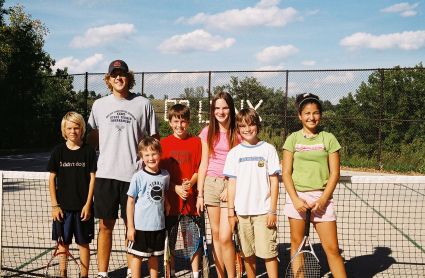 Mason (17) will be a senior at Brandon Valley High School and played #2 singles and #1 doubles for the Lynx. His siblings are all past Brandon Valley tennis players, and then Augustana University graduates.
Photo (right): Tennis "court" in Blue driveway. Becky's children Mason (3rd from left), Julia (3rd from right), Elliot (2nd from right)
Becky credits former Brandon Valley tennis coach Mark Schlekeway with planting the idea of a CTA (Community Tennis Association) for the Brandon community. With friend Tracie Rohlf and others, the rest is history as the future of Brandon tennis had officially begun.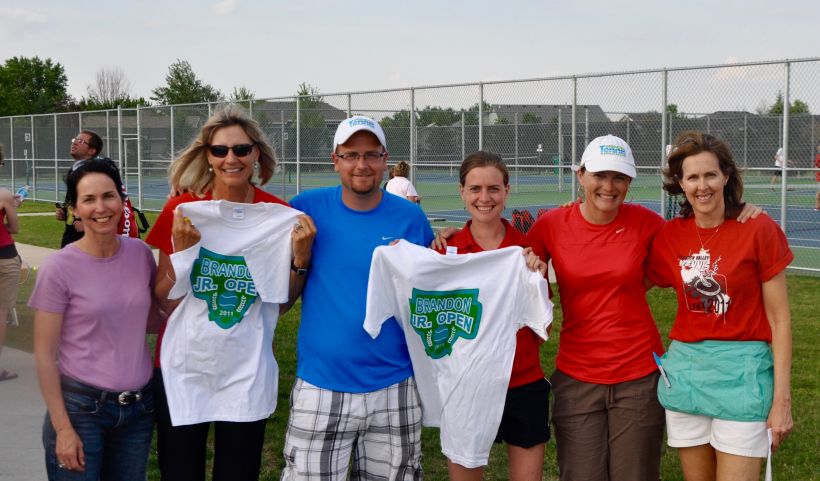 Photo (left): 2011 Brandon Open Volunteers Tracie Rohlf, Chris Dummermuth, Mark Schlekeway, Christine Nickels, Becky Blue, Lisa Peterson
In 2010, Becky's efforts were recognized on the regional level, as she was honored with the USTA Northern Wolfenson/Ratner Community Service Award for her outstanding fieldwork in recreational tennis.
Becky is quick to point out that the success of tennis in Brandon is due to a group effort. While that is true, every successful group needs a good leader. Becky is that person. Her vision, commitment and good nature have made Brandon tennis what it is today…a wonderful tennis community!