The Gordon & Caroline Bell Family
By Doug Smith
At different ages and different stages spanning six decades, three generations of the Gordon & Caroline Bell family have been playing competitive tennis. The Bells are Aberdeen's version of South Dakota families like the Volin's, Sandvigs, Claytons and Paluchs. Back in the day when "free housing" was the norm for out-of-towners at junior tournaments, the Bell house always had the welcome mat out for visiting players. Their mantra was "mi casa es su casa". Three of the original nuclear Bell family – Gordon, Caroline and Maria – now reside in Sioux Falls.
Gordon and Caroline Bell, the family patriarch and matriarch, were longtime avid golfers who came to tennis when son Greg began playing in the late 1960's. Soon thereafter daughters Theresa and Maria followed in their brothers' footsteps.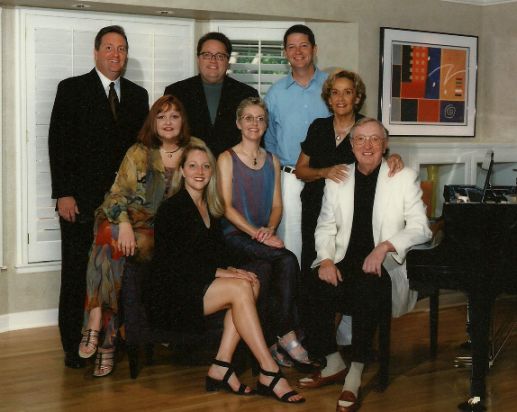 Both Gordon and Caroline were athletes themselves. Caroline was an outstanding golfer who won Aberdeen's City Championship several times while Gordon was himself a low-handicap golfer who also played a superior game of table tennis and competed regularly at the YMCA with the best in town. When their kids began playing tennis, however, the "parental units" too became interested in tennis. Soon they were playing in adult leagues and in short order they were heading to the tennis courts more often than to the golf course. In time, they all but abandoned golf in lieu of tennis.
Learning the game at about age 50, they played mostly doubles, and it wasn't long until they were playing in city tournaments; men's doubles, women's doubles, and mixed doubles. At his peak, Gordon paired with John Carrells to win the City Doubles Championship.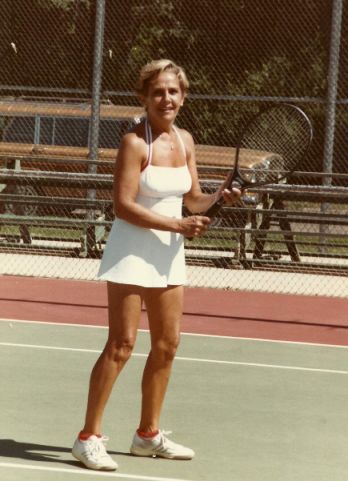 Greg Bell was one of the original members of the Aberdeen Racquet Club which produced a troupe of top juniors in the late '60's and early '70's. He played USTA tournaments into his mid-teens, but his overall athleticism drew him into other sports as well, which limited his time on the tennis court. Blessed with a big, strong physique, he became a 3-sport letter winner at Roncalli, playing football in the fall, basketball in the winter, and tennis in the spring. He now lives in Sacramento, California where he continues to play USTA League competition. His daughter, Suzanne, played on her high school team. Last fall, Greg's team won the Senior Nationals at Indian Wells!
Theresa (Bell) Ward picked up a racket at age 10. Coming on the heels of the Aberdeen boy's "era", when the Racquet Club began to recruit girls to the program, she was the first local girl to take tennis seriously. By her top year in the 14's, she was ranked #2 in what was then the NWTA (now the Northern Section). And in her first year in the 16's she was already #3 in that age group and was invited to compete in the prestigious Seventeen Magazine Invitational in Washington, D.C.
Playing #1 for Roncalli, Theresa outlasted Nancy Driggs in a marathon 4-hour semi-final at the State High School Tournament and finished 2nd in singles behind SD Hall of Famer Nancy Rost. Theresa then paired with sister Maria to win the doubles title in a historic match which ended at 1:30 a.m. She "walked on" at the University of Arizona and played there as a college freshman before transferring to the University of Minnesota where she played Division I tennis for the Gophers.
After college, Theresa remained in the Twin Cities, where she and husband Lyle live in Edina. A back injury had limited her recent tennis activity to competitive family events, but it hasn't kept her from developing into an accomplished golfer. Professionally, she has achieved a spot in Barron's Top 100 Women Financial Advisors and the #1 in that field in the state of Minnesota.
Theresa's daughter, Caroline, recently graduated from Edina High School where she played #1 singles and let the Hornets to an unprecedented 15th consecutive Minnesota High School Team Championship. She followed that up with a 2nd place finish in singles in that state's individual competition. Ranked #2 in Girl's 18's in the USTA's Northern Section, she was rated a 4-star recruit and will play college tennis at Division III Claremont-McKenna in California.
Maria Bell followed on the heels of sister Theresa and cracked the NWTA's Top 10 ratings as a 14er. As a 16er, she spent a summer in St. Louis, playing the daunting Missouri Valley junior circuit and earned a Top 20 ranking in that section. When Theresa graduated from Roncalli, Maria ascended to the #1 singles position. In each of her two final years at the State High School Tournament, she too made the finals where she also finished 2nd to the indomitable Nancy Rost.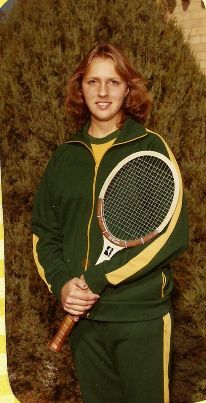 Maria attended Augustana, where in successive years she won the #2 and then the #1 singles championship in the North Central Conference and also paired with SD Hall of Famer Karen Bernard to win the #1 doubles title as well. She was recently inducted into the Augustana Athletic Hall of Fame.
Now a gynecologist in Sioux Falls, Maria is a nationally renowned cancer specialist. She has continued her professional advancement by earning a Master's Degree in Public Health from Johns Hopkins as well as an MBA from Duke University. Whenever her otherwise busy schedule allows, she still enjoys squeezing in some tennis, albeit usually of a more recreational nature nowadays.
Maria's children, Gabriella and Konrad, both take lessons and play area tournaments. Konrad will be an 8th grader at O'Gorman and has really been working on his tennis game this summer. Gabriella, a junior-to-be at Lincoln High, played the #2 singles position for the Patriots tennis team this past fall.