Billy Clayton Bio
Sioux Falls native Billy Clayton, now of Ft. Lauderdale, FL is being inducted into the 2006 South Dakota Tennis Hall of Fame for his dominating play in junior tennis throughout the Midwest during the mid-1960s through 1971.
A two-time state prep champion, Billy was the leader of the 1971 Lincoln High School tennis team that claimed the first official team title in the state, as recognized by the SD High School Activities Association. By winning the individual title himself as a sophomore in 1969, and as a senior in 71, Clayton spearheaded a Patriot team that won 37 straight dual matches.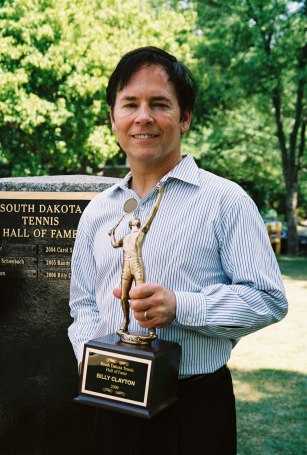 Billy's love for tennis started when parents Bill and Sally Clayton bought a home one block from McKennan Park tennis courts. Between hitting with his parents, and learning through the city park program headed by Don Grebin, Clayton's determination to be one of the best started early as his play led to a #1 ranking in boys 12 singles in the Northwestern Tennis Association.
Billy said he was inspired by watching countless singles battles between Dave Weber and John Simko on the old McKennan courts. And the fun continued, said Billy, when he and his siblings (Stuart, Kiki, Tom and Bobby) joined other local tennis families like the Sandvigs and the Volins, along with other contemporary players like Joe Henkin and Mike Reardon.
St. Louis pro Doug Smith, formerly of Aberdeen and Sioux Falls, says Billy's sheer determination was a key to Billy's on court success. After beating Rapid City's Randy Stolpe to win state as a sophomore, Billy suffered a serious right hand injury the winter of his junior year. Still recovering from his injury, Billy dropped a 10-6 decision to Brookings' Marty Johnson for the state title as a junior. However, Billy then teamed with Randy Kochenderfer for the state doubles crown.
Smith recalls how Billy went to work, learning how to hit under the new realities with his hand injury, then won state again as a senior. I always thought it was Billy's signature moment and a truly remarkable demonstration of what one can do with sheer determination, said Smith.
Summer highlights in those days for Billy meant tennis most weekends, all across the region. Highlights included playing at major regional tournaments in St. Louis and Minneapolis as well as the US Junior Tennis Championships in Kalamazoo, MI. There, Billy and frequent summer doubles partner Marty Johnson got to face the likes of Jimmy Connors and Harold Solomon.
Along summer's way, Billy earned high rankings in the NWTA, and won such tournaments as the CC Lee, Hawkeye Open, SD Closed and Open (with doubles partners such as Henkin, Reardon, Kochenderfer and Johnson.)
The NWTA recognized the Claytons with its Tennis Family of the Year Award in 1966. Today, Florida could certainly take a look at Billy and wife Sylvia for tennis family recognition. The same opportunities Bill and Sally afforded Billy, he has passed on to his four children. And they, too, have seized the tennis opportunity in a big time way.
All are among the top players in the USA, with the three oldest competing internationally and getting to play some professional and ITF events.
Christopher, 20, will be a sophomore at Harvard, where he played #2 on the tennis team and was 19-14 his freshman year, earning 2nd team all Ivy League. (He was top 20 in the USTA boys 18s).
Alexander, 18, has been top ten USTA in boys 16s and 18s and won the 2005 US National Clay Court singles (18s) and won the 2005 US Open boys doubles title with Donald Young. He's been selected as a hitting partner for the US Davis Cup team with the Bryan brothers, Andy Roddick and James Blake.
Courtney, 16, has been ranked #1 in FL, and the USA and as a 15 year old in December, 2005 reached the quarterfinals of the Girls 18s at the Orange Bowl Junior Tennis Championships in Key Biscayne.
Mary, 14, has won several state titles in FL in girls 14s and 16s and is nationally ranked.
Billy received both his undergraduate and law degrees at Northwestern University (where he played varsity tennis). His law practice is with Greenberg Traurig, P.A .of Ft. Lauderdale, FL. Billy's area of experience includes: complex commercial litigation including intellectual property cases; construction, employment and insurance litigation, jury trials, real property and title insurance litigation and sports law.
His professional honors are numerous and he is a noted legal author and co-author. He has appeared nationwide as a speaker on many legal issues. In 1998, the ABA Sports Lawyers Conference named him one of the most Influential Sports Lawyers.