Buck Shane Bio
Buck Shane, who died in February, 1983, was born on May 23, 1918, in Colon, Michigan. Tennis interest acquired as a boy blossomed at Kalamazoo (Mich.) College.
For three seasons, he was Michigan Intercollegiate Athletic Association champion in both singles and doubles – losing only two matches during that time. He also won the tennis championship of the state of Michigan in singles in 1939 and in singles and doubles in 1940, 1941 and 1942.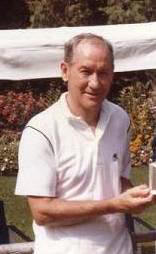 In World War II military service, Shane won the Third Army singles championship in Nuremberg, Germany. He went from there to England where he competed at Wimbledon.
Out of the Army, he taught English at Kalamazoo. He assisted in coaching the men's tennis team there, where Vic Braden was among his pupils.
After 10 professorial years at South Dakota State – and dominating regional competition in singles and with Lefty Johnson as a partner in doubles – Shane taught at American University in Cairo, Egypt, for five years.
Thereafter came stints as dean of faculty and vice-president at Southwest (Minn.) State, president of Mercyhurst (Pa.) College, and executive director of the Minnesota Private College Council's 17 member institutions.
He remained a highly competitive tennis tournament participant through No. 2 ranking in Men's 60 activity in the Northwest Tennis Association in 1982. "In fact," said his widow, Dorothy (Lawrence), "he had scheduled a racquetball game for the day he died. Lefty was and is a dear friend. He and Buck had lots of fun times and good matches."
Buck and Dorothy's two children are sons Michael and Kip.