Burt Elliott
"I was simply the bus driver." No, that was not Ralph Cramden speaking to Alice on an episode of The Honeymooners. It was Burt Elliott, Aberdeen Central High School's tennis coach, speaking almost apologetically to the media in 1972 after his Golden Eagles squad of high school boys won its first State Championship. Now, halfway into his fourth decade of coaching, the ever self-effacing Elliott still refers to himself with that same degree of humility. In recognition of his lengthy tennis tenure and of the positive influence he has had over a myriad of young people during the span of the last 35 years, Burt Elliott has been selected as a recipient of the 2005 SD Tennis Achievement Award.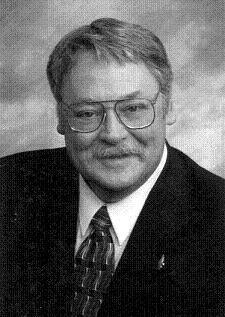 A native of Pierre and graduate of Northern State University, Elliott was hired in 1970 by Aberdeen Central to teach history, social studies, government, and geography. Although he had never really played much tennis himself, in the following spring he agreed to take the tennis coaching reins from outgoing coach Clark Guhin. Elliott says that his initial group of boys were such good players that he didn't have to know much about the game at the time and that he felt he learned more from them than they did from him.
The '71 squad was a strong one, but it turned out to be only the prequel to the trilogy of State Champions which followed on its heels. The coronation of the Golden Eagles in '72 was delayed when rain forced all final matches indoors at the Westward Ho Country Club. The indoor courts were not immediately available because S.D. legend Dave Weber was in the process of giving a
lesson to George McGovern, which led to the following line in the Argus-Leader: "The only person who could slow Aberdeen's drive to the state title was Senator George McGovern."
Additional State titles followed in '73 and '74, completing Central High's first-ever trifecta. Then, in the early 1980's, Elliott also began coaching the Eagles' girl's team, giving him bookend seasons during the school year for two decades. His girls' squads would go on to win five ESD titles to go with his boys' six and to finish three times as runners-up in the State Tournament.
For his efforts Elliott was named S.D. Tennis Coach of the Year three times and Region 6 Coach of the Year twice. A year ago he was one of five finalists nominated as National Coach of the Year. From 1980-1990 he served as "tennis advisor" to the SDHSAA and in 1995 was presented with the "Lifetime Award" by the S.D. High School Coaches Association. Somewhere along the way it would seem the ol' "bus driver" must have learned a thing or two about the grand old game of tennis.
Elliott credits his success to his ability to "get along" with people and to the fact that he genuinely "cares" about all the players he has coached. Armed with the belief that there should be more to the competitive experience than just the game itself, every fall he hosts what has come to be known as the Elliott Extravaganza at Central's annual home tournament. He grills burgers and brats while swapping tales with the players and their families. Central parents provide the food and share it with the visitors in a cordial spirit of camaraderie. Those qualities of affability and generosity have no doubt also been apparent to South Dakota voters who have elected and re-elected him to the State House of Representatives.
"We all need to be a part of something bigger than ourselves," Elliott contends, "be it our church, our family or our profession. I've always stressed the following priorities to my players, in this order: #1 faith and family, #2 education, and #3 tennis. I've seen how participation in school activities helps students to stay in school and to raise their grades because they want to play on the team." Looking back on his coaching career, he observes, "Championships happen if you pay attention to detail, have good support and have good athletes. But the real value of an athletic program lies in what the athletes take with them and use later in life. When a kid comes back 20 years later to lookup his old teammates," he adds, "that is my treasure."
When he turned the girls' team over to Lisa Link, Elliott says he experienced withdrawal pains. Having finished his final year with the boys' team, he has now closed the book on his coaching years, and he expects to feel more of those withdrawal pains when next year's tennis seasons commence. The past 35 years have wrought fond memories which he will forever cherish. In his modest way, he insists that the game and coaching have given more back to him than he could ever have given in return. But all good things must come to an end, and the Elliott Express made its final run in May. The driver has parked the bus for the last time.