Carol Sandvig Bio
Before the twin high-rise graced the north end of the Augustana campus, two black top tennis courts with chain link net served as a site for summer park and rec tennis instruction. These "tar pits" attracted, or quite possibly their instructors, John Simko and Don Grebin, attracted many youngsters to brave the elements and give tennis a try. These early bike excursions to the Augie courts for city lessons sparked a lifelong passion in at least one student.
Carol Sandvig's interest in tennis intensified after the family moved three blocks from McKennan Park, the hub of Sioux Falls park and recreation tennis. It was there that she met up daily with instructors like Simko, Grebin, Pam Gefke, Vi Smith, Fred Fisher, Marci Wernli, and Joan Griffin. These people provided much more than just hitting and instruction. They were adult role models as players, instructors, family members, lousy pitch players, and just all around "good folk." As Carol emphasized, "it was always fun first, the tennis was the bonus."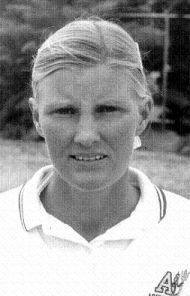 In the "old days," the tournaments were coed, and in her first midget tournament, Carol lost to Gordy Bendix in the finals. She played summer tournaments from the 12 and under division through the 18 and under division and was ranked in the Northwest Section (now the Northern Section) throughout the 60s. She had a ranking in the Missouri Valley Section, and later was ranked in the Northwest Section Women's division. Carol was a finalist as a Lincoln High School junior to Mignon Volin, an O'Gorman senior, in the first ever girls' state high school tournament. The following year, she defeated her sister Chris, a sophomore at rival Washington High, for the title.
Arizona State caught her fancy, and along with longtime doubles partner, Mary McGuire from Stillwater, MN, the pair migrated south for college. Carol gained experience playing on the '71, '72, and '74 national championship teams coached by National Collegiate Tennis Hall of Fame Coach, Anne Pittman. In 1974, she was named as one of the outstanding collegiate athletes in America. She later served three years as ASU and Pittman's first ever paid assistant coach before Pittman retired.
Teaching tennis consumed Carol's college summer breaks. She taught for the Sioux Falls Park and Recreation program in '70, '71, and '72, and was recruited by the Aberdeen Racquet Club for the summer of '73. After graduation, Carol and some teammates traveled the Pacific Northwest and played the women's satellite tour before she settled in the Phoenix area.
Following graduation from ASU and a B.S. degree in Recreation, Carol was named head coach at Phoenix College. During this time, she also established her teaching career. She is a certified USPTA pro and served as a USTA umpire and referee from 1972 until retiring in 2002. Carol combined tennis with her curiosity to travel by working for Tennis Europe from 1982-1988. During these summers, she coached five European National Team trips and one southern California-Hawaii trip.
Carol coached the Grand Canyon University women's tennis from 1990-1996. Her team went undefeated three seasons in the California Collegiate Athletic Association (CCAA) and earned NCAA Division II Final Four status in '92, '94, '95, and '96. Individually, there were five NCAA national titles earned, along with a wealth of All-Americans (17), and Academic All-Americans (19) honors. She was NAIA District VII Coach of the Year for her first two seasons at Canyon, before the program acquired NCAA status. In '95 and '96, she was Coach of the Year in the California Collegiate Athletic Association. She was presented the Intercollegiate Tennis Association/Wilson Coach of the Year for women's nationals in 1996.
Carol just completed her fourth year as head girls' coach of the Corona Del Sol High School Aztecs. They are the '02, '03, and '04 central region champions, and they boast a two-time 5A state singles champion, the 2004 Final Four doubles champions, and the '03 and '04 5A Final Four team champions. Carol is a two-time Central Region Coach of the Year and was named the 2004 East Valley Tribune Coach of the Year.
During recent summers Carol has served as the USTA 14 Zonal's coach, the Southwest Section Cup coach, and the USTA 16 intersectional coach. Although Carol achieved personal success as a player and a coach, her greatest joy comes from guiding her student athletes and her recreational players to their best efforts while sharing the fun of the sport!
Carol and her husband, Ken Cornell, live in Chandler, AZ where in her spare time she likes to hike, baby her fruit trees and animals, "putz" around the house, volunteer at hospice, and attend ASU sporting events. Carol shared the 1998 South Dakota Tennis Achievement Award with her parents, Wes and Betty Sandvig, and her three siblings Craig, Kari Richardson, and Chris Dummermuth.