Chad Larson
By Brad Green
Former Major League Baseball player and current Milwaukee Brewers broadcaster Bob Uecker is "Mr. Baseball," the late Minneapolis Laker George Mikan was "Mr. Basketball," the former Nebraska Cornhuskers radio voice Lyell Bremser was "Mr. Football" and Hockey Hall of Famer Gordie Howe was known as "Mr. Hockey."
We can likely add a "Mr. Tennis" to this list now. Chad Larson, of Mitchell, lives and breathes the game of tennis in his hometown.
With his induction to the South Dakota Hall of Fame this year, Larson becomes the first lifelong resident from the Corn Palace city to receive such an honor.
Reflecting back on getting the call to the Hall, Larson shared about what it means to him to be a part of such a special group.
"It's quite humbling, of course," he said. "I think while my name will be honored, there are other people who should be right there next to me. To get this type of award and get in the Hall of Fame, it is surprising because I never expected this to happen."
Larson was born in Austin, Minnesota, and moved to Mitchell as an infant.
He recalls Mitchell's Hitchcock Park being a favorite place for him to spend time as a youngster.
"I was a Park and Rec kid," he said. "I would ride my bike to the park as I lived only nine blocks from the tennis courts and took lessons there. However, I grew up golfing and bowling while tennis was something I did more on a recreational basis and because it was fun."
Larson graduated from Mitchell High School in 1990 and Dakota Wesleyan University in 1994.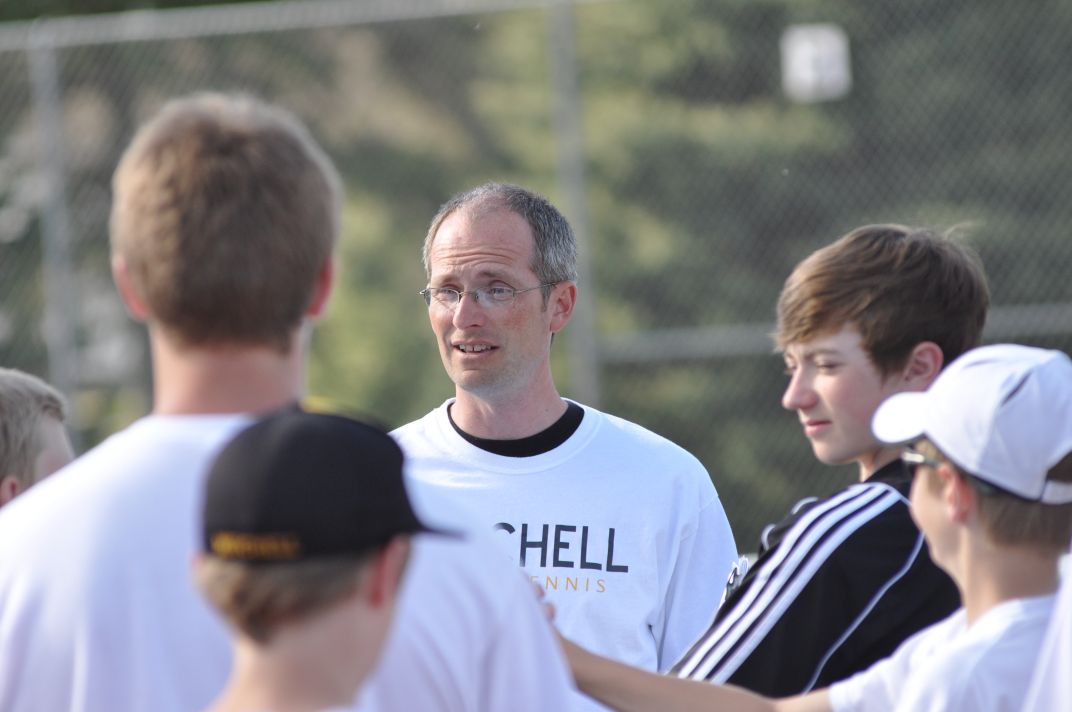 Continuing to play the game he loves, Larson has participated in United States Tennis Association tournaments throughout the state in his hometown and other communities like Aberdeen, Brookings, Huron, Pierre, Sioux Falls, Vermillion and Yankton. Larson has played many of the tournaments in the doubles division with longtime partner Betty McNeil.
McNeil spoke fondly of her doubles partner and his passion for the game.
"He's a very good player," she said. "We have a great connection, and he plays the sportsmanship game the way it's supposed to be played."
Larson has been a proud member of the Mitchell Tennis Association since 2002. For the association, he gives summer tennis lessons to junior players, runs the men's tennis and advanced junior tennis leagues, oversees the Thursday Open Court Night in the summer, while also serving as treasurer and webmaster.
One of the unique things that Larson is involved with the MTA is the Take the Cake Doubles Tennis Tournament.
He talked about the event, which is typically held each August or September.
"It's a great tournament," Larson said. "You get in these brackets and play 8-game pro-sets. If you win your final match, you go home with a cake or cupcakes. It's a relaxed social event where you can see all your tennis friends. We have a lot of great people who are involved as players and also volunteers who give generously as bakers. It's been a very successful event for us."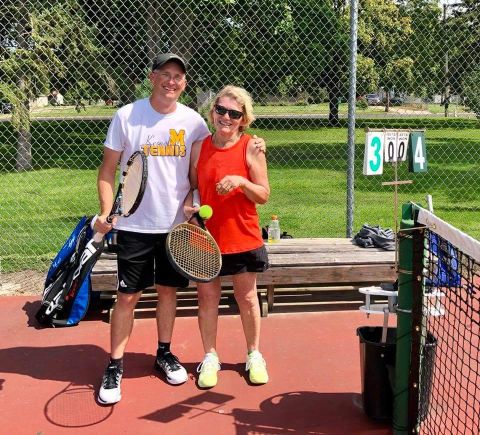 Diane DesLauriers, who is a former member of the MTA, said Larson is a tireless worker who serves in a variety of roles when helping with tournaments that are played in Mitchell.
"If there was a job to be done, he was willing to do it," DesLauriers said. "He'd be there at 7 in the morning and wouldn't leave until 1 in the morning when the work was done. He's an outstanding young man."
Larson has been an assistant tennis coach at Mitchell High School since 2005 where he works with coach Pat Moller and the boys' team. The Kernels' dual record during that stretch is an impressive 182-100-1. While Mitchell has yet to earn a state title, they have claimed several top-five finishes in the last decade as they finished second in both 2014 and 2015, third in 2016, fourth in 2018, and fifth in 2013 and 2017. The Kernels earned five straight Eastern South Dakota Conference championships from 2014-2018. Larson was named assistant coach of the year for Mitchell High School in 2015.
He spoke with pride about being a part of the boys' tennis program at his alma mater and is grateful to Gayle Klein, a 2014 South Dakota Tennis Achievement Award winner, for the chance to work with the Kernels.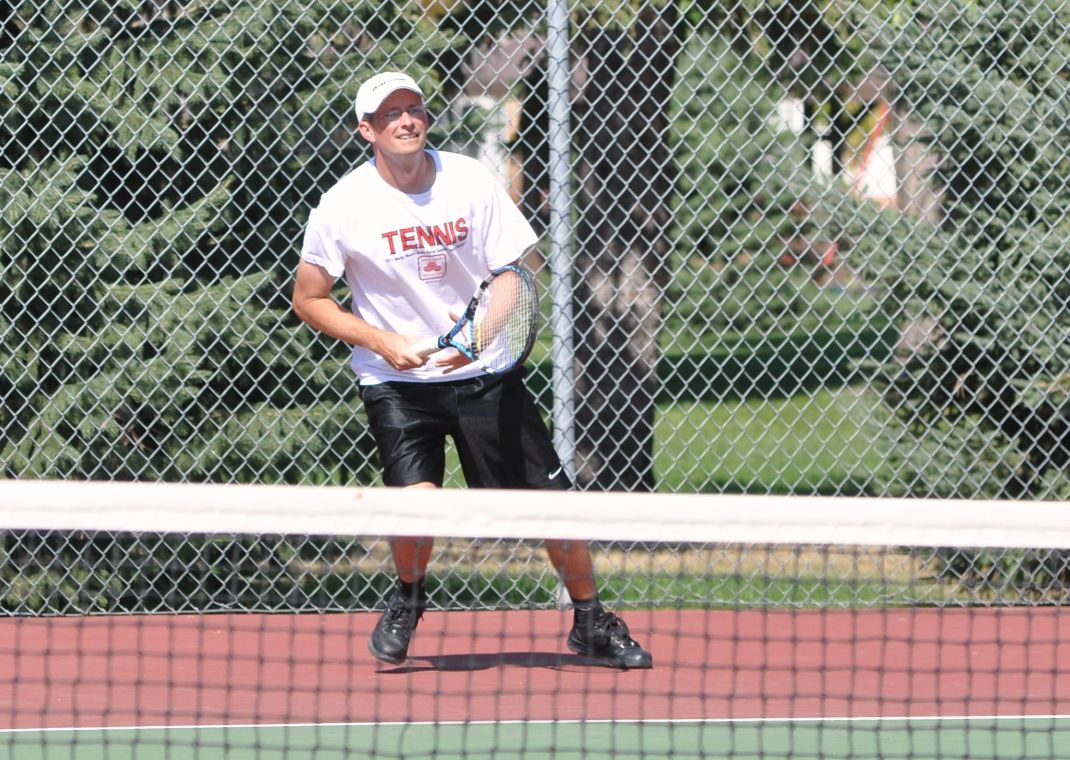 "Gayle (Klein) gave me the opportunity to coach," he said. "I had never thought about being a tennis coach, so I want to thank her for seeing that potential in me. To be able to work with kids throughout the season and in the offseason, the kids have become a second family for me. To be able to share the successes and failures of a season with them, you really see them grow up. When you see them on the podium at the state tournament, it's all worth it."
McNeil warmly discussed her friend's longtime dedication to the sport.
"He loves and respects the position of coach more than anybody I've ever known," she said. "He spends more time out on the tennis courts than anybody in this town."
Larson was rewarded for his dedication to Mitchell and the sport of tennis in 2016 when he was selected as the winner of the USTA's Jack Dow Adult Development Award.
Larson was also honored in 2016 with a very special recognition. After the expansion of adding four tennis courts to Hitchcock Park to give them a total of 12 courts, the No. 4 tennis court was named in his honor. The tribute came as a result of the generous support of Mitchell residents who wanted to express their gratitude to the man who has given so much to the city's tennis community.
Larson said the fact that there is a court with his name on it in his hometown came as a total surprise for this lifelong tennis participant.
"I was in complete shock," he said. "I had no idea what was going on. I had been still working that day to try and secure a donor for the court. To see my tennis family as well as my family there, it was one of those days that I'll never forget."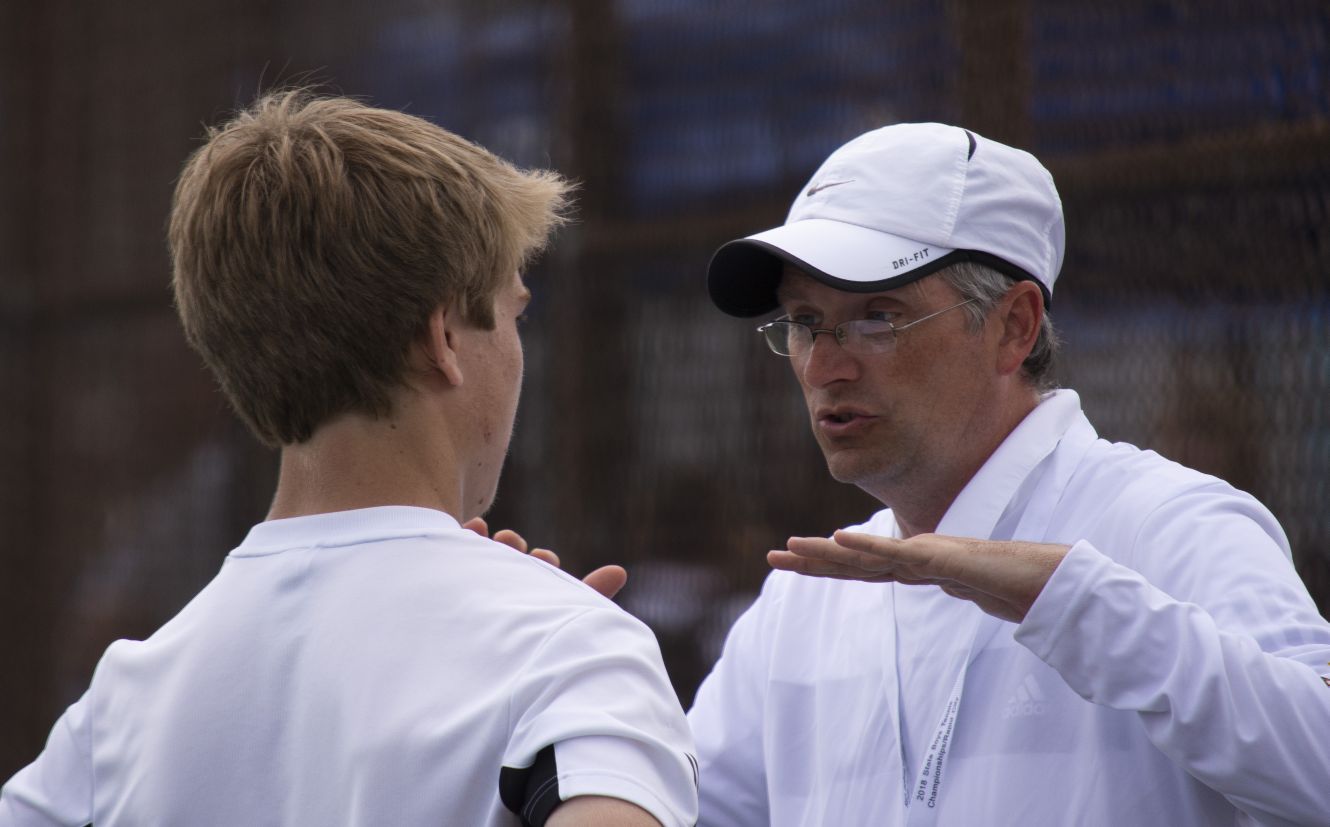 While remembering that day, Larson praised John Cersosimo for taking him through the "Cersosimo School of Tennis," Coach Moller for being "all in" with their Kernel tennis kids, Leah Branaugh and McNeil for helping him win so many trophies, and most of all, the former and current tennis kids of Mitchell who continue to impact his life every day.
In addition to the time that he spends out at the tennis courts, Chad is employed at DWU as a graphic design specialist in the university's marketing and communications department.
He is the son of the late Jim and Marlene Larson. Chad has two older brothers, Jeff and Scott, and a younger sister, Jamie Fox. He is also the proud uncle of eight nephews and nieces.
On behalf of the South Dakota Tennis Hall of Fame selection committee, we proudly welcome Chad Larson into our ranks as a member of the Class of 2020. Congratulations to Chad!