Chris Dummermuth Bio
The storied athletic career of Chris Dummermuth revolved around excellence at each level the game of tennis offered to her Ė as a player, teacher and coach. She grew from a young Chris Sandvig learning tennis at McKennan Park in the late 1960ís, to a highly successful coach at Lincoln High in Sioux Falls.
The early years included heavy doses of summer tennis and yearly ranking in both singles and doubles by the Northwestern Tennis Association. By the time she graduated from Washington High (1972) she was a two-time state singles champion. She played a year of tennis at Utah State before transferring to Augustana College. She didnít let the fact that Augie had no womenís tennis team deter her. She joined the menís team in 1975, frequently partnering with future husband Dave Dummermuth in doubles.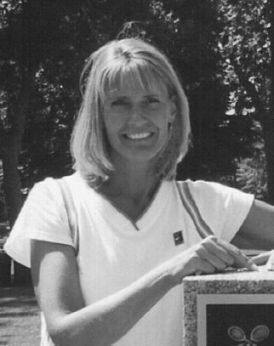 "My biggest college win," said Chris, "was teaming with Randy Kochenderfer at #1 doubles and pulling an upset over the Wynn brothers of the University of North Dakota."
Chris began teaching in the Sioux Falls School District in 1975 and coached the Washington High girlís tennis team for five years. She started coaching the Lincoln High boys team in 1987. By 1998 her teams had won five state team titles and she was named state high school tennis coach of the year five times. The SD Sportswriters Association honored her in 1985 as the Female Independent Athlete of the Year, and Augustana named her Alumni Coach of the Year in 1991.
She honed her own game with hundreds of hours of hitting balls with juniors over the summer, which led to many SD Closed and Open singles and doubles titles in the 80ís and 90ís. Summer activities included teaching tennis for the Sioux Falls Park Department, at local tennis clubs and adult education tennis classes. In 1983, she coached/chaperoned a junior team to Europe. She served on the board of the Sioux Falls Tennis Association, organized and directed the SD Junior Open in the early 80ís and directed the SD State Girls High School Tournament for many years.