SD Tennis Hall of Fame 2021
Cindy Huether
by Brad Green
The First Lady is usually a ceremonial title but some very special women have held the title. Lucille Ball was the "The First Lady of Television," Ella Fitzgerald was "The First Lady of Song," Jill Biden is the incumbent First Lady of the United States, and the former First Lady of Sioux Falls is one of this year's inductees to the South Dakota Tennis Hall of Fame.
The honoree in question is none other than Cindy Huether, who could easily be called "The First Lady of Sioux Falls Tennis." She has been a champion for the game for a long time in South Dakota's largest city.
Cindy was born Cindy Loecker in Yankton, South Dakota and went to schools in Yankton before graduating from Yankton High School in 1982.
She participated in tennis when she got to high school but quickly changed to other pursuits.
"I did play my freshman year of high school," she said with a smile. "I was on the varsity tennis team at Yankton before I decided football cheerleading was more fun. I became a cheerleader over tennis."
After high school, Cindy headed to Brookings and South Dakota State University. She graduated from SDSU in 1986 with a Bachelor of Science degree in Medical Technology. As a part of her degree, Cindy did an internship at Sioux Valley Hospital in Sioux Falls and later began working at the hospital. She married Mike Huether in 1985. The couple became parents in 1989 when their daughter Kylie was born.
Cindy worked at Sioux Valley for four years before moving with her family to Buffalo, N.Y. where she worked at Millard Fillmore Hospital in the Hematology lab. The Huethers later moved to San Antonio, Texas. In Texas, Cindy worked at MEDLAB as a Laboratory Technical Supervisor and at LABCORP as a Technical Assistant to the Divisional Director of Quality Assurance and Compliance.
The family moved back to Sioux Falls in 1999. Cindy changed careers leaving the healthcare field and moving into the Executive Director job for the Sioux Falls Tennis Association in 2009.
"I had the best mentor ever in Mary Thompson," she said. "She did such a great job. She came to me as I was on the board and had said, 'I want to retire and I feel that you are the only one that would care enough to do this.' Sioux Falls is a real big tennis town and you never want to see that go backwards."
In her Executive Director role with the SFTA, Cindy helped build one of the first permanent 36 foot court facilities in the country and start a 10 and under tennis program at Spellerberg Park which still exists across the city today. In addition, she oversaw the Parks and Recreation program for summer tennis including lessons for young and old, league supervision, tournaments and cardio tennis programs.
Mike spoke about his wife's passion and loyalty to the game that she loves.

"Cindy puts so much time, energy, commitment and yes, leadership, into building programming in Sioux Falls and South Dakota," he said. "Over the years, she built record numbers of participants in summer leagues. She attracted people that never thought about playing tennis before. She improved the coaches that were instructing summer tennis. We have story upon story of people who went to those tennis programs and became state champions. Ultimately, I believe it was Cindy's leadership that made that happen."
Cindy and Mike also served as co-head coaches of the Washington High School girls tennis team from 2007 to 2009, after their daughter Kylie graduated from Washington and went on to play tennis for the College of Saint Benedict in St. Joseph, Minnesota.
"Kevin Kennedy called me that summer asking if I wanted to be the coach," Cindy said. "We said we would only do it if we both did it together. I felt we brought a fresh perspective to coaching at Washington. I think for us our success as coaches was more on the motivational side."
In January 2009, the Huether family gave a sizable donation to then Augustana College as a part of a fundraising drive to re-build the six tennis courts on the Vikings' campus. Augustana responded by naming the new venue after the family as it was christened the Huether Tennis Centre.
Former Augustana education professor Dr. Matt Johnson said the courts aid with recruiting future Vikings to the school.
"When you're bringing in a tennis recruit, it definitely helps to be able to show them the Centre," Johnson said.
Mike was elected Mayor of Sioux Falls in 2010. Cindy was an active First Lady as she continued her work with SFTA before resigning in 2017. Her work included getting new lighting at McKennan Park and re-building tennis courts at Washington High School which came through the city's Capital Improvement Plan.
One of her largest projects that she was a part of and was near and dear to her heart was the Community Indoor Tennis Center. She was a member of "The Gang of 7" who helped to raise money and build the venue. The seven members were Bill Townsend, Mary Thompson, Matt Johnson, Lou Bosch, Mike McInerney, Keith Thompson and Cindy.
The family gave a sizable donation to the CITC, which was later renamed in their honor as it is now called Huether Family Match Pointe. The facility, which is a part of the Sanford Sports Complex in Sioux Falls, boasts six indoor tennis courts for tennis aficionados to be able to participate in the game they love.
Cindy elaborated on the work that "The Gang of 7" did in order to get the facility built.
"It started with the SFTA," she said. "Bill Townsend was getting ready to leave the board and had said 'I came on this board to build an indoor facility.' We had done all the homework then we took a vote as a board to see if we were going to pursue this long awaited dream. It was overwhelming yes that we were going to move forward with the project. It was such a great team. We had seven founding members and from day one, they stayed on board through the whole time. It was a special group."
Johnson shared his perspective on working with Cindy as a part of the SFTA board.
"I would say without her and Bill Townsend, I'm not sure that the facility would have been built," he said. "That was her job and her passion. She was bound and determined to get it built. She put her whole heart and soul into it and look how it turned out."
In 2012, Cindy, Mike and Kylie were recognized by the United States Tennis Association (USTA) as the Ralph W. Westcott USTA Family of the Year for their stewardship. Cindy was also named the 2016 Tennis Advocate of the Year by Tennis Industry Magazine and in 2019 received the USTA Northern Section's Wolfenson-Ratner Community Service Award.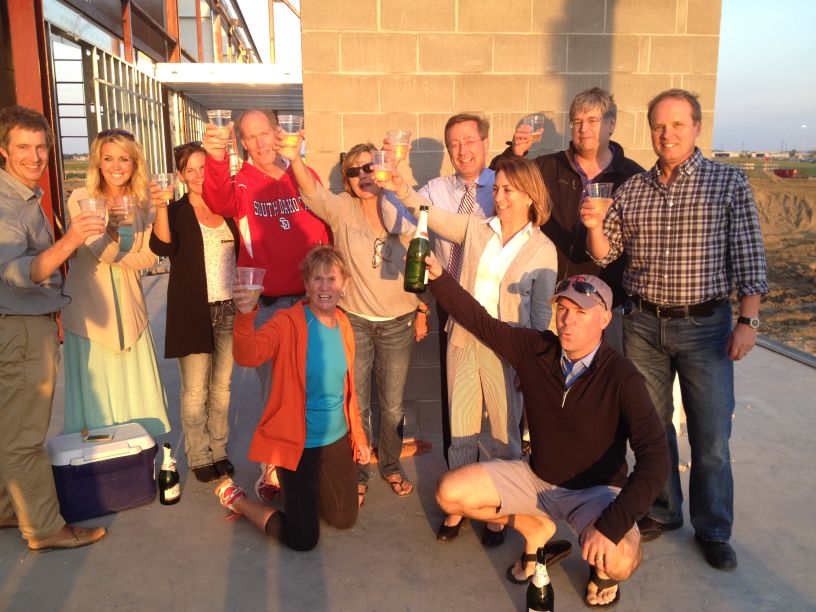 Mike spoke about being able to impact people who are participating in the game.
"Our family is very focused on two things when it comes to trying to make a difference," he said. "One of them is stewardship. When we look at doing things, whether it's coaching or being in charge of this committee, or being the Mayor and First Lady, the ultimate driver of that is stewardship. The other thing is leadership. If you're going to be a good steward, you should be a good leader too. You should prioritize some things that need to get done or are in need of improvement. Then lead the way until that happens."
Today, Cindy and Mike still reside in Sioux Falls. Kylie is married to David Kiesner and they have two children, George, who is five, and Margaret, who is two. Cindy is the daughter of Marilyn and the late Vern Loecker.
A quote from the late tennis great Arthur Ashe sums up Cindy and her family's giving back to the game that has enriched their lives for the better.
"Success is a journey not a destination," Ashe said. "The doing is usually more important than the outcome."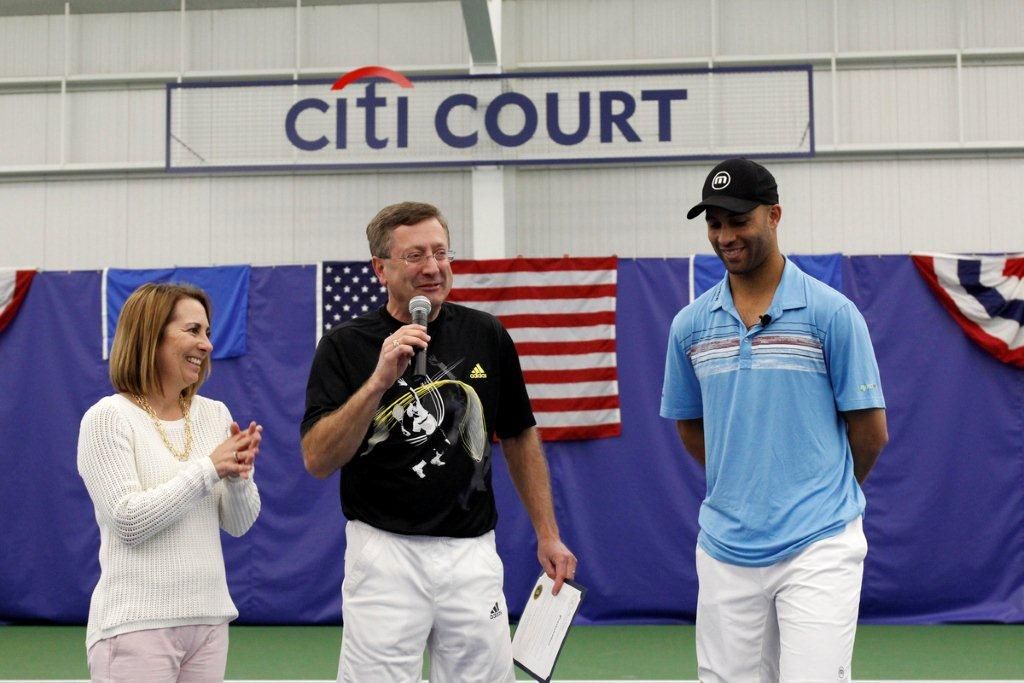 Photo: Cindy and Mike Huether with former ATP pro and World #4 James Blake at the Huether Family Match Pointe Grand Opening in 2015