Cynthia Borgen
By Brad Green
Merriam-Webster defines pioneer as "a person or group that originates or helps open up a new line of thought or activity or a new method or technical development."
Cynthia Borgen would fit this definition "to a T" in terms of women's tennis in South Dakota.
The 1957 Washington High School graduate was among the first female tennis players in the state as she played the game years before Title IX was passed, allowing girls to participate in athletics.
Hildegarde Cynthia Borgen was born January 3, 1940 in Waseca, Minnesota. She moved with her family to Sioux Falls when she was two years old.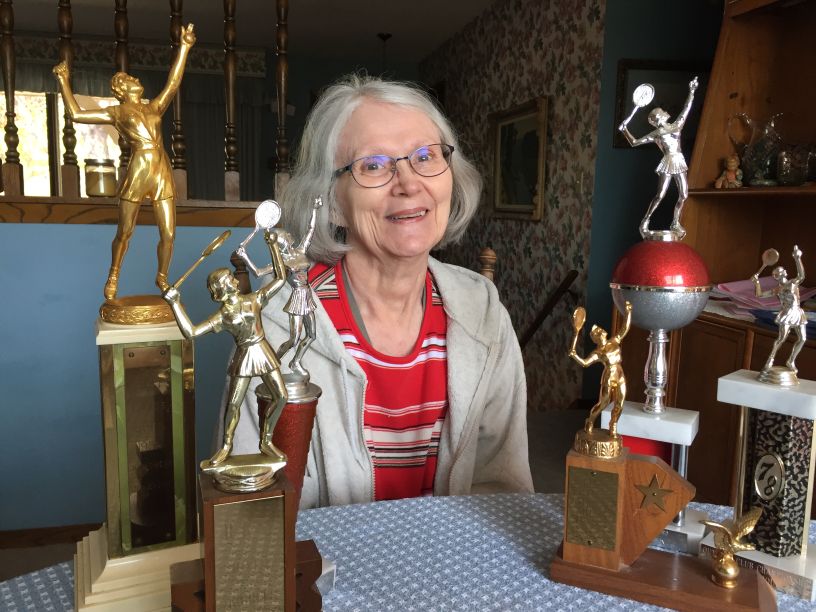 The Borgen family lived on 4th Avenue near McKennan Park, which would become a favorite place for young Cynthia.
"I lived across the street from McKennan Park," Cynthia said. "That's why I started playing tennis. If I could get away fast after we ate a meal, I didn't have to do the dishes. That's how the whole thing started."
She spoke fondly of the late Don Grebin, a fellow South Dakota Tennis Hall of Famer, who was among her early tennis instructors.
"He made it fun for these little kids that were never going to be tennis players," Cynthia said. "He made it fun for them so they kept coming back to the courts and playing."
She attended Longfellow Grade School for kindergarten through eighth grades before moving onto Washington High School in the fall of 1953.
As a teenager, Cynthia became a member of the Sioux Falls Tennis Club, later serving as volunteer secretary. The group would play in tournaments in town and around the region in places like Fargo and Grand Forks, North Dakota during the summers.
When she was 13, she defeated Patty Stringham 6-3, 6-0 to win the city championship.
A year later in 1954, Cynthia won four titles at the city tournament when she captured the girls' singles, junior women's singles, girls' doubles and junior women's doubles. That same year, Cynthia defeated Carol Kleespies 3-6, 7-5 and 6-1 to earn the South Dakota Open junior women's singles crown.
While she did not play sports for the Warriors, she supported the football and basketball teams as a cheerleader. Cynthia recalled the tryout process.
"They had you come out alone," she said. "One person on the stage and do a cheer, and off you go, and out comes another person. Then they vote."
1957 was a big year for Cynthia. She graduated from Washington in the spring as the valedictorian of her class of 489. That summer, she won her second straight women's singles City Championship as she defeated Barb Borst 6-1, 7-5. Borgen teamed with Borst as they claimed the crowns in championship women's doubles and junior women's doubles. Cynthia added her fourth title as she teamed with fellow Warrior John Simko to defeat Joan Griffin and Grebin to win the mixed doubles title.
That fall, she moved to Evanston, Illinois to attend Northwestern University.
Cynthia won the South Dakota Closed Women's singles title in 1957 and 1958.
She shared thoughts of two players from Brookings whom she admired while playing the game.
"He (Buck Shane) was so nice," she said. "I really looked up to Buck Shane and Lefty Johnson."
Cynthia graduated with a Bachelor of Arts Degree in History from Northwestern in 1961 and also earned a teaching certificate in secondary education. One summer, she took a criminal psychology class at Harvard University in Cambridge, Massachusetts.
Cynthia taught 4th grade in Chicago, Illinois before moving home to Sioux Falls. She substitute taught and worked in retail at Akers' Gift Store and at Catherine's Store for Women. Cynthia played in tennis tournaments in the 1960's and 1970's. She taught the game for the YWCA, Augustana College and the Parks Department.
Peggy Merrow of Sioux Falls has been Cynthia's best friend and confidant for over 50 years. The two grew up together and remain extremely close today.
Photo: Cynthia with longtime friend Peggy Merrow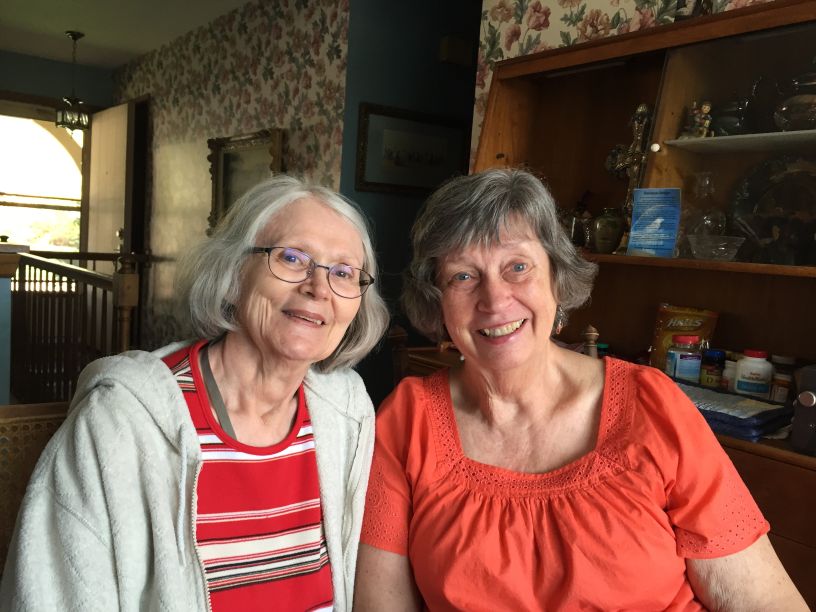 "We had so much fun," Merrow said. "We lived half-a-block apart. It was a wonderful time."
Cynthia is the daughter of Alfred Borgen Sr. and Lorinda Borgen. She has an older sister Mary, who is 87, and an older brother Alfred (Al) Jr., who is 81. Her younger sister Julie passed away in 2010. One of Cynthia's ardent supporters was her namesake and Aunt Hildy.
Today, at age 76, Cynthia still lives in Sioux Falls and remains a fan of the game that she played long ago.
"I like (Roger) Federer," she said with a smile. "He's a gentleman, he's kind and he's nice. Chris Evert was truly a champion and a special lady."
On behalf of the South Dakota Tennis Hall of Fame selection committee, we proudly welcome Cynthia Borgen into our ranks as a member of the Class of 2016. Congratulations to Cynthia!