Daryl Paluch
by Terry Nielsen
As a leading teaching tennis professional in western South Dakota since 1986, Rapid City's Daryl Paluch is being inducted into the 2009 SD Tennis Hall of Fame.
The Paluch name is RICH in recent tennis history in our state, and Daryl got the ball rolling as a 14-year old, multi-sport athlete. He embraced the sport, initially through library books on tennis, and a new found passion for hitting balls. "There were no tennis pros in those days in Rapid," said Daryl, 1974 RC Central grad, who certainly didn't know then it would develop into a lifelong passion.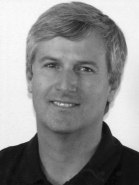 "I bought my first 98 cent racquet at the Gibson Store and often practiced over eight hours a day. I'd hit it against the backboard, garage door or house or go to the closest school until someone showed up who'd want to hit with me."
His skills were nurtured when he made the RC Central Cobblers tennis team and won the state #2 singles his senior year, playing behind #1 Rich Lenker. And like a fine wine, Daryl got better with age.
His supportive parents, Joe and Minnie Paluch, saw him "avoid work" by heading off to college at SD Tech, where Coach Clare Ekeland quickly named Daryl his #1 player. Daryl never lost that first year during the regular season, winning the conference and NAIA district championships, leading the Hardrocker team to the NAIA Nationals in Kansas City.
His sophomore year, he wanted to push himself and be with the best, so he passed on Coach Ekeland's tennis scholarship offer of $100 per semester, (not done before at Tech), and pursued NCAA Division 1 tennis. He took a semester off and traveled to check out "warmer" colleges in AZ, NM, NV, CA and CO.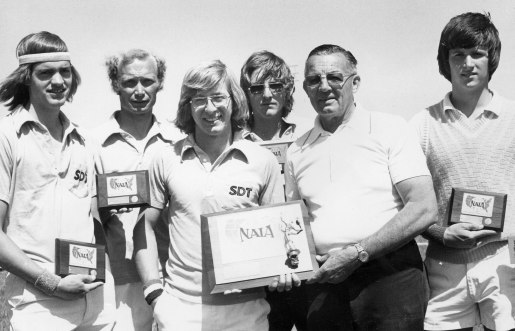 Rapid City native Linda Kopriva was playing at New Mexico on a tennis scholarship, and Lobos coach Tim Russell recruited Daryl to also play for New Mexico.
Teammates for Daryl (right) included All-American Tim Garcia, and North Dakota native David Gaetz, another top player who later coached the Gophers of the University of Minnesota.
After graduating from New Mexico in 1981, Daryl moved to Pierre and worked with the Department of Revenue, doing audits in the special tax division. On the side, he gave lessons, then moved back to Rapid City with a work transfer. While in Pierre, he met his future wife, Carolyn Porter.
Howard Johnson's Hotel had two indoor courts in Rapid City, and in 1986 Daryl left state employment to start giving tennis lessons full-time. From HoJo's in 1995 he went to Arrowhead Country Club to run their new indoor tennis facility. And most significantly, a Paluch family dream was fulfilled in 2003 with the opening of the Black Hills Tennis Center, a beautiful facility with four indoor air conditioned tennis courts. (Go to the internet site, www.thetenniscenter.com).
Giving thousands of hours of tennis instruction over the years means your own game often suffers, but Daryl kept in shape and was a major player during the 1980's as one of the top players in the state. Seven times he won the Black Hills Open, one of the few "money" tournaments in the state. He said one of his top wins was downing Marty Johnson at the SD Closed in 1986. In 2000, he earned a #9 national ranking in 45 singles with the United States Professional Tennis Association, of which he's been a member for over 25 years. He also holds the P-1 rating on the Professional Tennis Registy and is a Wilson Advisory Staff Member.
Other memorable wins included beating former Cobbler teammate Lenker in the semis and then Randy Stolpe for the championship of the 1982 Black Hills Open.
Being a tennis pro has its perks, and Daryl teamed with Dave Northey for an exhibition doubles match against Peter Fleming and Roscoe Tanner, losing 10-2. The match was part of an event where a rubberized court was flown into Rapid City for use in 1983 at the RC Civic Center. They then watched Fleming and Tanner tangle in singles, along with a match between Virginia Wade and Billy Jean King.
One can't survive the rigors of on-court instruction for over 25 years without a passion for seeing players improve and have fun. "Having my students come back and talk about fun times with tennis, teaching and working with wheelchair tennis players, Black Hills workshop clinics for the handicapped, working with 2-5 year olds and 80-90 year old players have all been highlights of my tennis career," said Daryl.
Of course, tennis is often a topic of conversation at the home of Carolyn and Daryl. The thirst for the game was quickly picked up by daughter Whitney and son Billy. Whitney won three state prep singles titles at #1 while competing for RC Stevens and Coach Jason Olson. She had an overall winning percentage of 93%, with 158 prep wins, the most ever in SD.
Billy just completed his senior season for RC Stevens, where he rewrote the record book as the only five time boys doubles champion in state prep history, while also claiming #1 singles three straight years. With able coaching from Steven's Olson and help from father Daryl, Billy won 142 prep matches with a 93% winning percentage.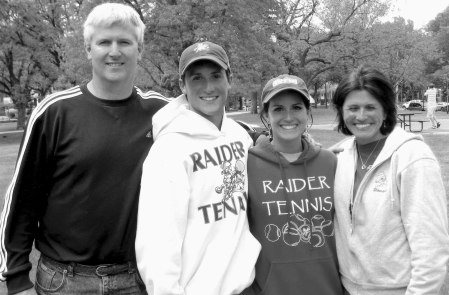 Billy will be attending Creigton University on an academic and tennis scholarship this fall, while Whitney is also on a tennis scholarship at Cal State – Northridge.
But you can't hear the Daryl Paluch tennis story without looking at the total family picture, and for the positive influence each had on one another… including brothers Duke and Darcy, and sisters Dixie, Dayna, Dolly and Donna. Now that would be quite a tennis team in itself!