Don Barnes Bio
Don Barnes is a self-proclaimed tennis junkie.
And for over 30 years of involvement as a tennis coach, player, director, organizer and promoter, Barnes is being inducted into the 2001 South Dakota Tennis Hall of Fame.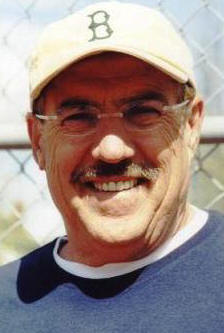 Don and his wife Kate have lived near McKennan Park tennis courts since they moved to Sioux Falls in 1972. The entire Barnes family grew up in tennis. Children Thad (28), Ann (26) and Ben (19) all eventually played #1 for their O'Gorman High School tennis team. And Kate learned the game well enough from Don to play in the top women's leagues.
A Mitchell, SD native and son of Don and Bernita Barnes, Don graduated from Mitchell Notre Dame High School in 1962. There he excelled in football, basketball and summer baseball. He then went to the University of Nebraska-Lincoln for 2-1/2 years where he lettered as a catcher on the Husker baseball team. After transferring to the University of South Dakota, he played Coyote basketball for Coach Bob Mulcahy and received his coaching certification and education degree.
Don's first teaching/coaching position was at Woonsocket, SD where he led the basketball team to its first State "B" tournament appearance in 39 years. He also ignited some tennis enthusiasm and took a couple players to the state tennis tourney–a first for Woonsocket.
Moving to Sioux Falls O'Gorman in 1972, he taught and coached boys' basketball and boys' and girls' tennis until 1980. A highlight was coaching the Knight girls' team to five consecutive state team titles (1976-80).
During the summers '73-'76 he was the Sioux Falls city tennis director. He left teaching at O'Gorman in 1980 to start a sales career (now in financial services with PaineWebber). He jumped back into part-time coaching for the love of the game, first at Augustana College (1981-82), then back to O'Gorman in 1996 with the boys' team (and now assisting wife Kate with the OG girls' team). "It's a great chance to give something back to a game I love," said Don.
A special thrill came during the past school year when Kate's OG girls' team produced the #1 state champion, Liz Donohue; and Don's #1 player Danny Peterson won the boys' state title. To create more community interest in watching prep tennis, the Barnes started the "Dakota Cup, a tennis under the lights" experience at McKennan's courts with special promotions for spectators. It features O'Gorman in a dual meet with another local high school.
"I got intrigued with tennis while at USD–watching Coyote players like Randy Peterson," said Don. "I learned my game by watching others and just love all the aspects of the game–the athleticism and competitiveness it requires to win."
"I tell my players each season, for eight weeks all I ask is that you concentrate on three things: your family, your school and full-time O'Gorman tennis. I'm a tennis player who happens to be a coach. I always play hard and ask my players to do the same–regardless of their skill level."
Don said he's gotten lots of enjoyment watching "non-traditional" tennis players, who happen to be terrific athletes, do well in prep tennis.
He said it's hard to name them all, but top players Don's coached include Nancy, Steve and Pat Rost, Michelle and Rick Volin, Larry Vickery, Jim Sorrell, Bill Townsend, Karen Wakey, Barb Verville, Susie Walsh and Sheila Hagen. Also, through summer park tennis–he enjoyed working with Karen Bernard and Mike Hoeger, who grew to be champions.
He's organized and directed many tournaments, including starting the Corn Palace Open in Mitchell–now one of the top tourneys in the area. In the 1980s, his racquet stringing that started in his garage, grew to a venture with Kate to be a retail tennis shop on the side for a couple years. He also conducted various traveling tennis clinics and still is one of the area's top doubles players.
"Whether I've headed to the courts to play or coach, I owe a lot to Kate for always supporting my tennis endeavors," said Don.