Don Grebin Bio
Don Grebin took a tennis racquet in hand for the first time when he was a sophomore at Washington High School in Sioux Falls. He said, "A friend from the east side had a couple of metal racquets with wire strings. His mom bought us a can of tennis balls. We would walk over to McKennan Park after school and on Saturdays. There were no tennis courts at the time (on the east side of town)."
A year later, Grebin was working at the old Time Theatre. Hi bought his first racquet. "I started spending some time with Mike Trueblood (instructing) at McKennan Park. I played in my first high school tournament in August of 1949, at Brookings." He lost in the semifinals, but won the state championship the next season, also sharing the doubles title with partner Dean Belbas.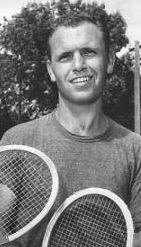 Tournament competition became a permanent part of Grebinís life.
While attending Augustana College, he won singles and doubles championships in the North Central Conference. Thereafter, titles were accumulated by the dozens in tournaments from Fargo, N.D., to Minneapolis, to Omaha, to Rapid City.
With partners John Simko and Jim Holwerda, a No.1 ranking in Northwest Tennis Association doubles was achieved in open and menís 35 competition, respectively.
One of Grebinís most cherished championships was in open mixed doubles during a Sioux Falls Winter Invitational. That event, held at Westward Ho Racquet Club in Sioux Falls before moving several years ago to Woodlake Athletic Club, is generally considered to be the oldest of its type held annually in the Northwest Tennis Association region. It was originated by Grebin, who managed the Westward Ho facility for four years.
As a tennis instructor, Grebin served 17 years directing the Sioux Falls Parks Department program and 11 years as Washington High coach.
Grebin directed the South Dakota high school boyís tournament for more than 20 years. He served almost that long as co-director of the South Dakota Open. For six years he was on the board of directors of the Northwest Tennis Association.
For 36 years, he has taught in the Sioux Falls public schools. Grebin spent more than 20 years officiating basketball and football throughout Eastern South Dakota.
His wifeís name is Janet. Children are son Kevin, daughters Karlee and Karrie, stepson Chad and stepdaughter Niki.