Doug Dexheimer
by Jessie Daw
Doug Dexheimer has, in true servant-leadership fashion, quietly but steadily led grass roots tennis in the Spearfish area for over 20 years. His reach in promoting the game has been extensive, and the community has definitely reaped the benefits.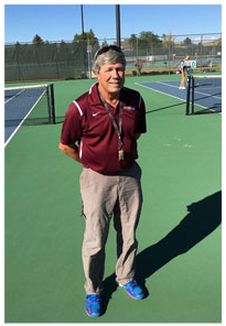 Born in Belle Fourche, SD, Doug's family moved to Southern California where he attended grade school and middle school. They then spent a few years in Boulder, CO, before moving to Spearfish, where Doug finished his last two years of high school. In those days (1970's), both skiing and tennis were among the most popular sports in the US, and Doug and his friends participated in both. They taught themselves the game of tennis, and watched professional tennis on TV. They tried to get a Spearfish tennis team going but couldn't find anyone to coach the team. Black Hills State University had a team at the time, and upon high school graduation he enrolled and played a few years for the Yellow Jackets, bringing home a few runner-up placements in singles (4th flight) and doubles (2nd flight) in the South Dakota Intercollegiate Conference.

Doug, who has been USPTA certified in recreational tennis, has coached the high school tennis teams at Spearfish for over 20 years, taking over from Maury Etem, who started the tennis program. With a no-cut policy in place, Doug displays true care and concern for all of his players. Beth Bentley, the mother of one of Doug's former team members, shared the following: "Doug sets a good example and is a role model for many reasons: the way he coaches - not yelling, treating players with respect, being positive, expecting great moral character on and off the court, and listening to them and trying to help them if they have a problem. He cares. I remember situations with team difficulties, and Doug would engage a school counselor to help improve team dynamics. Not many coaches would go that 'extra mile'. He puts God First, then family, then school, and then tennis, and teaches that to the kids by example." When he first started coaching high school tennis, he did so on a voluntary basis. It is not an understatement to say that, without his involvement, Spearfish probably wouldn't have a high school tennis program.

Doug's tennis impacts aren't limited to the school setting, though. He has also regularly provided tennis lessons in the community, either in conjunction with the Parks program or, when they discontinued tennis programming, on his own. He has taught kids ages 3 and up in the summertime, and also at the Spearfish Rec and Aquatic center in the months of January and February. He has also taught adults through the community programming, as well.

Tennis courts are an important part of the game, as having a nice tennis complex can attract more players to the game. Doug attended United States Tennis Association (USTA) community tennis workshops and brought back information that led to the group working with the Spearfish School District and the City of Spearfish to build 6 new courts at the Spearfish High School. Part of this work included pursuing (and obtaining) grants from the USTA. Prior to this 6-court complex, there were 3 courts at the middle school and a couple at BHSU (the BHSU courts have since been demolished).

During the academic year, Doug helps with Monday Night Tennis at the Young Center on the campus of BHSU. This program provides an opportunity for those middle school-aged through adults to play tennis through the winter months, and includes drills and match play. Doug has also worked with local PE teachers to help them with integrating tennis in their curriculum.

Doug is a founding member of the Spearfish Tennis Association, which started up in 2006. This group has provided a solid presence of support for tennis in the community, including (but not limited to): operating its own website; offering memberships; providing lessons and play opportunities, including tournaments; hosting Tennis Block parties; starting an area Tennis Hall of Fame; collaborating with the local pickleball association; facilitating court maintenance and repair (e.g., surface, nets, windscreens, etc.); maintaining equipment inventory; and pursuing 501c3 status for the organization.

Doug has also taught skiing full time during the ski season at Terry Peak for many years. While he teaches all ages, he is known as the "Big Dog" for the Snow Puppies ski lessons (the little kiddos). He has been a long-time certified ski instructor through the Professional Ski Instructors of America. He also cares for over a dozen cabins, providing upkeep and maintenance, and thus facilitating for many visitors the opportunity to enjoy the beauty of Spearfish Canyon.

Doug is also active in various ministry capacities at St. Joseph's parish in Spearfish, serving at various times with youth ministry, adult and youth religious education, and currently helping with confirmation. He also is engaged with the Montessori-based program called Catechesis of the Good Shepherd.

It's clear that Doug's influence in tennis and beyond is broad and meaningful, in many different ways. He has served the Spearfish tennis community without seeking recognition or accolades for his efforts; instead, he has served the game because of his love for the game and for his community. Spearfish has benefited greatly from his involvement, and the South Dakota Tennis Hall of Fame is honored to recognize him with the South Dakota Tennis Achievement Award.