Doug Smith Bio
When tennis enthusiasts recall the wave of excellent junior tennis that swept through Aberdeen in the late 60's and 70's – the name Douglas W. Smith surfaces immediately.
Probably in the history of South Dakota tennis – not one person has affected a single tennis community like Doug. Starting in 1967 as a senior at Northern State College – his interest turned from his own game to helping others develop theirs.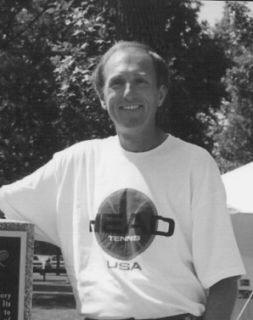 An English teacher at Patrick Henry Jr. High School in Sioux Falls, Doug chose to spread his teaching salary over 12 months so that he could afford to venture north to Aberdeen to jump start the junior program – free of charge. His payback was the relationships he built with scores of kids – some recreational, some championship players – but all followers of a game that paralleled life in so many ways.
"It was not unusual for Doug to spend 10-12 hour days with us at the courts," said Don "Woody" Boyd, now a Colorado businessman. "He would drill with us on the basics and fundamentals until we tired." Boyd said Doug's twin brother Dave was also a great boost to the program.
As a result, players went on to represent Aberdeen Central by claiming three straight undefeated conference and state championships.
Parents rallied behind the Aberdeen group and Smith traveled throughout the Northwestern Tennis Assn. for many sectional tourneys with his players. "For me, it was a labor of love," said Doug. "I loved the game, the kids, the travel, and I loved having a horde of good players to hit it around with when they got a bit older."
The NWTA recognized Doug in 1970 with the Ward Burton Trophy for his outstanding contribution to junior development.
In the fall of 1977, after umpiring at the U.S. Open, Doug moved to St. Louis to join Sioux Falls native Craig Sandvig in building a junior development program at Sunset Tennis Center. Now operating in the Missouri Valley section of the United States Tennis Assn., he's coached several #1 ranked juniors and is the "circuit coordinator." As part-owners of the club, he and Craig have a teaching staff of 10 professionals serving the largest junior program in the Missouri Valley.