Duke Paluch
By Terry Nielsen
For 2017 SD Tennis Hall of Fame inductee Duke Paluch, naming a tennis highlight of his life is not an easy task. For tennis and family has been his entire life!
As one of seven tennis playing children of Joe and Minnie Paluch, Duke took hold of his game in junior high and by age 15 was one of the top players in the Northwestern Tennis Association. Since then, he's won a SD state prep title, been an all-American player at tennis rich Gustavus Adolphus, won numerous state titles in Colorado and spent 30 wonderful years as a teaching professional/manager of what is now called the Rocky Mountain Tennis Center in Boulder, CO.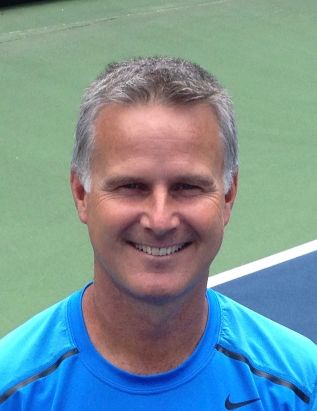 Married for 31 years to his Rapid City Central high school sweetheart Marty (with sons Matthew and Thomas), Duke recalls all the travels across SD as a youngster, hitting tournaments in Brookings, Aberdeen, Pierre and Sioux Falls. He was a finalist to Pat Rost of Sioux Falls O'Gorman in 1978, then beat Mark Sweetman of Abereen Roncalli for the 1979 state high school title. An all-round athlete, he also helped lead Rapid City Central to the state basketball title in 1980. And he liked that the tennis courts at his high school had a trout stream separating the two….he loves trout fishing. "Plus, I always had a sibling (in order, Daryl, Dolly, Dixie, Donna, Duke, Darcy and Dayna) to hit balls with, and had many great memories of those who provided housing to the junior players of SD."
While playing collegiately, Duke won the SD Adult Closed in 1984, defeating brother Daryl Paluch and Marty Johnson for the title, then teamed with Daryl for the doubles championship. Daryl recalls once when the two college age players headed to the CC Lee in Aberdeen in hopes of winning some travel money playing doubles.
"Duke and I were really tired the night we left Rapid for the tournament, so we slept in his Ford Pinto while a friend of ours drove. We told him to just keep going straight ahead. Well, we woke up later that night in North Dakota. By the time we made it back to Aberdeen we were defaulted in doubles. We often laugh about how "rich" we'd have been had we not been defaulted!"
Playing for Hall of Fame coach Steve Wilkinson (most wins in NCAA history), Duke was a two time All American at Gustavus, and was named to its Hall of Fame in 2010.
"With the health and social benefits of tennis, I really enjoy sharing the sport with others," said Duke. In CO, he has held these positions: summer assistant pro, head pro, director of tennis and club manager to business owner. He co-founded Rocky Mountain Tennis Center in 2007 and served as Nike Tennis Camp Director for 8 years. He coaches the boy's tennis team at Monarch High School.
His certifications include: 30 years USPTA and 6 years USPTR, Master of Tennis-Performance, PTR. He was named Manager of the Year-USPTA Intermountain 2015, and was the 2017 Colorado Tennis Bud Robineau Award winner for community service.
"Service to the community comes in the form of promoting the game of tennis in all areas possible through tournaments, high school coaching, charity events, school programs and league play," said Duke. "Over the years, much of our success is due to amazing business partners and staff. My thanks to RMTC co-founders Kendall and Donna Chitambar, and to Sylvia Henderson, our league and operations director for the club for the past 15 years," said Duke.
Daryl, who was inducted into the SD Tennis Hall of Fame in 2009, is VERY proud of his younger brother. "Duke is an outstanding player who has always had a strong work ethic and commitment to sportsmanship." Duke is representative of his entire family, as the Joe and Minnie Paluch family received the 2004 SD Tennis Achievement Award.