Fred Fischer
By Jamie Volin
My memories of Fred Fischer date from 1960. Fred had just won the South Dakota State High School Tennis Championship and I was a wide-eyed impressionable 12 year old. That summer, I watched in awe as Fred religiously worked out on the bang board. He would hit forehand after forehand, backhand after backhand grooving his strokes. His work ethic, discipline and determination provided me a role model that I wanted to emulate. His example of hard work inspires me to this day.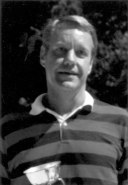 I found out later that Fred basically learned the game by going to the library and checking out a book on tennis strokes written by Don Budge and studying an illustrated tennis guide in Sports Illustrated.
His mastery of tennis stroke production was impressive given his lack of formal tennis lessons, but it was not surprising. Fred not only played on the tennis team at Washington High School but he also went to Boys State, made National Honor Society and was a championship debater.
His tennis career continued at Notre Dame. I remember being proud that someone from Sioux Falls was playing #3 for the "fighting Irish". During the four summers of his college years, he taught tennis lessons for the Sioux Falls Parks Department. Fred was proud that one of his early students was Chris Sandvig Dummermuth.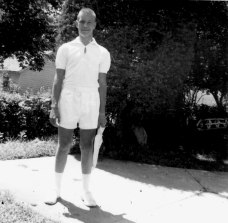 After graduation from Notre Dame (1964 business degree), Fred attended USD Law School, graduating in 1968. It was at USD when Fred, while a law student, co-coached the Coyotes to an undefeated season and their first ever NCC title (1967).
Terry Nielsen, as president of the newly formed Sioux Falls Tennis Association in 1981, recruited Fred to run a new USTA sponsored adult tennis (Michelob) league. Terry calls Fred "the god father" of league tennis in Sioux Falls. Fred spearheaded the tennis league programs for 5 or 6 years with 400-500 participants annually. His leadership was instrumental in laying the groundwork for our excellent summer tennis league program today.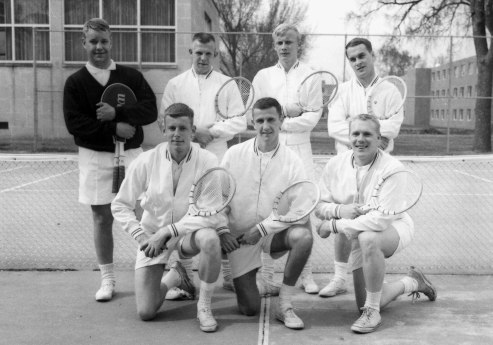 Fred built two successful careers both in law and later in investment management. Fred and his wife, Carol (an earlier tennis student of Fred's), still love the game of tennis – the lifetime sport he discovered over 50 years ago.
Fred has three children: Lisa, Mary Pat and Andrew. Mary matched her father's tennis exploits by winning both #1 singles and #1 doubles in leading her 1987 O'Gorman tennis team to the South Dakota state championship.
As a junior at Washington High, Fred teamed with Tom Line to win the state doubles title, then teamed with Tom Weber his senior year (1960) for the doubles championship, along with his singles title.
Fred, you have made your mark, and welcome to the SD Tennis Hall of Fame.