Gayle Klein
By Chris Dummermuth
At the formative age of 10, Gayle Klein and her brother, Steve, were urged by their mother, Vivian, to get involved in a Brookings summer park and recreation program…ANY program. They both chose to try tennis, so off they went to the local hardware store to gear up. They each purchased a racquet for $3.00.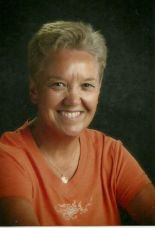 That maiden summer, Gayle succeeded in getting the ball back over the net, but it was all over the place. Fortunately, SD Tennis Hall of Famer, Lefty Johnson, was in control on the other side. He willingly retrieved her shots and returned them to her so she could hit (or spray) again. Because none of her friends were playing tennis, Gayle hung up her racquet following that first summer.
After four years of zero court action, fate intervened. Without asking permission, brother Steve borrowed Gayle's idle racquet and proceeded to return it in two pieces. Even though the racquet had been sitting unused for four years, Gayle invoked the sisterly duty of making him feel guilty, and it worked! Steve went to the Sporting Goods store this time and bought a really nice racquet to replace the $3.00 two-piece. Ironically, Gayle was now feeling guilty, so she started to play tennis again.
As a 14 year old, Gayle returned to Lefty Johnson, but this time, SHE had to run down every ball and hit it back to HIM! His large hands could hold an endless supply of tennis balls, and the brutally long exchanges prompted Gayle to ask whether a 14 year old could have a heart attack.
Gayle's park play morphed into team play for Brookings High School. While a Bobcat, she was coached by Joan Griffin, a 2002 inductee into the South Dakota Tennis Hall of Fame. Gayle went on to play as a South Dakota State Jackrabbit with coaches Gerry Crabbs, Don Rogers, and Mike Piatkowski. When Gayle's eligibility ended, SDSU hired her to coach the women's team for one semester.
During the summer months, Gayle gave tennis lessons in Brookings, then in Aberdeen, and finally at Camp Birchtrail in northern Wisconsin. Paul Richardson, a former fellow instructor in Aberdeen, said that Gayle was the refined, reasonable member of their teaching crew.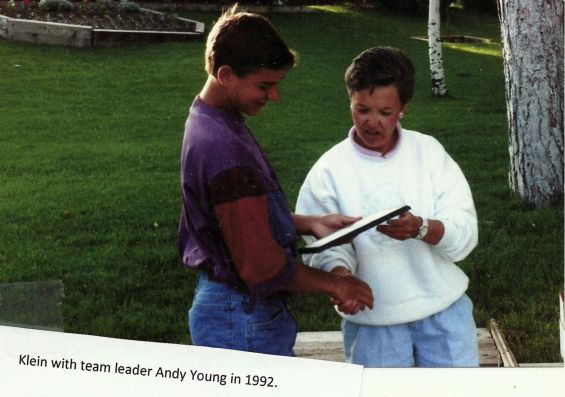 After brief school-teaching assignments in Todd County and Vermillion, Gayle was pursued by Mitchell High School Principal Bob Brooks to teach geography and coach tennis. She made the move in '84 and coached both the girls and boys tennis teams for the next 27 years. Gayle was probably the first woman in South Dakota to coach a varsity boys team.
Conditions were challenging! Assistant coaches for tennis weren't even a thought at the time. It was not uncommon for Gayle to be working with 48 boys on four courts. During the winter months, the "indoor court" was the National Guard Armory. She would tape the floor, string up a net, and they would literally hit next to tanks and cannons.
Gayle served four years as the tennis representative on the SDHSAA Advisory Board. It was during that time that the change was made to include the five and six singles flights in the state tournament. She was honored as the South Dakota Tennis Coach of the Year for the '94-'95 season, National Federation Coach of the Year for South Dakota in 2000, and Mitchell Coach of the Year for the 2000-'01, and 2010-'11 seasons. But her greatest pride, by far, is her players!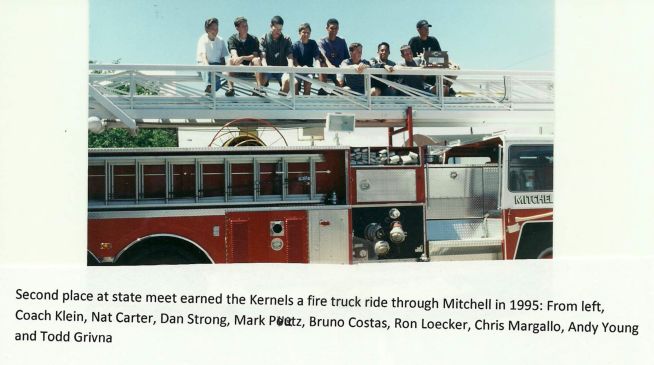 Many Kernels went on to play college tennis, and some have even joined the coaching ranks in California, Colorado, South Dakota, Minnesota and Iowa. Gayle's teams won four ESD Conference championship titles, and seven teams earned a top five finish in the state tournament. Two players, Tyler Osterloo and Karmyn Hettinger Marchand, were honored with the Spirit of Max Award. Her 2011 team received the Sportsmanship Award at the boys state tennis tournament.
During the '94-'95 season, the Kernels boasted both the boys and girls flight one singles champions, Andy Young and Melanie Puetz. Andy fondly recalls his years with "Miss Klein" (he still calls her that today), "She was very committed. Miss Klein put in long hours at the courts, and really became part of the family. We wanted her to feel successful! She planted the seeds, and the program continues to be successful because she cared about us developing into good citizens as much as good tennis players."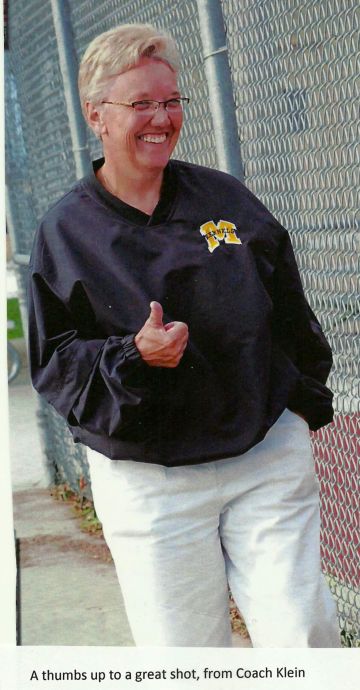 Melanie agreed and added to those sentiments, "Coach Klein was a huge part of my life from my first year playing varsity as a 7th grader to winning my state championship my senior year. She had a great laugh and was a lot of fun to be around, yet we knew when she meant business. She pushed us with conditioning at a time when it wasn't really deemed important in high school sports. I also had the honor to have her as a geography teacher, and she was fantastic in the classroom! I've always admired and respected the decades worth of dedication she gave her students and athletes. She stressed success in academics first!!
Gayle retired from teaching and coaching in 2011, but still is an avid follower of Mitchell and Jackrabbit activities! Knee replacement has steered her toward golf these days, but recently she has returned to the Hitchcock Park courts for some pickleball.