Jamie Volin Bio
Jamie Volinís love of tennis began modestly enough over 40 years ago. Little did anyone know that love of tennis would lead Jamie to become involved in almost every facet of tennis. For his many contributions to tennis, Jamie is being inducted into the 2000 South Dakota Tennis Hall of Fame.
Jamie lived across the streets from McKennan Park growing up. Often, he would leave the house early in the morning with a grocery bag full of tennis balls. He would spend the entire day at the tennis courts during the summer hitting against the bangboard until someone would come along for him to play. Jamieís long hours of tennis paid dividends. He began traveling all over the northern section in his teens to play tennis tournaments. Jamie found success at these tournaments, as he twice qualified to represent South Dakota at nationals, once at Rice University in Texas at 17, and at the University of South Florida at 18.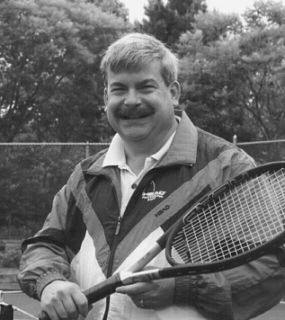 Jamie was unable to play high school tennis because of state rules prohibiting Catholic schools from competition, but he went on to play collegiate tennis for St. Johnís University of Minnesota. He played both #1 singles and doubles for his college team along with being their captain. Jamie continued to play competitive tennis after he left St. Johnís. However, Jamie was looking for other ways to start giving back to the game that had given him so much.
Jamie became a USPTA certified teaching pro and taught tennis as part of a community education program in the early 1980ís. Jamie also opened his own tennis specialty store in the basement of his home. In the early 1980ís, his tennis store sold more racquets than any other tennis outlet in the Dakotas. In 1986, Jamie moved the store out of his basement and into the Park Ridge shopping mall with his sister Mignonne. Later, Jamie transferred his share of the store to his sister.
Jamie became deeply involved in directing, organizing and promoting tennis tournaments over three decades. He was a primary force in obtaining tournament funding for different tournaments from companies such as First National Bank, Marquette Bank, Valley National Bank, and Coca-Cola to name just a few. Jamie also collaborated with Woodlake Athletic Club to raise funds for the Special Olympics. Jamie spent 9 years serving on the Northwestern Tennis Association Board of Directors representing South Dakota tennis. Through the Northwestern Tennis Association, Jamie helped find funding to send South Dakota junior tennis players to intersectional events.
In 1998, Jamie became certified as an umpire by the USTA. He ran the tournament site for 16 and under boys at the largest national junior tennis tournament in the world in Tucson, AZ. Jamie also coached high school girlsí tennis for a year.
Jamie might look upon his co-founding of the South Dakota Tennis Hall of Fame as one of his most important achievements in tennis. The South Dakota Tennis Hall of Fame brings attention to those individuals who have given so much to South Dakota tennis, often without accolade or for personal benefit, but simply out of love for the sport.
What I find most impressive about Jamieís love of tennis is how much each moment has meant to him. A man with 40+ years of tennis experience has many stories to tell, and being his son, a person hears more than a few of those. However, his fascination with everything tennis related still boggles my mind. Not long ago, we started chatting with a new neighbor on our block. This neighbor mentioned that he and his sister used to shop at a small tennis store in the basement of a house over 16 years ago. Upon hearing this, Jamie was able to recall the exact racquet he had sold each of them all those years ago. Every little aspect of tennis is riveted in Jamieís mind, for tennis is a love Jamie can never forget.