Jeannie Craney Norwine
By Terry Nielsen
Jeannie Craney Norwine grew up within blocks of the tennis courts at McKennan Park in Sioux Falls. And she has been a Southern California gal for the past 35 years or so. But the fond memories of her playing winning tennis while a teenager in SD still ring true in her mind.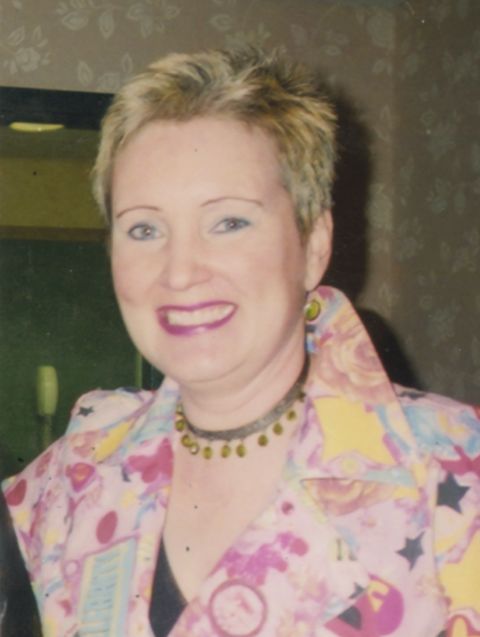 A 2019 South Dakota Tennis Hall of Fame inductee, Jeannie recalls her early start in tennis, using the family garage door as a bang board. By honing her game on the courts at McKennan Park, she then led her team to a state high school title at Washington High, claiming a singles title along the way. She won several junior singles titles at Northwestern Sectional tournaments in the Twin Cites (MN). In 1971, the Sectional yearbook lists her ranked #2 in the girls 12 singles based on the previous summer's play. And in the 1976 Sectional yearbook, she held a #5 ranking in girls 18's, plus a #2 ranking in girls' 16's singles.
After graduating from WSHS, Jeannie played #1 singles and doubles in tennis while attending South Dakota State University in Brookings.
"I started tennis through my parents John and Daisy at age six," said Jeannie. "Brother Mark and I hit often, but older sister Annie was having lots of success and I looked up to her so much. I really liked how she got to go to tournaments and win trophies! I recall taking a couple of her trophies to St. Mary elementary school and claiming that I had won them! I clearly needed to spend more time memorizing the Ten Commandments!"
"Looking back, McKennan Park represents so much to me now as a middle aged adult. I spent every summer at the courts and every winter on the ice skating rink," said Jeannie. "At 8 years of age, I played my first tournament and I recall liking the chance to win and really thriving on the competition a lot! From there I began to play local, state and regional tournaments. My mother was my faithful driver, match watcher and mascot."
She has many memories of competing against Kari Sandvig, Nancy Hougland, Nancy Rost, Karen Bernard, Linda Kopriva, Chris Dummermuth and Theresa Bell.
As a sophomore at Washington High, her team was undefeated and she beat Dolly Paluch of Rapid City Central for the state #1 singles title. Her doubles partner was Karlee Grebin and team members who placed high at the state meet won by the Washington Warriors were: Jane Nelson, Debbie Hopewell and Deanna Darr. Other team members were Nancy Musso, Jenny Hoehl and Cindy Psychos.
As a junior in the fall of 1976, at the state meet, Jeannie was a finalist for another state title before losing to Nancy Rost in what would be the first of five straight championships for Nancy.
Jeannie recalls teaching tennis for the city of Sioux Falls in 1979, and taking lessons over the years from Dave Weber at Westward Ho and Randy Stolpe at Woodlake. In that group with Stolpe were other junior players Jay Lauer, Mark Wakey, Mike Hoeger, Dick Hahn, Kari Sandvig and Nancy and Pat Rost. Her coaches at Washington High were Dick Day, Dave Dummermuth and Chris Dummermuth.
Tennis then became a big part of her life after moving to California. Five years in a row she was the singles champion in the top women's section at Griffith Park, a noted public 12 court facility in Los Angeles on Riverside Dr. No one had ever won five in a row. She currently works as a cashier at Weddington Golf and Tennis in Studio City, CA .
Her sister Anne Craney Olson says Jeannie has held several prestigious jobs in the business and entertainment world of LA. "She became a production manager for Johnson Edwards Entertainment Co, and produced the entertainment for events like Bob Hopes 90th birthday party. There she had a funny conversation with President Ronald Reagan."
Anne said Jeannie's confidence in competing in tennis has given her sister determination and professionalism, to build a long and impressive resume in the entertainment world. At Weddington, there is a constant stream of A-list celebrities daily, such as Bradley Cooper, Will Ferrell, Cameron Diaz and others.
In earlier years, other events Jeannie produced while working for the Beverly Hills production company included Barbara Streisand's wedding to James Brolin, the 70th Annual Oscar Awards Governor's Ball, the Emmy's Governor's Ball, the "Grammy" Awards Governor's Ball, the Fire and Ice Ball, the Braveheart premier and other celebrity weddings.
Many of the early California connections started through her brother Mark Craney. Mark got his start with the drums in Sioux Falls, but his skills really developed in CA. He died Nov 26, 2005 at age 53 from complications from diabetes and pneumonia. He was a world famous American rock and jazz drummer, having toured with Jethro Tull and other noted performers. Sisters Jeannie and Anne were in Sioux Falls in 2011 when Mark was posthumously inducted into the SD Rock and Roll Hall of Fame.
Since this writer had asked for a special childhood tennis memory, and knowing she had loved winning trophies, Jeannie said, "Well, I do have one memory for sure. We were returning from a Twin Cities tennis tournament, riding facing the back in one of those old station wagons. Another car of tennis players came upon us, and flashed a rather small trophy at us. It was a thrill to hold up a two footer I had just won and wave it back at them," said Jeannie with a smile.