Jeff Bloomberg
by Mary Thompson
"Don't aim for success if you want it; just do what you love and believe in, and it will come naturally." (David Frost)
Jeff Bloomberg began doing what he loved and believed in around 1983 when he initiated the Northern Hills Open.
Years before that, Jeff, a Huron, South Dakota born-and-raised boy, received his BS from SDSU (1976) and his Jurist Doctorate from USD (1978). He then moved to the northern Black Hills to practice law. And do tennis!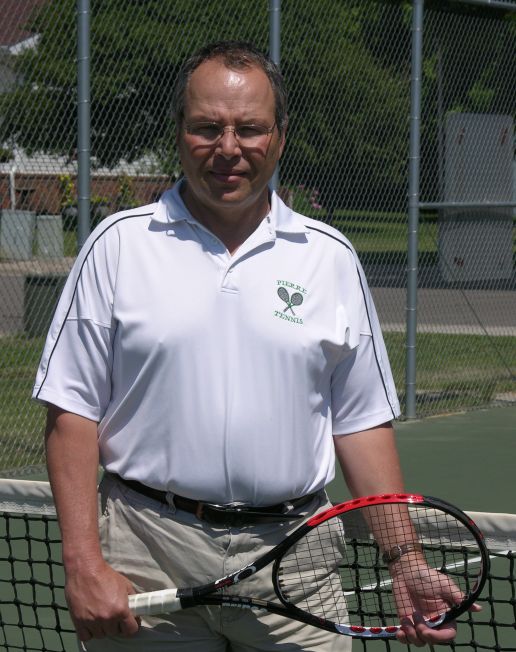 Jeff was tournament director for a number of years for the Spearfish and Sturgis tournaments. His real tennis creativity emerged in 1984 with the Norwest Black Hills Tennis Grand Prix, a tournament in the northern Hills that included the Rapid City, Hill City and the Edgemont/Hot Springs areas. It was Jeff's inspiration to inaugurate the similar, popular Asfora South Dakota Grand Prix, which existed for several years. This sponsored tournament rewarded players for participating in the many state tournaments by creating a cumulative point system. Earning Asfora Grand Prix points made the summer tournament circuit very exciting.
Always a visionary, Jeff started the Capitol City Open in 1997, founded the Pierre Tennis Association in 1998, co-founded the South Dakota Tennis Association in 1999 and served as its President until 2006.
Having three talented daughters; Hana, Emily and Nellie, involved in tennis, Jeff added to his resume the title Assistant Coach for the Pierre Girls High School team in 2002. He took over the helm in 2006 and has led his teams to two ESD Championships, one ESD Runner-up, and took each of 3rd, 4th and 5th places at the state tournament. His compiled dual record (so far!) is 89-49.
On a broader scope, Jeff became a certified USTA Official and served in that capacity at different tennis events. He won the respected 2000 USTA Northern Wolfenson/Ratner Community Service Award. Down yet another tennis avenue, Jeff served on the USTA Northern Community Development Council for eight years and on the USTA Northern Board of Directors for two years.

Becky Cantellano, USTA Northern Director of Programs and Services, said of Jeff: "There are not many people that are able to make an impact on a community, state, and regional level the way Jeff has. In my visits to Pierre, it was evident that he has gained respect for all the work he puts in coaching and with the tennis association. He was instrumental in securing USTA grant funding for Griffin Park in Pierre, and I feel that it is one of our section's best outdoor tennis facilities. He also was the catalyst behind a tournament there that brings together high school and college teams, which is such a great bridge for keeping kids involved in the game after they graduate into adulthood."
Mike Goldammer, USTA Northern Executive Director, added, "Having known Jeff for 15 years now, I can safely say that he is one of the most passionate, hard working, progressive minds in community tennis. He leads by example and has never been afraid to do what's right for the growth of the game."
"Big thinking precedes great achievement," said Wilferd A. Peterson, author of The Art of Creative Thinking. Jeff states his greatest accomplishment was the 2000-2009 multi-phased project with the city of Pierre where seven aged courts were replaced with eight courts in a beautiful new facility.
Jeff's involvement in state government has had a lasting impact on SD. He started in Butte County as deputy states attorney in 1979-1980. By 1994 his legal work as Lawrence County states attorney led him to being named to Governor Bill Janklow's cabinet as Secretary, Department of Corrections (1995-2003).
From 2003-2006 Jeff was general counsel for the SD Bureau of Personnel. 2006-2010 he was commissioner of the Bureau of Administration. He is currently general counsel for the SD Bureau of Personnel, chief legal adviser on human resource issues for state government.
The citizens of all of South Dakota have benefited from Jeff's legal expertise for many years….but tennis players for sure are glad he likes to hit the "court."