Jessie Daw
By Terry Nielsen
When the SD Tennis Hall of Fame was started in 1991, it was to honor people in one of three categories: as a tennis player, coach or contributor. Jessie Daw, 2018 inductee, scores a high grade in ALL three categories.
Her tennis story is filled with a lifetime of highlights for a gal who only recently turned age 50. From being a nationally ranked player as a teenager, to a state champion for Lincoln High School to playing DI tennis at Illinois…those were a touch of her playing highlights.
As a coach, during graduate school she assisted men's and women's tennis at University of Idaho (Division 1). Then after working as a teaching professional in the Twin Cities, she was named women's coach at Illinois State where she was named conference coach of the year. After earning her doctorate at Illinois, she taught and coached women's tennis at Northern State University in Aberdeen, SD (2001-2014).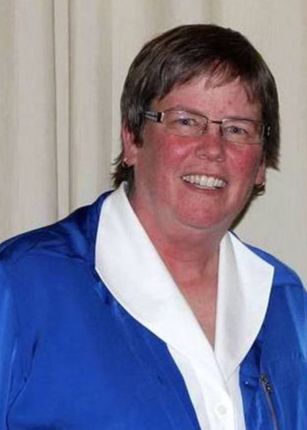 As a contributor, she used her sport psychology and education background to help grow the game of tennis. She seized many volunteer opportunities, and the Northern Section (USTA) has benefited greatly. She served three terms (six years) on the board of directors and chaired committees involved with Community Tennis, National Junior Tennis and Learning, and the Diversity and Inclusion Committee. She is in her first term of a USTA national committee called the Local Play and Competition committee.
Growing up near McKennan Park, the tennis hub of Sioux Falls, served as a great launching pad for Jessie. She was the youngest of six children for Edward and Patricia Daw. In front of her, in order, were Cindy, Beth, Dave, John and Sarah. Jessie's life partner of 14 years, Karen Gerety, joined her in marriage the summer of 2017 (at McKennan Park). One of Jessie's greatest honors in life was providing loving nursing care and a home for her mother Pat, who battled dementia for several years before dying earlier this year.
Jessie was nine or ten when her mother signed her up for lessons at Woodlake and McKennan Park. Tournaments came at age 11 and by age 12, she had won the SD Closed and the big Aquatenial tournament in the Twin Cities. She said support starting really coming her way as she entered the 14's and travel picked up. Jessie said "Key supporters were Chris Dummermuth, the Sorrells and Breitags, Carol Stewart, Karen Bernard, the Selkirks and Grebins…those are just a start of those who helped me so much."
After winning the SD Open in 1979, she represented the Section at the national Seventeen Magazine Tournament of Champions. Along the way, she was helped by playing adults like Judy Breitag, Karen Koob, Marilyn Selkirk, Sandy Jerstad, Carol Stewart, Judy Rost, Jeanne Craney and Chris Dummermuth. "What experiences, so fun playing these women," said Jessie.
Because of her play early that summer, she qualified for USTA national tournaments for the first time. Her first was the Team Intersectional event with two boys and two girls on each team. Others on that team were Jimmy Sorrell of Sioux Falls, Casey Merickel of MN and Julie Gilbertson of ND. Her eyes really opened with the talent she saw when she travelled to the girl's national 14's in Birmingham, AL.
As a ninth grader at Patrick Henry Jr High in Sioux Falls, she was allowed to try out for the Lincoln High tennis team, and played #1 singles and doubles. A memorable loss her first year was to Aberdeen senior Maria Bell in two tie break sets, in the state semi-finals.
It was that summer that her longtime teacher and coach, Ron Selkirk, moved from Sioux Falls. From then on, her main coaching came from outside the city, including Ted Warner (MN) and Jack Groppel (IL).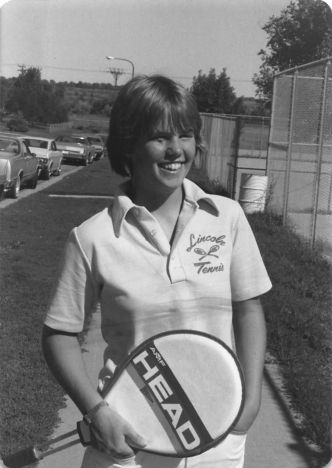 The Fall of 1980, her Lincoln High team finished second at state and her only losses were to O'Gorman senior Nancy Rost, in singles and doubles. It would prove to be Nancy's fifth straight singles title for O'Gorman. After a hectic summer of successful tennis in 1980, she prepared to return to Lincoln tennis with a great showing at the Northwestern Section Open (now called the Northern Section). In the third round of the women's open singles, she had her only win over Nancy Rost, the 6th seed, winning by 7-5, 6-7, 6-3. Jessie had also won the 18's at the SD Closed and achieved her first national ranking, #124 in the 16's.
The high school season came along that fall, and for the first time, when Jessie was a junior, Lincoln High won the SD team title, as well as the Sioux Interstate Conference. Jessie won #1 singles and teamed with Angie Breitag to win #1 doubles. "It was really neat to do something for Lincoln for the first time," said Jessie," and I had great teammates in Angie, Joan Bierman, Lynne Chesney, Julie Olson, Colleen Taplett and Coach Chuck Wise. "
After a busy, successful summer of tennis, she decided to really focus more on tennis improvement and moved to the Twin Cities to train with Ted Warner (skipping her final year at Lincoln). Nationally, she reached #103 in 18's singles and #20 in 18's doubles. Her work paid off as she received a full tennis scholarship to Illinois of the Big Ten Conference.
"Two weeks before my first year at Illinois I broke my left arm. In hindsight, this was a blessing in disguise in a number of ways," said Jessie. "It allowed me to ease into college life without the pressure of competing, and second, it eventually led me to sport psychology, and thus, defined my academic path and ultimately, my career path."
In her career at Illinois, she played every position in singles and doubles except #5. As the years passed, she played lower in the lineup, which made her a better competitor and the team got better. She overcame more injuries but finished as one of the career leaders in doubles wins for the Fighting Illini.
Jessie said "As I moved through my undergrad years at Illinois, academics and tennis closely aligned." Her major was Kinesiology with a social science perspective, primarily sport psychology. She trained mentally as well as physically at Illinois, which was a hotbed for sports psych. She says training for peak performance in sport is beneficial in all aspects of life, not just tennis. The holistic view permeated her philosophy in teaching and coaching through her career. She said "Sport, and tennis specifically, has always been a tool to teach others about striving, failing, achieving and persistence."
With a Masters of Science degree from Idaho, and her Doctor of philosophy from Illinois, Jessie has been called on countless times for sports presentations over the years. She helped develop curriculum at Northern State and has given back big time to tennis as payback for what the sport has meant to her. She helped resurrect junior tennis in Aberdeen and in 2009 was the ITA-USTA Northern Section Community Outreach Award winner. Other honors include the 2011 National Association of Girls and Women in Sport Pathfinder Award, the 2014 SD Association of Health, PE, Recreation and Dance Honor Award, the USTA Northern Wolfenson/Ratner Community Service Award and the 2018 Professional Tennis Registry Member of the Year for SD.
Touching others' lives through friendship and coaching means the most to Jessie, of course:
Said former Northern player, Bridget (Henderson) Coppersmith of Yankton: "Playing for Jessie was a real honor. It gave me a chance to continue my tennis career after high school when she started the tennis program at Northern. She pushed me to achieve successes in my game that I thought were impossible, growing my confidence through her coaching. I learned mental toughness, self confidence, self appreciation and have memories of college tennis I will forever cherish."
And, from Amanda (Lee) Lundsetter (current interim president of the ND tennis Association): In 2008 while a junior at Northern, Jessie let me walk on for tennis and turned me in a direction I was not expecting. She coached with rigor and detail and was always fair and consistent. Beyond technique and tactics, Jessie taught me how to lead with a positive before delivering a correction or advice, to be consistent and thorough and to find ways to continue my own development as a coach." (Amanda is in her 7th year of coach prep tennis at Wahpeton, ND).