Jim Van Gerpen Bio
When someone enjoys both teaching and sports – that combination can provide many opportunities. And few South Dakotans have ever gotten more enjoyment out of the sport of tennis than Jim Van Gerpen.
Jim started teaching business law and accounting at Brandon Valley High School in 1969 and by 1977, he and his wife Sandy had built a home in Sioux Falls with a backyard private tennis court. Jim's love of hitting balls and teaching youngsters tennis as a volunteer "coach" and friend drew dozens of the top high school players to his home – including state champions Nick Helwig (Vermillion) and Jim Sorrell (O'Gorman). Others included top players Scott Novak, Doug Novak and Jay Anderson of Brandon and Lincoln High's Cory and Jason Kiner.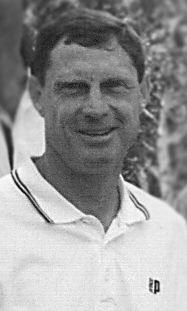 Jim graduated from Rapid City Central High School in 1964 and Sioux Falls College in 1968 (both formed school tennis teams when he arrived). While at Sioux Falls College he was conference and NAIA District singles champion three times and played in two national tournaments at the NAIA in Kansas City. Out of college he teamed with Doug Smith and Dave Weber in the early 70's to provide instruction for all the top juniors around Sioux Falls and after years of assisting local pros, he became certified by the United Stated Professional Tennis Association in 1990.
He's a past singles and doubles champion of the Black Hills Open, Rapid City and Sioux Falls city championships, and won several SD Closed open doubles titles with the likes of Randy Kochenderfer, John Waltman and Marty Johnson. Jim teamed with Chris Dummermuth to win the 35 mixed doubles in 1995 at the National Public Parks Tournament and teamed in the past with Carol Stewart to win the open mixed at the SD Open. He dominated most of the men's 35 and 45 age division doubles fields in the mid-80's and 1990's. Marty Johnson, long-time Sioux Falls pro, called Jim "a classic doubles player, consistently playing perfect position tennis with high first serve percentages."
Jim also served for many years on the Board of Directors of the Sioux Falls Tennis Association and as a tournament volunteer.