John Egan
John Egan is living proof that you donít have to be a great player to love the sport of tennis. A doubles "specialist" at Sioux Falls area courts in the í70s and í80s, Egan was known as a net rusher. And, as one former opponent said with a smile, "that wasnít because he had a big serve and a great volley...he just had no ground strokes!!!"
But this story isnít about Johnís tennis game. Itís how he impacted South Dakota tennis as one of the areaís top sportswriters over a 35-year period that ended with his retirement in 1989 from the Argus Leader in Sioux Falls.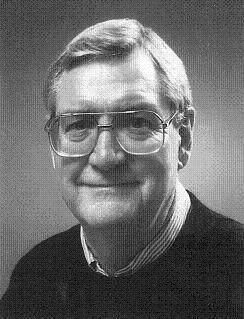 For his impact on tennis, Egan is receiving the 2000 South Dakota Tennis Achievement Award.
Tennis is a sport played in private compared to the major sports in this area. Tennis "crowds" at a match, beyond a few relatives, are rare. Voices shouting for public park dollars to enhance tennis are often lost in the budget battles of city halls around the state.
Eganís influence changed the tennis scenery around eastern South Dakota. During his 35 years at the Argus, he served as sportswriter, editor and columnist. Tennis coverage was expanded appropriately and fairly. This occurred even with the constant concern for space in the newspaper, as more sports, plus girlsí athletics, needed coverage.
Most prominent was his coverage in the early í80s that promoted and helped organize the volunteer efforts of the Sioux Falls Tennis Association to raise private donations to lend a hand to the city coffers for the McKennan Park tennis court reconstruction project.
Also, Egan had planted the seed with local leadership to start the SD Tennis Hall of Fame (before he retired to Sun City, Arizona, in 1990).
An eight-time winner of the SD Sportswriter of the Year Award, Egan in retirement is a volunteer worker for Habitat for Humanity. He heads a project that collects donated furniture for Habitat Homes in his Sun City area (90 homes furnished through April 2000). Heís also stayed active as a staff writer for Sun Golf, a magazine distributed across the Southwest.
For years an underlying theme in his many sports columns was fairness for all, and recognizing those that typically would not grab the headlines. The South Dakota Childrenís Home Societyís Childrenís Friend Award given him in 1989 remains one of his proudest moments. His last official day at the office, August 19, 1989 was proclaimed "John Egan Day" by the office of the governor. He co-founded the SD Sports Hall of Fame in 1968 and has seen 111 sports figures inducted.
One of his major accomplishments was publishing a non-fiction historical documentary entitled "Drop Him Till He Dies." The book, published in 1994, was sold across the Upper Midwest and beyond. The story dealt with the life of Johnís great-grandfather. Thomas Egan was found guilty and executed in Dakota Territory in 1882 for a murder he did not commit. Exoneration came on a confession by his stepdaughter in 1927.
Former Miami Dolphin owner (and SD native) Joe Robbie wrote at Eganís retirement, "You have given South Dakota sports events complete coverage which has been fair, accurate and informative. You understand sports and gave fair recognition to the athletes...best of all, you have shown the human side of sports."
South Dakota U.S. Senator Tom Daschle, in 1989, said, "I will miss the 35-year Egan tradition. With your pen you have made thousands of mornings brighter for tens of thousands of your readers. Far more, I fear, than the news with which I am involved, the news you have reported is the news your readers have wanted. Getting it to them, all of it, the hundreds and hundreds of little scores and stories that are so big to a few, speaks of a respect for others that is too rare today."
John is a Minneapolis, MN native and Augustana College graduate (1953). He and his wife, Jan, have one daughter, Jodie Flolid of Chanhassen, MN.