Robert "Jolly" Carlson Bio
"Little Jolly Carlson of Watertown, S.D. is believed to be the smallest and youngest prep high school champion in the U.S. A sophomore, he has to stand on a book one inch thick to be 5 feet tall, and drink a gallon of water to be 100 lbs." (New York Times)
So spoke sports columnist Eddie Brietz from afar – then Jolly used his consistent "retriever" tennis style to become the first ever three-time South Dakota high school tennis champion (1940-42). Jolly's tennis exploits extended to Augustana ('46-'49) where he was a fixture on a team that claimed three North Central Conference tennis championships (most memorable singles win, over U of Minnesota #2 player, previous Minnesota prep champion). Summers in college were spent as city tennis director for Watertown and Sioux Falls.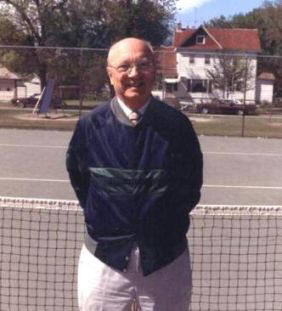 Jolly obtained his graduate degree at Minnesota in physical education, worked as a youth director at a large Lutheran church in St. Paul, then returned to his first love, teaching and coaching. Madison, Minnesota was his choice and 33 years later he had over 400 coaching wins in boy's high school tennis. Included were 20 district titles for Madison, 12 regional championships and a 1975 state title runner-up (to Edina, 25 times the school-size of Madison). He started girl's tennis in 1974 and tallied nearly 200 victories before retiring in 1990. He had the privilege of coaching all five of his children – Barry, Gary, Greg, Jeff and Kristin.
As a teacher/coach, his "free time" was serving as Madison's city tennis director from 1957-1994. Honors include Augustana College Athletic Hall of Fame (1982) and Minnesota Coaches Hall of Fame (1994). Eight tennis courts built at St. Olaf (Northfield, Minn.) were named Carlson Courts in his honor.
Jolly's tennis teachers and mentors during the 30's in Watertown were Rose and Russ White. That came after this widowed mother gave him a 25-cent racquet from a local "Dime" store. Jolly says his retrieval playing style came from hours of hitting off the circular walls of the bandstand in Elm Park.
Jolly and wife Carol live in Madison, Minn.