Judy Rezatto
By Dave Vilhauer
She was a difference maker in every sense of the term.
What the late Judy Rezatto lacked from her playing days, she more than made up for in intensity, passion and motivation. It was what separated her from those in her field and has garnered her this year's Tennis Achievement Award from the South Dakota Tennis Hall of Fame.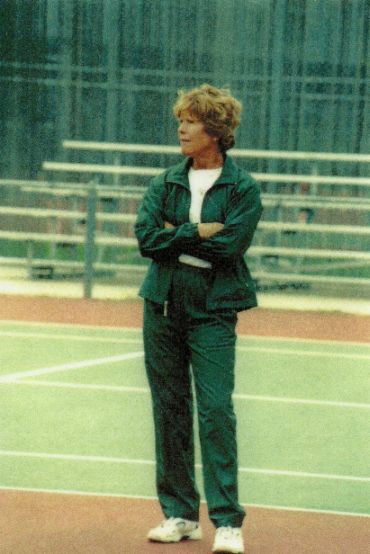 Rezatto, who lost a five-month battle with cancer this past March, never played organized tennis while growing up. She was a swim coach when the tennis job at Aberdeen Roncalli opened up and she was asked to fill the position.
"She became a coach out of the blue," said her son Brett, who was off at college when his mother informed him of her decision. "She called me and said, 'I'm the new head coach at Roncalli,' and I said, 'What do you know about tennis?' was the first thing out of my mouth. She never coached tennis."
Born to be a coach, Rezatto went to work and immersed herself in the sport. Soon, she possessed the knowledge of tennis to accompany her strong coaching traits.
"I used to see her get video tapes and DVDs and just different stuff on techniques," Brett said. "She built her knowledge base with whatever she could, either by watching tennis, by talking to other people, by using instructional aids; whatever was at her disposal she would do it. She was far ahead of her time as far as that goes."
What Rezatto lacked in technique, she more than made up for in getting the most out of the players she worked with.
"She really expected a lot from her players, but in the same token she gave so much of herself and her time back to the players," said Colette Quam, who benefitted from having Rezatto as an assistant girls' coach for about 15 years.
Quam recalled her early days when she first got to know Rezatto.
"We started out as rivals on the tennis court," Quam recalled. "I felt honored when I first got invited to play tennis with Judy and her friends."
Quam soon found out Rezatto's passion for coaching and helping others.
"We were at practice and Judy walked over and said, 'Say, would you like some help?' That really started our friendship right there," Quam said. "We just had a lot in common."
Rezatto was tireless in her efforts in trying to bring out the best in those around her.
Steve Barnett, the current South Dakota State Auditor, saw that first hand when he coached with her for four seasons.
"That's when you really appreciated what she was doing for Roncalli tennis and for the tennis community," said Barnett, who also had Rezatto as a coach in both swimming and tennis. "You figured out the time that she was really putting in."
And it wasn't just the hours that Rezatto was putting in so much as what she was putting into those hours. A true taskmaster, it was her way or the highway when it came to getting down to business.
"She was stubborn," said Brett, who also coached under his mother for three seasons. "She was not going to miss a practice, rain or shine, ever."
She also made sure those practices were not a waste of time for her or whoever she was working with.
"She hated half effort from anybody," Brett recalled. "She just hated if you didn't give your best effort. It really annoyed her."
And players never had to ask if Rezatto was annoyed or not.
"She didn't sugar coat anything," Barnett said. "She told things the way it was."
While tough and demanding, Rezatto earned the respect of her players and peers with her tough love and fair style.
"She treated the best player the same as the least talented player," Barnett said.
Not only that, but she treated public school players the same as those that attended Roncalli.
Rezatto's husband, Brian, noted that she worked with at least a dozen neighborhood children, boys and girls, that went on to become either state champions or number one players at Roncalli and Aberdeen Central.
"The kids were the thing that she really enjoyed," Brian said. "Her kids were her babies."
And regardless of a player's school affiliation, they all learned the same lesson under the watchful eye of Rezatto. A lesson that Barnett still uses in his job to this day: hard work equals success.
"She's kind of little bit like (former Northern state basketball coaching legend) Don Meyer," Barnett explained. "She wants to prepare you for the bigger picture in life. I didn't always find success in the swimming pool or on the tennis court, but I found it in life."
While Rezatto, who was named the 2007 Boys' Tennis Coach of the Year by the South Dakota High School Coaches Association, may have ventured into the game of tennis without the sparkling resumes of her peers, she and her squads made the most of their role as the underdog.
Despite having the smallest enrollment of any school that offers tennis, Roncalli routinely finished near the top of state tournaments, including Rezatto's last ever coaching assignment when the Cavaliers finished fourth last fall in the girls' state tourney.
"I think her proudest moment was this (past) year when her girls got fourth by two points," Brian said. "That was the most exciting event that I've ever been to. Every match was close."
Rezatto finished with nearly 200 combined dual wins in her four seasons as girls' coach and 20 years as boys' coach. Her girls' teams went 40-53 and her boys' squads had a record of 152-133 for a final overall mark of 192-186.
What Rezatto loved more than the wins and losses was working with kids who were willing to work to get better, who shared the same competitive drive that she had in abundance.
"If you were willing to put in the time, she would coach you," Brett said. "She would go over there (to the courts) every day, for three hours a day and wouldn't even charge you a dime."
Tough, demanding, competitive and an advocate for tennis and those who play it was simply the Rezatto way.
"She was a great person and extremely competitive," Barnett said. "She will be greatly missed by a number of folks. She really was one of a kind."