Kevin Grebin
By Terry Nielsen
A 2019 SD Tennis Hall of Fame inductee, Sioux Falls native Kevin Grebin has been involved with tennis for over 50 years. First as a player and instructor, then as an outstanding coach, tennis was introduced to him by his parents, Don and Marlee Grebin. Tennis was destined to be the sport of Kevin's choosing.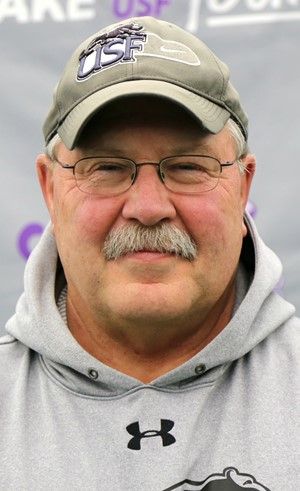 When your father is remembered by many as the "Godfather of SD tennis," memories going back into Kevin's younger years about tennis come back easily. "My earliest memories of tennis are taking off early mornings before the sun was up, traveling to weekend tournaments," said Kevin. "My introduction to the game was dad giving private lessons at the tennis court that belonged to Dave and Tom Weber's parents, just a block from our house. All those weekend tournaments watching my father play doubles with John Simko were really fun. I recall hot and humid days of tennis, drinking cold water out of metal tennis ball cans, playing with wooden Jack Kramer tennis racquets, hitting white tennis balls and playing matches with no tie breakers. And I will never forget the great times at the old Terrace Park courts (often with younger sisters Karlee and Karrie), playing under the lights at the McKennan courts in the late 1960's, into the '70's (using quarters to light the court), and drinking cold lemonade from the big metal milk containers during the SD Open!"
His father was one of his coaches when Kevin played for Washington High from 1972-1975. He recalls helping his dad later run state high school tournaments and will never forget playing with his first graphite Yonex at the CC Lee tournament in Aberdeen. A summer was spent alongside Chris Dummermuth teaching tennis on Sioux Falls public courts. It was off to Sioux Falls College from 1975-1980 where his game really stepped up a notch, playing with the likes of Craig Caselli and Rich Erickson. Much improvement was also gained hitting balls with friends Brian Balcer and Dick Hahn.
While playing for SFC 1976-79 (now the University of Sioux Falls), Kevin played #1 singles and doubles for three years and was all-conference and all district in 1979. Later, he won several doubles titles over the years with Hahn, and has great memories of teaming with his father to win the 35 and over doubles in 1992 at the SD Closed.
Though many consider Kevin and his wife Deb a tennis family since both daughters Danielle and Jayme became established players, it was at a DANCE class of all things where Kevin first met Deb while both were students majoring in education at SFC. Deb stayed in education and is in her 20th year teaching middle school for the Tea Area School District.
Danielle is married to John Haensel and is in her 12th year teaching grade school at Explorer Elementary in the Harrisburg School District. John owns Home Town Remodeling and Construction. Children Wyatt (8), Josephine (6), Adeline (4) and Colton (five months) keep the Haensel family hopping!
Jayme Haensel (she and her sister married cousins) is a stay at home mother, with Riley (6) and Payton (4) while her husband Jess is a pharmacist at Walgreens.
Kevin taught and coached football for two years right out of college at Colman High School, then in 1984 he joined the SD Highway Patrol as a trooper. He was stationed out of Sioux Falls, a position he held for 20 years. During the summers of 2001-2010, Kevin ran the tennis program at Minnehaha Country Club.
After volunteering to help Jeff Nelson coach at USF for 4 years, the college asked Kevin to take over after Jeff resigned. Realizing being a full time coach and full time trooper was not going to work, the SFC administration, led by Brett Bradfield and Willie Sanchez, created the position at the college of Director of Campus Security (2005). Kevin developed the department from the ground floor and today it has eight full time security officers and five part timers, covering campus security 24/7.
This link to the campus has allowed Kevin to really develop the tennis program, specifically for the past 15 years. Initially it was both men's and women's tennis, but a move to the Northern Sun Conference eventually phased out the men's program due to budget issues.
Kevin is now the winningest coach in school history. In the old Great Plains Athletic Conference he was coach of the year six straight years, while his teams were conference champs each of those years (2005-2010.) They went to five national tournaments as an NAIA school.
Since going NCAA DII, (2011-present) his team has made seven post season tournament appearances, and three times his women's team has been awarded ITA-All Academic Team honors. His teams have had the highest team grade point average at USF over the past ten years.
He doesn't play tennis these days as often as he'd like because of family and coaching responsibilities.
Kevin said: "Seeing my 8 year old grandson taking lessons at GreatLIFE Woodlake Athletic Club, on the very tennis court named after his great-grandfather Don Grebin, makes all our family tennis experiences worth it."