Lefty Johnson Bio
Floyd "Lefty" Johnson, a native of Thompson, Iowa, has spent 60 years in tennis.
"I was introduced to the game in 1930 in Watertown," he said. "A friend had a racquet with a flattened-top head. I didnít have a racquet, so I traced his on a wood board Ė cut it out Ė and with a sponge ball, we made up our little game of what we believed tennis to be.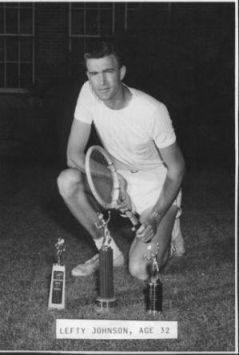 "Few people during the depression years could afford a tennis racquet. My first one was a Spalding which took all of my $4.95 savings."
Johnson, who describes Sioux Falls, Watertown, Madison and Aberdeen as the hubs of tennis during the 1930ís, credits Russ White and Art Laemle as the men who taught the game to a young and enthusiastic Watertown lad.
A North Dakota/South Dakota Closed tournament was held on clay courts in Aberdeen. Johnsonís first win in that event was in 1937. Fresh out of high school, he joined Watertown High freshman Phyllis Hunter to take the mixed doubles championship.
That summer, Johnson became the first tennis instructor in Watertown. He later was to implement city programs in both Sioux Falls and Brookings.
His coaching touched many a South Dakotan, the latest being the Brookings High girls team from 1983 through 1988. Johnson said, "I get great satisfaction from knowing that I have shared tennis with many, many boys, girls and adults. I hope I have left a part of me with them."
Johnson, like Buck Shane at Kalamazoo, is a member of the Augustana College Athletic Hall of Fame. He played basketball for the Vikings and was a member of an outstanding tennis squad in the early 1940ís. Joining Art Kilness, Warren Opheim and Clyde Bunt, Johnson helped Augustana to road-trip wins over Kansas State and Kansas, close setbacks to Oklahoma and Arkansas, and more decisive losses to Baylor, Texas and Rice University.
He won North Central Conference titles in singles and doubles. In all, he took South Dakota championships on some 50 occasions, in open and then age-group competition. Lymphatic neck cancer, and its accompanying radiation treatments, in 1971, and a heart attack 11 years later, took the racquet out of his hand only briefly.
While at Augustana, and before three years in the Air Force in World War II, Johnson was privileged to play a doubles match against national champion Bill Tilden. Thirteen years later, Johnson and Alice Marble teamed in a doubles match. Marble, too, had won several U.S. Open titles.
For more than 20 years, Johnson directed the South Dakota Closed tournament in Brookings.
He and wife Elnore (Zamow) have three children, Mary Ann, Charles and Marty. The latter followed his father as championship competitor and expert teacher of tennis.
Johnson was active in the Brookings school system for 34 years, as coach, general science teacher, and junior high/middle school principal.