Linda Kopriva McClanahan
By Chris Dummermuth
Linda Kopriva was a petite, unassuming west-river beauty who packed a baseline arsenal! She credits her mother Rose, who fine-tuned her own tennis skills while in the army nurse corps, with igniting her passion for the game of tennis.
As an eight year-old Rapid City native, Linda enrolled in city Park and Recreation lessons at Sioux Park. She vividly remembers hanging out at the courts for hours every day and then walking to the Dairy Queen for a treat. Jim Van Gerpen (SDTHOF inductee), who mother Rose always admired for his tennis prowess and especially for his impeccable sportsmanship, was her first instructor.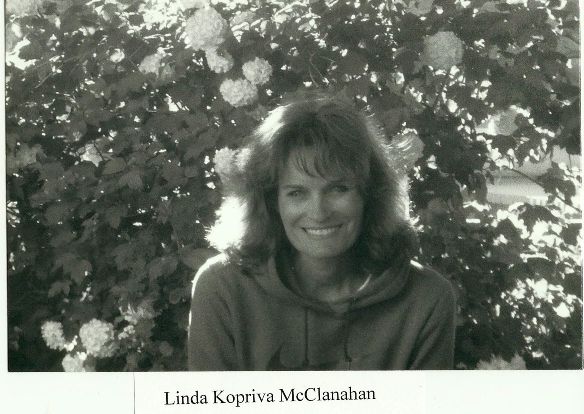 After playing for a few years, Linda was welcomed into her mother's 6 AM tennis group of friends to compete in the ladies' ladder challenge. Soon summer tournament play became the norm during her teenage years. Rose would chauffeur Linda, sister Mary, brothers Jim, Charles, and Larry, and even some "extended" tennis family to state and regional events. Last year's SDTHF inductee, Karen Bernard Heege who often met up with her at these events said, "Whenever you met Linda in the draw, you knew you were in for an intense battle. She was tenacious from the baseline!"
In the fall of 1974, Linda captured the Flight One South Dakota High School singles championship leading her Rapid City Stevens Raiders to a second place team finish. That particular day she battled through eight matches from 9:30 AM until 10:00 PM braving the 35° temps bundled in two sweaters topped off with a sweatshirt. Linda still stays in contact with her high school coach Dot Brashear. She fondly recalls her "senorita smile" and her words of wisdom like: "If you lose your temper, you will almost certainly lose the next three points."
Linda represented South Dakota for two years in the SEVENTEEN Magazine's Tennis Tournament of Champions in the 21 and under division. This entailed traveling to Washington, DC and California complete with VIP treatment. The second year sister Mary joined the travels and honors representing South Dakota in the 16 and under division.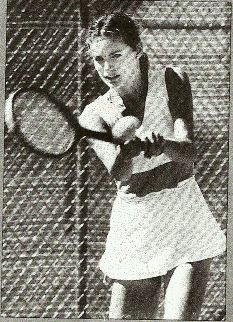 With a goal to play collegiate tennis, Linda searched the Southwest for a school that could provide general studies geared toward a medical profession, and satisfy her tennis desire. The women's athletic director at the University of New Mexico said she was welcome to try out for the team, and if she made it, she would be offered a scholarship, so it was off to Albuqueque in the fall of 1975. Linda made the team, became a Lobo, and was on scholarship by second semester. She usually played #4 singles, and #2 or #3 doubles in the Lobo line-up. In 1978, the sports committee of the Rapid City Chamber of Commerce honored her as the College Woman Athlete of the Year.
Linda graduated from the University of New Mexico in 1980 with a degree in Physical Therapy. She continued to play USTA team tennis after graduation. Her 4.5 team placed 2nd nationally behind Hawaii in 1986.
Shortly after beginning her first job, a co-worker showed her a picture of someone playing tennis in a wheelchair. She was entranced! Her area of special interest at that point was spinal cord injury, so wheelchair tennis was the marriage of her two passions: tennis and physical therapy! After contacting the National Foundation of Wheelchair Tennis, she started recruiting local players to give it a try. By the spring of 1982, Linda and Sissy Kelly, a local teaching pro, founded the Albuquerque Wheelchair Tennis Association. By 1983 they had two dozen players ranging in age from 11-59 years old. This was the start of twelve years of coaching, tournament directing, and team traveling. Linda cherished the focus on athleticism and camaraderie rather than disability.
Linda and her husband Dan McClanahan have their own "Mom and Pop" shop in Albuquerque called Hands On Physical Therapy. They are blessed with four daughters, Kara, Danielle, Jenna, and Krissi. Kara and Danielle played high school team tennis, and Linda recently rekindled her coaching talents for Jenna's middle school tennis team. Krissi's interest is in soccer.
Grateful for having tennis as a part of her life, it is Linda's desire to dedicate this honor to her mom, Rose, who passed away one year ago, July 23. For Linda, tennis helped lessen some shyness, added some confidence, and helped her meet some of the best friends she has ever known. She also claims that most importantly it gave her the opportunity to share a passion of hers with others she cared about. Like Mother…like daughter.