Lu Holwerda Bio
Few people know that the unorthodox, but steady tennis strokes that led Lu Holwerda to sweep nearly every tennis title in South Dakota in 1975 were born on dirt "homemade" courts as a youngster in East Africa. The daughter of missionary parents, Lu took that love for the game into a successful teaching, coaching and playing career, and was named South Dakota Female Athlete of the Year in 1975 by the SD Sportswriters Association.
Like husband Jim, playing and running the SD Closed for 15 years became a way of life in Brookings for Lu. It is hard to find a player in the 70's and 80's who hasn't tested her frozen fruit cups or "Sloppy Joes" from the tennis shack - all "treasured memories as we yearly welcomed the old and new to the Closed," said Lu.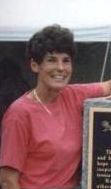 When she and Jim moved to Yankton in the late 60's her game was reignited. "I heard about a 'married women's tourney' at Westward Ho – drove to Sioux Falls – that was my first intro to SD tennis, and Libby Rogers was my idol," said Lu.
"My most treasured trophies came from playing with our children – winning the Yankton Mixed with son Steve, women's doubles in Brookings with daughter Terri, and then the Northwest mother-daughter championship with Kristin in Minneapolis."
For her early doubles titles she credits partners Karen Wakey and Anne Craney-Mertz of Sioux Falls, ("both hit the ball so hard I got easy set-ups at the net"). Lu and Ginny Hatch won many A and 35 and over age titles in the 80's.
An elementary teacher most of her life, she also coached varsity tennis at Yankton and Brookings, winning a state title with the Bobcats in '89. Now retired in Arkansas, she and Jim play Sr. Olympic tennis, reaching the finals in '93.