Marty Johnson Bio
When Dave Weber moved to Omaha in the early 1970's, Marty Johnson was ready to take over Weber's domination of South Dakota men's tennis. Weber had claimed nine state men's singles titles, a feat matched by Johnson in 1995.
Like Weber, lanky and known for his power serve – Johnson came on the tennis scene in Brookings under the early teachings of his father, Hall of Famer Lefty Johnson. Marty rose through the junior ranks, earning Northwestern Tennis Association #1 ranking in singles and doubles in three age categories. Competing for Brookings High, he was a three-time ESD singles and doubles champion and won the state high school title as a senior (1970). He competed nationally in the junior ranks for two years – and one time, with partner Billy Clayton, drew Jimmy Connors as an opponent in a doubles match.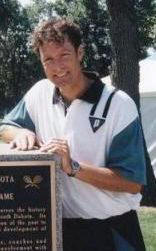 He played #1 at SDSU for four years, winning the North Central Conference twice and qualifying for nationals in 1971-74. He taught and coached at Brookings High 1974-78. While there, he spent two summers playing the USTA Satellite Circuit. His top wins came over two South American Davis Cup players, as well as Tim Garcia, then ranked #66 in the world.
Five SD Open singles titles (open division 1980's), seven state doubles titles and several top finishes at United States Professional Tennis Assn age-rated events are additional honors he has captured. He was ranked #2 Internationally in 1994 and '96-'97 in the USPTA 40 plus rankings.
In the late 1970's, Marty started his professional tennis teaching career – serving as head pro in Sioux City, IA – then Woodlake Athletic Club and Westward Ho Country Club in Sioux Falls.