Mary Thompson Bio
What type of training as a youngster did Mary Thompson have to prepare her for over 15 years as a tennis tournament director? How about NO tennis as a kid, not even physical education classes offered at her school at Volga, SD? Shooting baskets with her dad and riding horses were the main part of Mary's small world of sports growing up in the 50s and 60s.
But maybe, just maybe, that "small town" life, loving parents Watson and Edith Elgie, and three doting older sisters—Carole, Janice and Marcia is what REALLY did prepare Mary for the "roller coaster" world of tournament director. Most tennis players agree, tennis knowledge is probably no more important to running a good tournament than "people knowledge."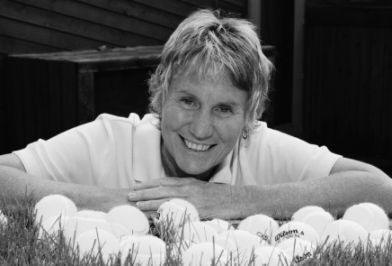 And Mary is without peer when it comes to running tournaments, recruiting volunteers, organizing meetings, or, as she says, "I love to put puzzles together." And defusing predicaments that always seem to arise at tennis tournaments (especially juniors), is her specialty. "At least none have made me cry yet," smiles Mary.
For many years as tourney director and service as executive director of the Sioux Falls Tennis Association, a key player on the executive committee of the Northern Section (USTA), teaching professional and all-around contributor to the good of tennis, Mary is being inducted into the SD Tennis Hall of Fame for 2003.
Mary has lived in Sioux Falls since graduating from South Dakota State in 1971 with an art degree. Her creativity in art led her to two stints of employment at the EROS (Earth Resources Observation Systems) Data Center north of Sioux Falls, in the 70s and most of the 1990s. Currently, she assists tennis director Jeff Nelson at Westward Ho Racquet Club, filling in as an instructor but mainly dealing with organization and programming.
"I remember while working at EROS in the mid 70s, some co-workers had a tennis gathering at the Augustana courts. I knew the late Marci Wernli, who also worked at EROS . I took one look at her backhand and started to like the sport, dreaming I could hit it like that someday."
"I started tennis lessons at Woodlake in 1980, hoping to give twin sons Keith and Kelly a 'mombreak'. The two-year olds could play in the nursery while I learned a new sport. I remember when the six week clinic ended, the pro said I could be a low intermediate. I wasn't sure what that meant, but I was excited," smiles Mary.
Then when the Sioux Falls Tennis Association had a fund-raiser that included Betty Stove and Wendy Turnbull in 1981, she committed to her first act of tennis volunteerism by offering to bring cookies for the event. She's been hooked on tennis ever since.
She was director of tennis at Woodlake from 1982-1993 and coached Augustana's men's and women's tennis teams from 1985-1992. She's been certified as a tennis professional with the USPTA and the Professional Tennis Registry. As SFTA's executive director since 1991, she dived into representing South Dakota with the Northern Section of the USTA, serving currently on the community development committee and on the Sections Board of Directors as secretary. She is the USTA's Section delegate to the Community Tennis Committee and regional coordinator of the USTA pilot program called "One player at a time."
In 2002 the Northern Section recognized her with the Wolfenson/Ratner USTA Northern Section Community Service Award. She was one of 28 recognized nationally on the 2002 USTA All-American team for excellence in implementing the USTA's local USA Tennis programs. As a player, she's won singles and doubles titles (mainly with partner Su Oertel, Luther tennis coach) at several of the National Public Parks Tournaments across the country.
"I have so many fun memories with so many different players," said Mary. "Clearly, I remember being excited with partner Sandy Dunlap to play our first 35 and over women's doubles tourney, thinking 'now we'll make some hay.' First round we drew Barb Friess and Carol Stewart and after a 6-0, 6-0 whipping, learned life wasn't necessarily easier in the 35s. But the fun of it all….," smiles Mary.
When Mary is not directing the McKennan tennis shack, mainly at the last 15 years of the SD Junior and Adult Open, she and her husband R J Thompson enjoy travel, sailing and kayaking. Mary also is accomplished at calligraphy and does woodworking and rosemaling (Norwegian type painting). New granddaughter Erin, born 9/29/02 to daughter Sara and son-in-law Nick Ferreira, gives her more reasons to travel to Nevada. Step-daughter Terri lives in Houston and step-son Troy is serving in Iraq with the US Army.