SD Tennis Achievement Award 2021
Dr Mike and Judy Rost Family
By Terry Nielsen
The SD Tennis Achievement Award was started in 1997 to recognize tennis achievements by families, individuals, tennis teams or tennis communities. Its purpose is to inspire future growth of tennis by looking back in state tennis history, honoring distinguished levels of contributions that impacted the sport in SD.
The Mike and Judy Rost family had a profound effect on the sport during the 1970's into the 1980's. And the story goes way beyond tennis championships too numerous to count.
It all started when Judy Flynn from Sioux Falls Cathedral High School (1957 grad) met and later married Washington High School grad (1956) Mike Rost as they were graduating from college (Judy at South Dakota and Mike at Augustana). In order, to this remarkable couple were born: Michael Jr, Patrick, Nancy, Stephen, Alexandra and Matthew.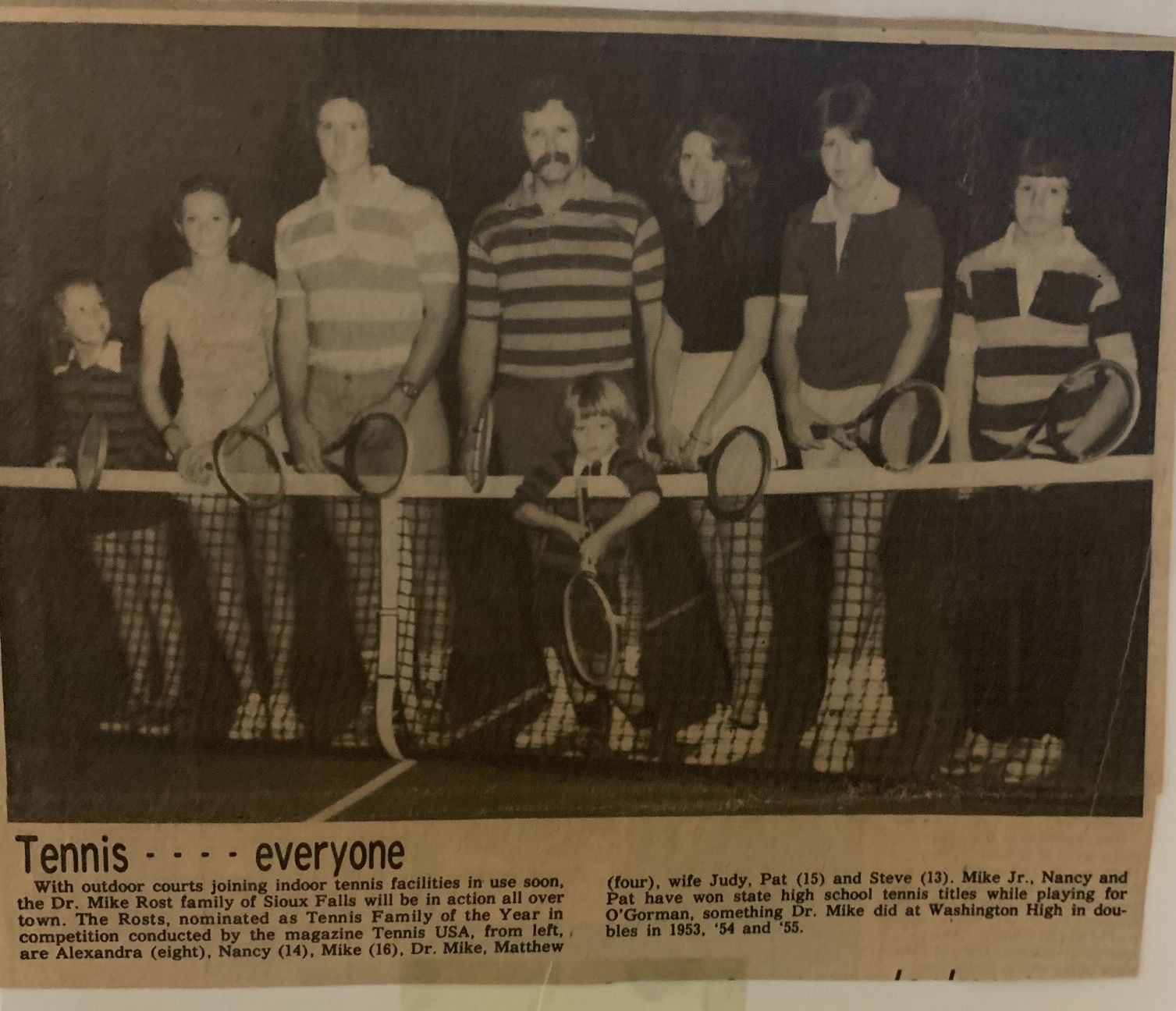 Mike, a University of Minnesota medical school graduate who spent a lifetime as medical director of anesthesia and operative services at McKennan Hospital, was first in the family to get a thirst for tennis. He excelled at Washington High, winning three state high school doubles titles, two with John Simko and one with Chuck Bailin.
Judy was an hour south of Mike during college, getting her degree in speech pathology. Once married, the medical school journey took them to USD then MN medical school then Los Angeles County University of Southern California Medical Center for residency in anesthesia. Judy said when they moved back to Sioux Falls in 1970 and lived in the white duplex across from McKennan Park, the tennis torch really lit up.
In addition to the kids jumping into tennis, Mike served on the board of directors of the former Northwestern Tennis Association, USTA. Judy helped spearhead the Sioux Falls Tennis Association in joining with the city of Sioux Falls to rebuild the courts at McKennan Park. She led a team of volunteers (1981-82) to raise funds from over 200 families and individuals to provide lighting for the newly rebuilt courts. Judy said the resurgence of the Sioux Falls Tennis Association and the gifts by so many is still being felt today in the Sioux Falls tennis community.
Judy played her own game of tennis then took a break in the early 1990's to return to USD for her law degree (while in her early 50's, where "I was older than some of my professors", smiled Judy.)
The youngest of the family, Matt, became a championship golfer while the others reached the top in tennis around the Midwest. In Dr. Mike's obituary (he died in 2008 from esophageal cancer at age 70), it reads that the Rost kids accounted for over 20 state high school titles in tennis, football and golf.
Pat lives in San Diego and is still a top player in his age group, and was inducted into the SD Tennis Hall of Fame in 2013. Nancy (now of Spicer, MN) won five prep singles titles at OG and starred at Minnesota in the Big Ten, and was a 2008 SD Tennis Hall of Fame inductee. Mike Jr. and Steve helped lead their tennis teams to state titles at OG while daughter Alex won a state doubles title at SF Lincoln. Except for Nancy and Pat, the others live in Sioux Falls, along with mother Judy.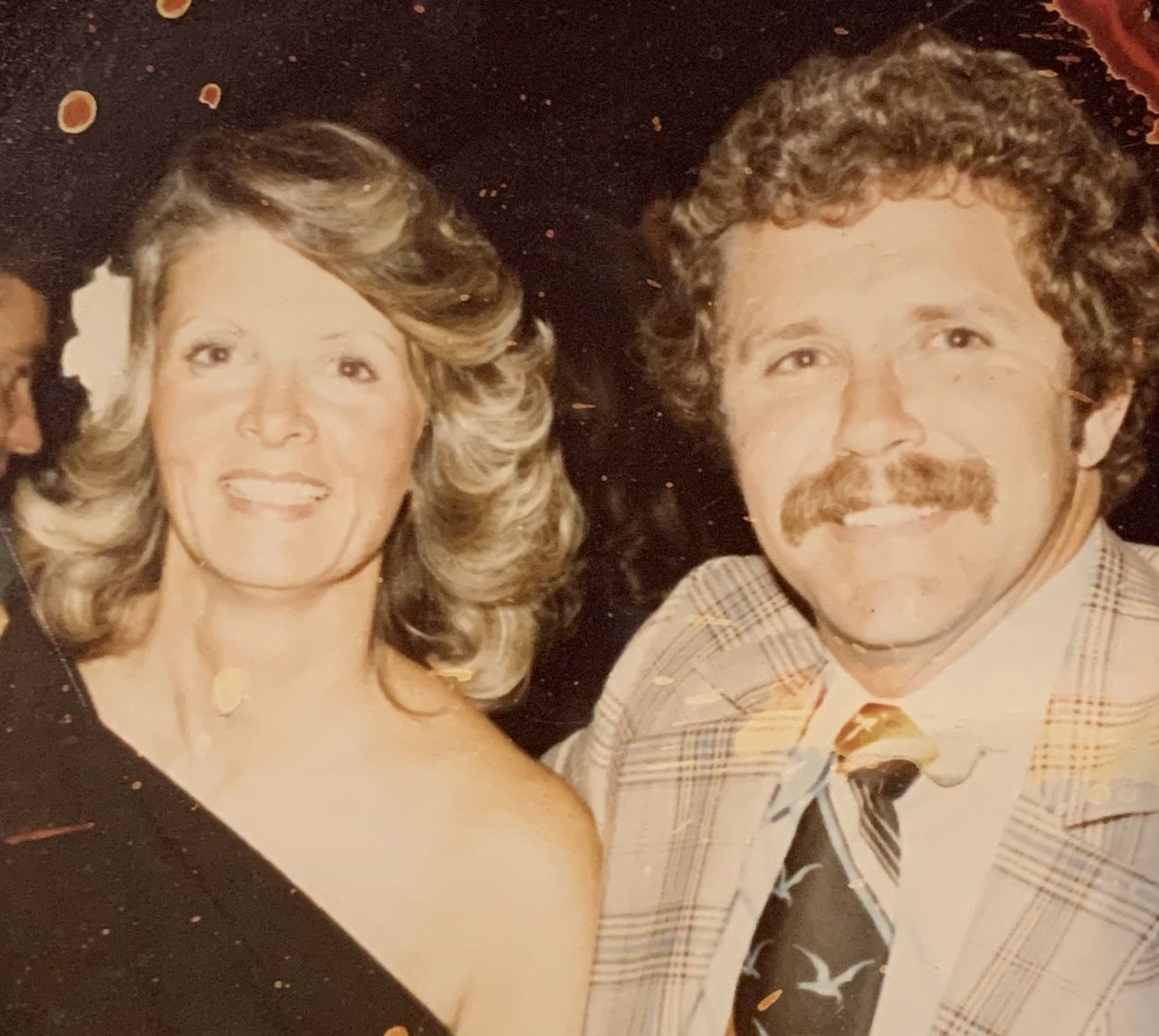 Further deepening the tennis history of the family, when Dr. Mike's mother was a widow later in life, she married Horace Barton, a 1999 SD Tennis Hall of Famer and past Big Ten tennis champion from the University of Michigan (1920's).
Don Barnes coached most of the kids at O'Gorman, and former Sioux Falls tennis professional Randy Stolpe worked year round with the Rost kids, often traveling with Pat and Nancy over a three year period to national tournaments.
Both Barnes and Stolpe agreed that Mike and Judy were outstanding tennis parents.
"Mike and Judy were always behind the kids in the most confidence inspiring way," said Randy. "In the mid 1970's, no family at that time was truly involved in the game of tennis like the Rosts. Watching the kids evolve into college and beyond was not only enjoyable but fun as they truly enjoyed the game, which was a tribute to both Mike and Judy!"
Barnes said: "Other than financially, Mike and Judy were totally hands off. I used to take Pat. Nancy and Steve to some national tournaments and the parents stayed home. Old school parents for sure, let coaches coach and pros teach."
When Dr. Rost died in 2008, the entire Sioux Falls community was touched in so many different ways. His leadership in the medical field, his service on the SD Board of Regents and on the Board of the Charities and Corrections for the state of SD was felt for years. As big boosters of SF O'Gorman, Mike and Judy inspired much giving to the school. Mike is remembered for being one of the original leaders in creating the Dakota Bowl football game, a major fundraiser for OG. Also, Mike was instrumental in bringing the legendary Bob Burns out of retirement to return to coach football at OG. The rest is history!!