Mike Hoeger
By Terry Nielsen
Mike Hoeger's outstanding tennis career, outlined in three chapters, leads to his induction into the 2010 South Dakota Tennis Hall of Fame. From winning South Dakota high school titles, to winning Big Ten championships, to succeeding as a prep tennis coach, Mike has been on the cutting edge of success in tennis since starting the sport as a grade schooler in Sioux Falls.
For the entire Hoeger family lead by parents Augie and Betty, tennis took off around 1970 when Mike was 11 years old and a student at Mark Twain Elementary. Augie, after hitting with friends at nearby McKennan Park, noticed a newspaper article showing Mike's friend Jay Lauer winning the 12s at the SD Closed.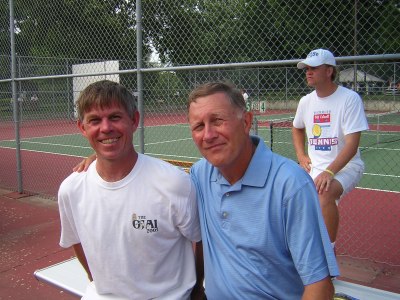 Mike said, "You're kidding me, Jay never told me he played tennis." Jay agreed to hit with Mike, and a few years later they paired to win state doubles finals twice (1976-1977) while leading Lincoln High School, coached by Bill Thompson, to state team titles. As a junior, Mike fell in the #1 singles championship to three time state champ Mike Trautner of Pierre. Mike prevailed as a senior, beating Steve Holwerda in the finals.
Mike Hoeger (left) with past inductee Randy Stolpe
Mike was a rising talent in the Northwestern Tennis Association with a #2 ranking in the 18s, but no scholarships were available at Minnesota of the Big Ten. Mike headed west, at the urging of his brother Joel, to Pacific Lutheran in Tacoma, WA, and played two years for coach Mike Benson. Mike's game blossomed under the NAIA power, and the big kick serves and the noted Hoeger "jump" overhead started earning a reputation. Teaming with #1 singles player, Dave Tragesor, the two lost at the NAIA national semifinals to John Mattke and Paul Holbach of powerhouse Gustavus Adolpus 6-3, 6-3. (They avenged that loss to the same pair the next year). Mike was coming into his own as a singles player, again being named NAIA All-American.
Mike wanted a new challenge, and walked on at Minnesota under Coach Jerry Noyce. After sitting out a year he slipped into the #6 singles and #3 doubles spot with old friend Mark Wheaton. In 1981, Mike went undefeated in Big Ten action, both singles and doubles, as the Golden Gophers won their first team title ever in conference (albeit tying with Michigan with 57 points each in the season ending tourney).
A favorite Golden Gopher memory of Mike's is teaming with Trautner in a winter tournament in South Carolina. "Our whole team had an impressive array of former high school state champions—two from SD, two from Minnesota, one from Michigan and one from Ohio. Coach Noyce was establishing himself as an excellent recruiter and his many tennis tips on the mental side of the game and his pre-game speeches are the same ones I use with my players today."
Mike and his wife Barb Dewitt started teaching English at Palos Verdes Peninsula High School in 1996 (after nine years at Leuzinger High in Los Angeles, CA), and with family and teaching responsibilities, tennis went to the sidelines. Then in 1999, he agreed to assist on both the girls and boys high school teams, taking over himself in 2003. A particular banner year was 2000, when USA Today and the National High School Tennis Coaches Association ranked both the boys and girls teams #1 in the country.
Formerly Rolling Hills High School, Palos Verdes Peninsula (with 2,200 students) has been a tennis power for years, and Mike (with spouse Barb assisting) has helped continue the legacy . For five years the girls team had no losses, and two of his top gals, Rika Tatsuno and Tanya Mahtani play for Michigan.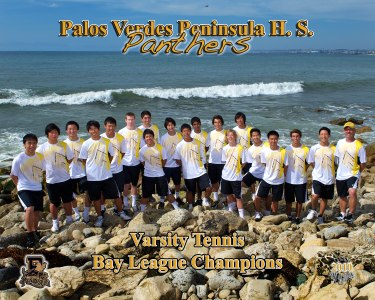 Hoeger has received coach of the year honors, but refuses to take credit for his many teams' successes, listing his many great players. "They have been a coaches' dream. They have been committed to the team, are conscientious students, they posses continuity and have impeccable tennis etiquette. They make my job easy," said Mike.
Looking back over the past 40 years, Mike remembers his first day with Dave Weber, the pro at Westward Ho Racquet Club, who changed his grip and really got him going. Soon Mike joined Lauer's workout group with friends Mark Wakey, Jeanne Craney, Kari Sandvig and Pat Rost. "I didn't realize how lucky I was to be able to play with kids who were already top ranked in the Section. Later Greg Staples and Randy Friend joined us, before moving out of state."
The 70's meant hanging out at the courts at McKennan, thankful that good players like Rick Volin and Bobby Clayton would hit with him. " From early on until 5 p.m. or so, my mother didn't see much of me, and the lemonade was great at nearly everyone's homes across the street. But mostly we were playing, and the competition made us better, and by evening Don Grebin and Don Barnes would come and were especially supportive."
During high school, Ron Selkirk, the new pro at Woodlake, pushed Mike harder than ever, and Randy Stolpe, "a master of stroke mechanics, sharpened my game."
Looking back, the best tennis of his life came in 1981-1982. He was a finalist in the Minnesota State Open and Sectionals, losing both in three sets to former teammate Greg Wickland. He paired with NFL Hall of Famer Ahmad Rashad in a pro-am tourney and they hit occasionally thereafter. Rashad cheered Mike on his senior year for most of the Big Ten matches. During a Thanksgiving tournament, Mike lost in the finals to Ohio State #1 Ernie Fernandez 6-4 in the third set. Ernie was the defending Big Ten champion, and the next summer, lost on national television in five sets to Jimmy Connors at the US Open.
Christmastime, at the National Collegiate Holiday tourney, Mike beat the #5 seed from U of Georgia. February his senior year, he returned to Sioux Falls for the Mid Winter Open at Woodlake, beating Shawn Miller of Gustavus 6-1, 6-1. He'd won the men's open singles at the 1979 SD Open. He returned in 1982, where he downed Marty Johnson in the semifinals, then lost to Gopher teammate Hakan Almstrom in the finals. As a Gopher, he was all Big Ten in 1982, won the Louis Ratner Memorial Award in 1981 for outstanding contributions to Gopher tennis, and was team captain with Kent Helgeson in 1981. Twice he won the USTA/ Northwestern Section sportsmanship award.
After earning a history degree at Minnesota in 1982, he took a teaching tennis job with Stolpe at the Sports Core in Kohler, WI. He helped develop juniors like Dana Goldsmith and Kevin Werwie, both future Gophers. The real prize on the courts though was meeting future wife, Barb DeWitt of Sheboygan. They married in 1985, moved to Madison, WI and while she finished her English degree, Mike picked up his second college degree, also in English education. He won the WI Closed in 1985 and paired with Barb to win the state husband-wife tournament in 1987.
Looking for that first teaching job, CA answered the bell and Mike said "we decided to give it a try for a year or so." So here we are in 2010, oldest daughter Maddy DeWitt-Hoeger just graduated from UC Santa Cruz, daughter Nora will be a sophomore at Oregon, Jake, a player on his dad's team, will be a sophomore, and Louis will be starting 6th grade this fall.
Growing up in Sioux Falls where his father helped run Good Samaritan Society, Mike recalls the "quiet competitiveness" showed by Augie and Betty, and siblings Peter, Agnes, Joel and Anne. "We all had our moments in tennis, and we're all better for it," said Mike.