Mitchell Tennis Association: Simply "A-maizing"
As you approach Mitchell from any direction, signs have you convinced that their lone "a-maizing" attraction might be the world-famous Corn Palace, but a visit to Hitchcock Park will reveal what a thriving tennis community abounds. With just eight courts, the Mitchell Tennis Association has shaped this city of 14,696 into one of the most enthusiastic, efficient South Dakota tennis towns.
No one could pinpoint exactly when the ball started spinning, but several familiar family names: Puetz, Young, and Deslauries, always surfaced as being instrumental in getting the ball in play. Absolutely every person I spoke to about MTA credited everyone else's efforts with their group success.
John Cersosimo, Laura Klinkhammer, Chad Larson, Betty McNeil, Tom Meyers, Carrie Mitchell, Melanie Mullenmeister, Jon Osterloo, and Pete Spates make up the 2008 Mitchell Tennis Board. The Board guides the operation of leagues, tournaments, special events, and their newsletter, mtc BASELINES.
Dave Houston, former MTA board member, tournament director, league organizer, and now a teacher and coach in Denison, Iowa, reminisced about the beginnings of men's league in Mitchell. Houston said that Scott Loecker rounded up about 12 guys on Monday nights, they would flight the matches and play. That original Monday night twelve has grown into flights of 50+ men managed by Chad Larson with help from Sam Reimnitz. Laura Klinkhammer monitors the 38 women participating in league this summer. Beginner lessons are offered on league nights with the hope that lesson participants will want to sign up for league next year.
The Mitchell Tennis Classic materialized in phases. In the early 80's a tournament was organized with about 42 mostly local participants. Then using community ties and word of mouth, the tournament grew into a non-sanctioned adult and junior tournament run simultaneously. The feeling around the state seemed to be—if you support our tournament, we'll support yours which spirited the tournament's growth. Houston called Betty McNeil the "Great Ambassador"—she seemed to know everyone who played, and always extended a welcome.
Today, the Mitchell Tennis Classic is a favorite of South Dakota juniors and adults, and has drawn up to 300 participants. You can see MTC t-shirts scattered on players all over the state, and Mitchell was one of the first adult tournaments to provide unique, usable prizes. For years the tournament was played the same weekend as Arts in the Park which was an added attraction.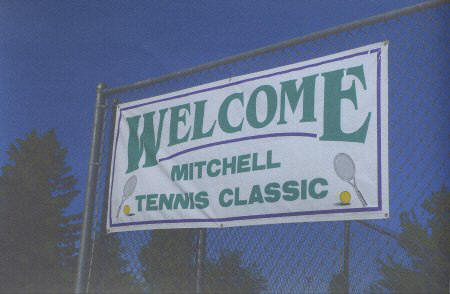 In addition to the tournament, the MTA conducts other special events. Two Saturdays in May MTA members donate their time to a 3-hour event where kids can come and learn how to play tennis. They aim to create fun while tweaking their interest in the game in hopes that they will sign up for Park and Rec lessons. From 8-Midnight Thursday nights all levels and ages are invited for open hits, games, and drills. These "Open Hit" nights average around 40 people per week, and the courts are full.
In 2006 the MTA rallied the state behind the Sam Reimnitz Doubles Tournament, a fundraiser to help out a South Dakota tennis supporter who was seriously injured in an accident. The response was so overwhelming, that the event will enjoy its third year this fall. When asked what the Mitchell Tennis Association means to him, Sam responded, "Wow…, they are an unbelievable second family to me. Their efforts on my behalf were totally unexpected, and greatly appreciated!"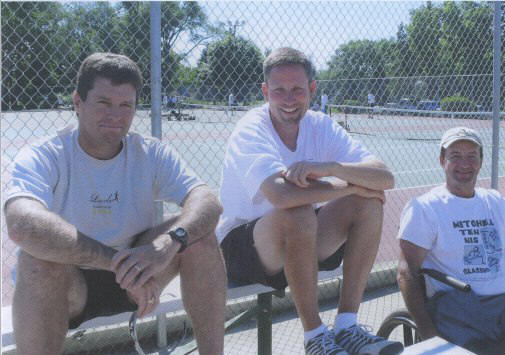 The MTA was awarded the OPPAT (One Player at a Time) grant from the USTA. This is offered to towns that show a lot of community involvement. They are now working on a grant that will allow for court improvements or lights. An additional dream is to have 4-6 courts built at another location in the city.
The Mitchell Tennis Board agrees that a good association is vital. Everyone pitches in and does their specific job. John Cersosimo says, "We're all about participation. We're not about creating the next super star…it's about people of all levels and all ages getting out on the courts and having fun! It's community tennis."
"One big happy family" is a cliché that sometimes inspires sarcasm or even envy, but when used to describe the Mitchell Tennis Association, it evokes genuine awe. To borrow a phrase from an I-90 billboard…'Ears to you', MTA!!