Nancy Driggs Hougland
By Chris Dummermuth
Barbara Driggs was looking for summer activity for her 12-year-old daughter Nancy, so she signed her up for Park and Rec tennis lessons offered at the Lincoln High School courts in Sioux Falls, just a few blocks from their home. That's all it took; the hook was set, and Nancy started playing tournaments immediately.
While developing her skills, Nancy came in contact with many local players: this writer, along with such players as Randy Stolpe, Don Barnes, Larry and Mary Vickery. Nancy is grateful for their encouragement and/or willingness to play when she first got into the game. Early in her career, Nancy represented South Dakota twice in the Seventeen Magazine Tennis Tournament of Champions in Mission Viejo, CA.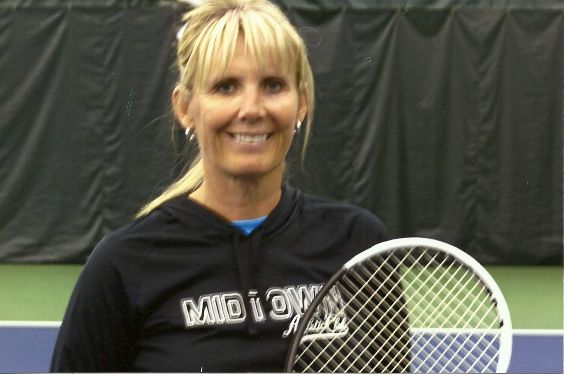 Nancy played varsity flight one singles for Chuck Wise's Lincoln Patriots, and then went on to play number one singles for the University of South Dakota ('78-'79) and South Dakota State University ('79-'82). Driggs won the state college singles title in 1978 and 1979, and captured the first women's college conference title in 1982. During these years, she taught tennis for the Sioux Falls Park and Recreation, and coached Jr. Davis Cup in Sioux Falls.
One of Nancy's signature phrases, "it's just tennis" morphed into so much more when Mike Hougland, an accomplished player as well, introduced himself to Nancy at McKennan Park. They played tennis the following day, and in Nancy's words, "That was all she wrote." The Houglands will celebrate their 30th anniversary this August.
Nancy won five doubles and three singles titles at the SD Closed (1978, 1980 and 1982). She is a three-time Fenn Cup champion at the South Dakota Open and was doubles champion six times.
Her long-time partner Chris Dummermuth remembers Nancy for something other than the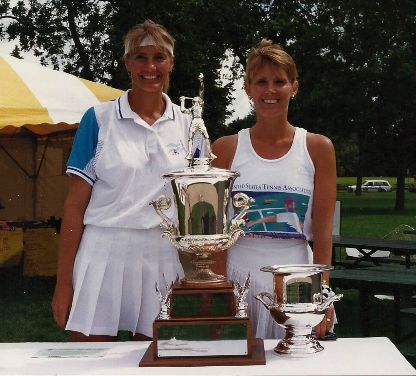 championships, "Nancy was also the BEST practice partner ever! We would play for hours at McKennan or the old USF campus courts and then have to turn around and play against each other in a tournament draw, but it worked! I know we pushed each other to be better!"
In 1983, Nancy and husband Mike teamed up to win the Family Equitable Mixed Doubles Title for the Northern states. They won the region finals in Kansas City which advanced them to a tournament played in conjunction with the US Open.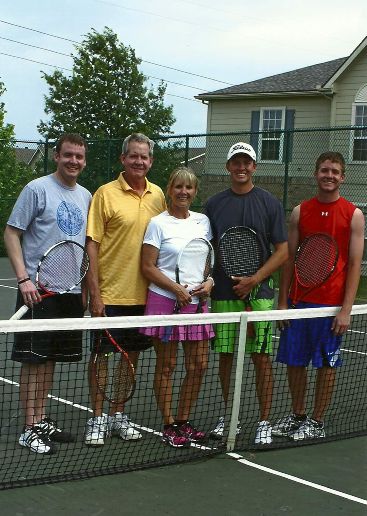 The Houglands three sons; Adam, 27, Ross (Emily) 25, and Luke, 18, were introduced to tennis very early since Nancy continued to play competitively throughout her pregnancies. Ross and Adam played high school tennis, and Ross continued to play for two years at his father's alma mater, Emporia State University, before transferring to Kansas University. Luke will be a freshman at KU this fall, so all three boys have Jay Hawk history.
Mike's job kept the family moving, and Nancy claims that tennis helped her get connected with people right away and presented job opportunities. Beyond South Dakota, Nancy has worked with tennis in Virginia, Indiana, Illinois, and Kansas.
Currently, Nancy is the Director of Leagues at Midtown Athletic Club, a club with 1,400 members in Overland Park, Kansas. She primarily works with women's teams, and recently received USTA recognition for getting new teams into tennis.
One of Nancy's Midtown colleagues, Marichi Smith, praised Nancy's ability to deal fairly with the hundreds of league participants while avoiding the usual drama. She added, "Her extensive knowledge of the game, especially ladies tennis, is demonstrated by her ability to point out simple adjustments that make our daily tennis lives easier. Nancy is very intuitive…you feel like she really knows you and your game."
Nancy loves helping others enjoy tennis, and wants them to have the same great experiences with tennis that she did. According to co-worker Smith, Nancy is succeeding, "Through tennis, Nancy has many friends and helped others find friendship and camaraderie through the game. She is still competitive, and wants to see us all improve and exceed our own expectations."
Nancy still competes, but has recently picked up, excuse the four-letter wordJ, golf.