NANCY ROST
By Terry Nielsen
With the surge in girls sports in South Dakota since the early 1970's, Nancy Rost goes down as the top tennis player this state has ever produced, according to one of her past coaches, Don Barnes. And South Dakota has had a nice run of very accomplished players.
In recognition of her record five state high school singles titles for Sioux Falls O'Gorman, and accomplishments as a top player at the University of Minnesota, Rost is being inducted into the 2008 South Dakota Tennis Hall of Fame.
Her competitive career started with a round robin tournament as a ten year old, and ended with her 5th SD Adult Open singles championship, winning the Fenn Cup at McKennan Park in 1991 at age 28. In between those two events, the records and statistics are staggering:
*At the end of her junior career, she had won over 60 tournaments, including all the major events in the Northwestern Tennis Association. Between 1974 and 1984, she had only four or five losses in her respective age divisions.
*A 1981 O'Gorman graduate, she started her title run while an 8th grader at St Mary's (avenging a semifinal loss her 7th grade year to champion Jeanne Craney of Sioux Falls Washington High). When she was done at OG, her team had won all the team titles as she took #1 singles, and teamed with Michelle Volin twice and Susie Walsh once for doubles titles.
*Recruited to Minnesota by Coach Ellie Peden, she played #1 her first year, going 19-12 in singles for the Gophers. She took a break from tennis her second year and studied at Augustana College, then jumped back to the Gophers under Coach Jack Roach. She earned all Big Ten in 1985 and 1986, going 22-16 at #1 singles and 25-12 at #1 doubles with Claudia Brisk, and earning team MVP honors while serving as captain.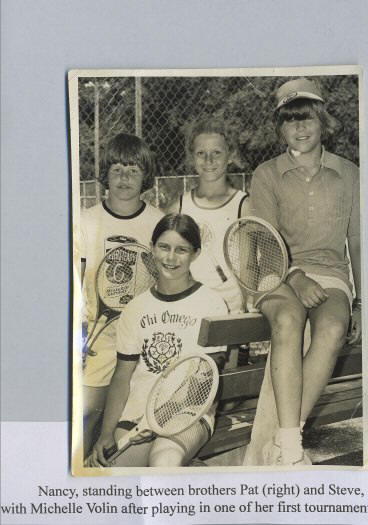 Barnes, her tennis coach for the Knights for her middle three titles, said "her competitiveness on the court was actually one of her top skills. The other was Nancy's tremendous hand/eye coordination. She rarely mishit a ball, it was usually a clean hit."
"And, of all the star players around, Nancy was most into the TEAM aspect," said Barnes.
Nancy comes from a storied tennis family and Judy and Dr. Mike Rost focused on the game for the entire family while raising Mike Jr., Steve, Pat, Nancy, Alex and Matt near McKennan Park. Mike had won a state doubles title with John Simko while at Washington High and Judy was a key volunteer in the early 1980's movement of the Sioux Falls Tennis Association's effort to partner with the city to rebuild the McKennan Park tennis courts.
Nancy was born in 1963 and her family came back to SD from San Diego in 1970. "My brothers and sister "lived" at Mckennan Park," said Nancy. "We'd play with other tennis families' kids until the lights went out, also playing ping pong and mini-tennis. We knew when Mom had dinner ready as she'd honk a Turkish Taxi cab horn that could be heard three block from the park."
Nancy recalls her first real instruction coming from the Sioux Falls program called Youth for Tennis. "They made it so fun with court competition and especially for a girl it was great playing against the boys. And the best competition my first five years of tennis was brother Steve." Brother Pat (a two time state champ himself,) was also a big supporter of Nancy as they often traveled to national tournaments together.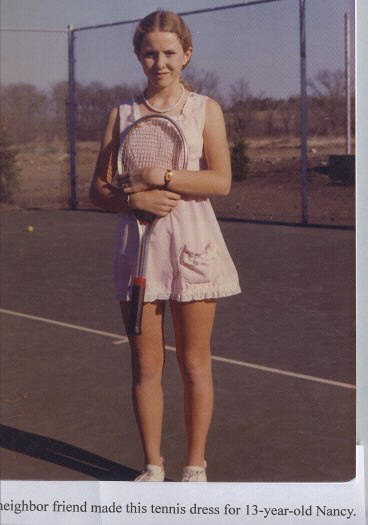 "During the winter Dave Weber gave us lessons at Westward Ho Country Club and I remember him being a very nice, kind person and a mellow kind of coach. When Woodlake opened in 1975, they started a great tennis program around Ron Selkirk, who really made practice fun. Ron would have Steve and I play two out of three sets every week. Then Randy Stolpe came along to lend a hand to the junior program and he spent hours helping me on strategy and getting to the net."
"Doug Smith and John Cox from Aberdeen were also great influences on junior tennis, not only for players in Aberdeen, but they were supportive to all players from SD. I recall one tourney in Rochester as I played in the finals, I looked down the row of courts and every final had a player from Sioux Falls. The greatest thing for me about South Dakota tennis in the 70's was that everyone supported each other. There was never a kid without a ride to a tournament, never a kid without someone watching them and supporting them."
By age 13 in 1976, Nancy had won seven SD Open titles and she took sectional singles titles in '74, '75, '76, '78, '79 and '81. A highlights as a junior came when the Rost family was recognized in 1977 as NWTA tennis family of the year. She recalls playing Tracy Austin at age 13, in the second round of the Easter Bowl in New York City (Tracy won the US Open in 1977, at age 16.) "I had learned a new spin serve from pro Paul Cohen in Los Angeles and aced Tracy a couple times. We went to deuce four times in each set, but she still 'double bageled' me, O and O."
Nancy also had time to improve her game with stints in Florida at Harry Hopman's and Nick Bolletteri's Tennis Academies.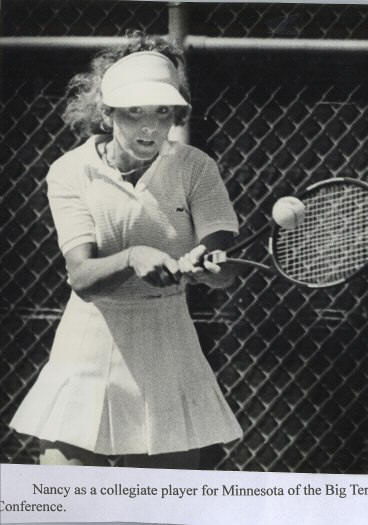 Voted SD Prep Athlete of the Year in 1979, a year later Nancy was selected to play at the National Sports Festival in Syracuse, NY, placing 4th in singles. In 1981, she was named Carnation Breakfast All-American by the National High School Coaches Association, and earned the full scholarship to Minnesota….truly a dream come true for Nancy.
In her teen years, Seventeen Magazine sponsored an annual girls tournament in Mission Viejo, CA, and players earned their trip by winning the SD Closed, so Nancy went often. She also played in most age group USTA national tournaments, earning a ranking of #88 nationally her last year of the 18's. ( Andrea Leand was #1, Zina Garrison was #2, Kathy Renaldi # 11, Lori McNeil #19 and Anne Lemieux of Edina, a soon to be Gopher, was #124 out of 145 ranked girls.)
Nancy said her parents didn't force her to play tennis, just encouraged her, but said, 'no practice, no tournaments.' " It was my choice how far I wanted to go with tennis. The amount of commitment and support my parents provided was amazing. They were the reason I played day after day for all those years. They provided guidance to continue and I never felt pressure. They helped me realize that there are so many benefits to being a competitive athlete and how successful you are is not tied up into whether or not you become a professional player."
Nancy finished her pre-med studies at Minnesota after a four week stint playing tournaments on the European Women's professional tour. She started medical school in 1991, graduated from New Mexico, Albuquerque in 1995 and finished a pediatrics residency at Mayo Clinic in Rochester MN in 1998. Today she has a General Pediatric practice in San Diego. She still plays tennis, but not competitively, and enjoys sprint triathlons to keep active.