Joe and Minnie Paluch Family
The SD Tennis Achievement Award was started in 1997 to recognize distinguished contributions to tennis by families and others. This year the honor goes to a family that has impacted Black Hills area tennis and other parts of the country and will for many years to come.
The Joe and Minnie Paluch family of Rapid City has been involved in tennis for over 40 years, and the offspring will carry on that tradition. Seven children, all names beginning with the letter "D," have impacted tennis. In order by age with Daryl the oldest, then comes Dolly, Dixie, Donna, Duke, Darcy, and Dayna.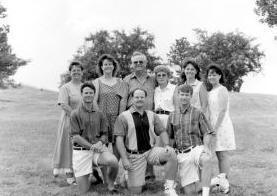 Joe, who died in 2002, was a hard working barber for 33 years while Minnie was a hospital dietary aide for 20 years. As proud parents, they usually found time to watch many tennis matches. Daryl said the only day they could not wear tennis clothes was Sunday, when the family took up their own seating aisle in church. Together, they learned about faith, family and values. Few families can tout seven kids, six with college degrees and the seventh with barber college certification. Especially from parents who grew up working the prairie of North Dakota and didnít finish high school. Hard work as school age kids was the dominant theme for Joe and Minnie (now age 67).
Their children all started tennis around age 10 or so, going through the city recreation program. South Jr. High was near the Paluch home so walking and playing tennis for hours was a constant event. A large family usually meant a hitting partner was nearby. All played prep tennis for Rapid City Central. Shelves Joe built in their home with over 500 trophies is proof of their many city and regional tennis ventures.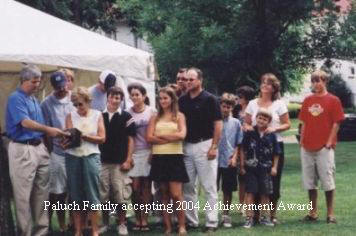 Daryl got the gang going, starting with a trip to a discount store and buying his first racquet for under $2. Hoping to make his high school team someday, he checked out library books on tennis and began by hitting against the house and a nearby school back board. Soon, other family members joined him.
Daryl, who lives in Rapid City with wife Carolyn and children Whitney and Billy, was state champion at #2 his senior year, then really improved in college. He went to the nationals as conference and district champion for SD Tech, then transferred to New Mexico in Albuquerque on a tennis scholarship. He worked in accounting and finance, his degreed field for four years. Then he became a tennis pro, working at RC Arrowhead Country Club for 18 years, promoting community tennis along the way. A dream came true recently as Daryl, with help from his mother and family, built a four court indoor tennis facility in Rapid City, the Indoor Tennis Center of the Black Hills (go to internet site, www.thetenniscenter.com ).
Dolly played at New Mexico State in Las Cruces on a tennis scholarship, graduating with a medical technology degree. She and husband Kelly Perryman and daughters Kelly Jo and Katie live in Henderson, NV.
Dixie went to barber college so she could work with father Joe. She has coached Rapid City Central boys and girls tennis teams for the past five years. She and her husband Dan Lecy and sons Doug, Dustin, and Derrick were recognized as the 2004 Family of the Year by the Northern Section of the USTA.
Donna taught city recreation tennis out of high school while playing for Black Hills State, graduating in elementary and special education. She taught at North Jr. High in Rapid and coached tennis two years and at RC Stevens for a year with sister Dayna. Now, Donna lives in Albuquerque, NM with husband Scott Souhrada and children Conor and Carly.
Duke was state high school #1 singles champion for RC Central as a junior, also excelling in basketball. At age 15, Duke represented the Northern Section as a top junior playing in regional and national tournaments. Twice while playing for Gustavus Adolphus he earned All-American honors, and graduated with a business degree. Duke then worked as tennis pro at Boulder Country Club in Colorado before becoming director of the Millenium Harvest House in Boulder. He lives in Superior, CO with wife Marty and sons Matthew and Thomas.
Darcy played prep tennis but went to a junior college on a baseball scholarship. He transferred to Black Hills State, graduating with a degree in business administration. His leadership sparked the start of the Spearfish, SD Tennis Association. Now Darcy and wife Kristi live in Rapid City with children Corey and Morgan.
Dayna played tennis on the menís team at Dickinson State, then transferred to New Mexico State to play on the womenís team. A social work graduate, Dayna lives in Rockville, MD with husband Ed Miller and sons Austin and Cody.
Daryl said, "Many years have passed since we all started tennis and we all still love the game. With Minnieís 15 grandchildren, itís now their turn to make the headlines and carry on the family tennis tradition. Tennis has been more than a game to us, itís made a difference in our lives and the roads weíve traveled. We know Dad looks down, watches our tennis and smiles. Heís very proud of what his children and grandchildren are doing today."