Pat Moran
By Brad Green
Tennis legend Arthur Ashe once said, "You are never really playing an opponent. You are playing yourself, your own highest standards, and when you reach your limits, that is real joy.
Pat Moran, of Sioux Falls, would probably agree with this quote from the 1968 US Open and 1975 Wimbledon champion.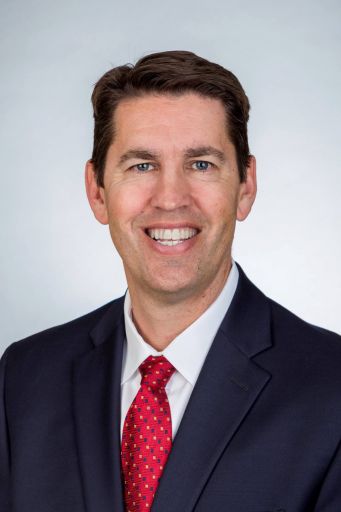 Moran, who was born in Baker, Mont., grew up in Rapid City and first encountered sports when started playing baseball at a young age. He was a member of the Harney Little League and was joined in the sport by brothers Dan, Mike and Chris. Pat and Chris also played for the Darth Vader's soccer team as youngsters growing up in South Dakota's second-largest city.
In 1979, Pat's dad Dennis accepted a job as a Vice Principal at O'Gorman High School so the Moran family packed their bags and headed east on Interstate 90 to Sioux Falls.
According to Pat, baseball was still the family favorite so the Moran boys continued their association with in Bantam and Teener leagues in Sioux Falls. He became a pitcher and had success at the position.
"I was a part of an All-Star team that traveled to Cheyenne, Wyo.," Pat said. "I pitched in a regional tournament there."
The family lived near Lincoln High School so the Patriots' tennis courts quickly became a new haunt. Tennis soon interwove itself as a key fabric in the Moran family's lives. Pat, Mike and Chris played in tournaments every summer and Dennis would travel with them. These tournaments were located in cities throughout the USTA's Northern Section in and around Minnesota, North Dakota and South Dakota. According to Pat, the boys' mom, Mary Kay, packed the food, did the laundry and always cheered them on no matter whether they won or lost. Pat also spent a lot of time at McKennan Park in Sioux Falls, specifically their tennis courts.
An early hero of Pat's was Jim Sorrell, who played for O'Gorman from 1980-1983.
"I was intrigued and amazed watching (Sorrell) play," Pat said. "He was making a name for himself and I have fond memories of him."
At the age of 12, Pat made a decision to concentrate solely on his tennis career and gave up baseball. He first played for O'Gorman as a seventh-grader and went 12-0 for the Knights as he played flight six singles.
A year later, as an eighth-grader, Pat moved up to flight three singles and also played flight two doubles with Mike. Pat won his first state championship when he captured the flight three singles title. As a freshman, Pat moved up again, this time, to flight two singles. He would make the state finals of the flight but lost to Brookings' Jimmy Kayongo. Pat and teammate Jeff VanHove were runners-up in flight two doubles.
In the spring of 1987, Pat climbed to the top of the O'Gorman tennis team as he would play flight one singles and flight one doubles for the Knights that season. In the state tournament, Pat won his early matches before defeating good friend Nick Hellwig from Vermillion in the semifinals. The win advanced him to the state championship match where he would meet the three-time defending champion Ripper Hatch from Brookings. In a classic match that is still talked about over 36 years later, Pat upset Hatch and claimed his second state championship.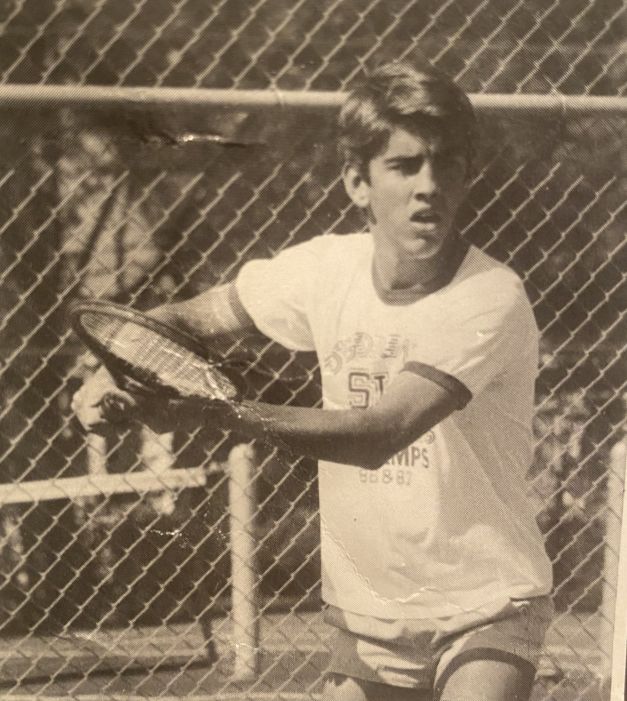 "Ripper was such a legend so it was intimidating to be playing Flight 1 that year when he was a senior," Pat recalled. "I had watched him play for so many years before that and his speed and athleticism were simply on another level. The year I played him in the finals was the only time I ever played him, even though we were supposed to have played an earlier season dual but for a reason I can't recall Ripper could not play. I really went into that match thinking the classic thought that I have nothing to lose and I remember not being particularly nervous during the warm-ups. The first few games were tight, and I recall thinking, wait a minute, you could win this first set. Sure enough, I did. I felt like Ripper was getting frustrated and either thought it was going to be easier, or wasn't planning on a battle, or wasn't used to a pretty big serve and volleyer attacker, but then boom, first set. I was feeling a bit stunned and kept thinking, patience, play the same game and don't freak out. Slowly, grinding away, letting him make more mistakes, 2nd set, match, The emotion hit me after shaking hands and walking off Woodlake's #2 court, to the point I went and hid from everyone on the other side of the complex for a few minutes to gather myself. I think Coach Talcott eventually found me and asked where the heck I've been. That match and the Hellwig semifinal match were probably the 2 best matches of my life."
Moran joined Sorrell and Pat Rost as first flight singles state champions for O'Gorman. Pat was named Outstanding South Dakota Tennis Player and named a Prince Academic All-American. He and his brother Chris also advanced to the quarterfinals of flight one doubles that year.
The following spring, in 1988, Moran would find himself in the championship match again but this time against a familiar opponent. Pat would battle Hellwig in a re-match of their classic semifinal meeting from the year before. Hellwig defeated Moran to claim the state championship. Pat and the Knights would bring home the state team title, however, as it would be O'Gorman's first state championship in the sport since 1983.
In 1989, Pat closed out his tennis career with the Knights by reclaiming the flight one singles title as he defeated his childhood friend and teammate, Chris Enterman, from Rapid City Central. Pat teamed with his brother Chris to win the first flight doubles championship as they became the first brother duo to do just that. The success from the Moran brothers catapulted O'Gorman to their second straight state championship. In addition to the team success, Pat also earned his second straight Player of the Year and Prince Academic All-American. He finished his tennis career for the Knights with a remarkable 117-9 record in singles action.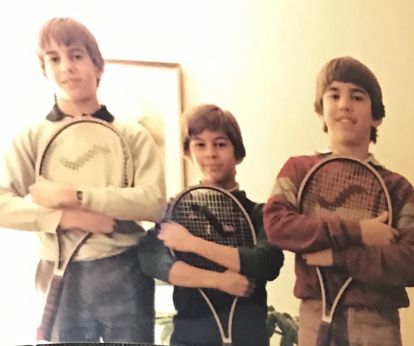 While Pat had a lot of success with tennis, he also remembers lacing up his basketball shoes to play on the hardwood for the Knights basketball team during his high school years.
Looking back on his success as a junior player, Pat said he enjoyed this time as well. He would reach as high ranking as number 5 in age 16's in Northern Section singles and number 2 in age 16's doubles. Chris was more often than not his doubles partner during these times and Pat also recalls playing with Helwig and JB Simko as well. When he was 16, Pat played in the South Dakota Adult Closed Open where he beat Daryl Paluch in the finals.
Also, that summer, Pat played in a regional tour of sorts and fondly remembers visiting Kansas City, Mo., Cape Girardeau, Mo., St. Louis, Mo., Belleville, Ill., Muncie, Ind., and Kalamazoo, Mich. Kalamazoo was the site of the USTA national tournament where Pat watched Pete Sampras, Jim Courier, Michael Chang and MaliVai Washington all play the game they loved as much as he did.
With his induction to the hall of fame this year, Pat joins Sorrell (Class of 2017) and one of his earliest coaches, Marty Johnson (Class of 1998). Moran spoke about on what it means to be a part of the ranks especially alongside those two gentlemen.
"To be nominated and selected to the Hall of Fame is truly humbling," Pat said. "To be mentioned along with a player I watched and looked up to like Jim Sorrell and with my coach and friend Marty Johnson is an honor that is difficult to put into words. I have them to thank as well, along with so many others that motivated or impacted me in some way."
Pat also had associations with fellow Hall of Famers, Dick Hahn (Class of 2012), Karen Hegge (Class of 2010) and Jim Van Gerpen (Class of 1997).
After his graduation from O'Gorman in 1989, Pat headed east to The University of Notre Dame on a Navy ROTC scholarship. He studied chemistry and even walked onto the Irish's tennis team. Being a part of the Irish athletic family was a special experience for him and training with an eventual Heisman Trophy winner was one such highlight.
"To get a chance to play for and then win the one available spot on the Notre Dame tennis team was simply amazing," Pat said. "Some of the top players on that roster were competing against people like the Pete Sampras' of the world just a few years prior. To be able to experience that put a pretty cool bow on my tennis career and to be able to work out in the varsity athletic complex with football players like Rocket Ismail wasn't too bad either."
Pat earned a Bachelor of Science Degree in Chemistry as he graduated from Notre Dame in 1993.
Today, Pat works in the water treatment industry. He and his wife, Laurie, who is a fellow O'Gorman graduate, have four children. Taylor, and her husband, Joe Carlson, Carly, Jake and Nick. All four kids followed their dad into the O'Gorman tennis program where they played for recently retired coaches Don (Class of 2001) and Kate Barnes. Jake even joined his dad in the ranks of a state champion for the Knights as he claimed two flight four singles titles. Pat said he enjoyed watching his kids participate in tennis much like he had done so in his younger days.
On behalf of the South Dakota Tennis Hall of Fame selection committee, we proudly welcome Pat Moran into our ranks as a member of the Class of 2023. Congratulations to Pat!