Phyllis Hunter
By Bud Jones
Phyllis Hunter of Watertown is one of the best kept secrets in South Dakota tennis, and one of the more unusual stories from the Northwestern Tennis Section. Her story leads to her induction into the 2009 South Dakota Tennis Hall of Fame.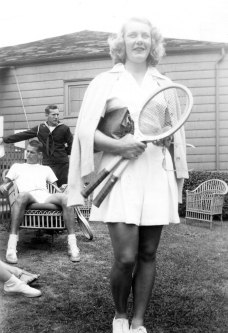 In 1940 at the age of 16, Phyllis, a high school junior, burst on the tennis scene winning tournaments in the adult and junior divisions. She upset the favorite of the Northwest Lawn tennis tourney, defeating favored Muriel Magnuson of Minneapolis. She also won the North Central title, the Northern title and Junior Northwest tournament. She competed in the National girls and Women's meet and did very well, reaching the semi-finals of the Public Park tournament and also advancing to the semi-finals in the Northern Grass meet.
She captured the Missouri Slope Open Tennis championship in Mandan, North Dakota and also the Red River Valley and Northwest Clay tournament championship, along with the Northwest Open Clay courts Women's Singles at Minneapolis. In fact the only tournament in South Dakota that she lost that year was to Billy Niland of California in the semi-finals of the Dakota Open in Sioux Falls.
Although these feats are remarkable in themselves, Phyllis' story is the stuff of legends. She started developing a love of tennis, but there were few who she could play tennis against at the time. Women's sports were not part of high school athletics, and there were no tennis coaches in Watertown. So she started reading about tennis.
She took her book learned skills and started hitting tennis balls against the side of her parents home, for hours. According to her younger sister Dorothy, she also spent hours hitting against the small family grocery store. She also had a punching bag in the basement of the house where she spent hours building her arm strength.
At 17, Phyllis again ran through area tournaments collecting titles. And in two weeks time she defeated Minneapolis' favorite female, Magnuson, once 6-4, 6-2, and the second time in three sets. These wins and titles in the Northern Section caught the attention of the Minneapolis and St. Paul media, who were enthralled with the fact that Phyllis had been able to read about tennis shots and then turn that written word into action on the court.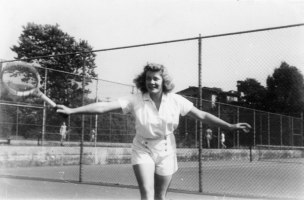 In 1942 she was hailed by Minneapolis sports writers as the favorite of the Aquatennial Open in Minneapolis. That summer she headed for Sacramento, California to play for Sacramento Junior College, where she immediately began winning more titles. After one year, she moved to Berkley to continue college and tennis. In California she found the coaching she needed to supplement her book learning and tennis strategy and execution.
After college it only seemed natural that she would turn her interest to professional tennis, however, she told family members that the professional circuit was not the kind of life style she wanted to pursue. She married a medical school student who apparently didn't appreciate that she could beat him at tennis, so her tennis playing ended and she began raising a family. She and husband Paul Selchau had three children and lived in Minneapolis and finally in Chico, California. She died in 1990 at age 66 from breast cancer.
Phyllis' younger sister, Dorothy Schurrer of Watertown, SD remains the family's unofficial "historian" and has many fond memories of her sister's tennis exploits. Parents Robert and Dorothy Hunter raised the family of five children from the fruits of running Hunter's Grocery. "We could have been one of maybe 30 or so neighborhood grocery stores in those days in Watertown," said Dorothy.
First born to the Hunter family was Glen "Tiny" Hunter, their only son, and then daughters Phyllis, Grace, Dorothy and Roberta (Bobbi).
Phyllis is also survived by three children, all in California, and seven grandchildren…Her children are sons Timothy Selchau and Victor Selchau and daughter Julie Graber.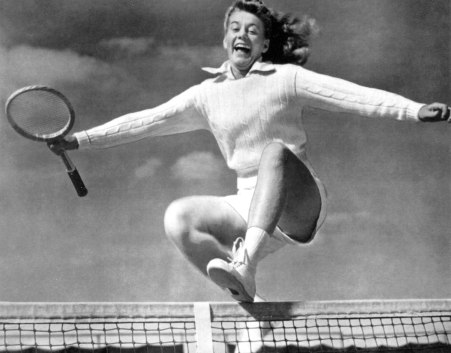 Phyllis's career highlight, besides all the trophies and acclamation from sports fans in Watertown, the Northern Section and California, has to be a picture (left) taken of her jumping over the net with a tennis racquet in one hand and a huge smile. The picture appeared in Minneapolis papers and was featured on the cover of the 1941 Minneapolis, MN Park Department annual review book.