Randy Stolpe Bio
Rapid City native Randy Stolpe is being inducted into the 2005 South Dakota Tennis Hall of Fame for his excellence as a player in the 1970's and 80's and his more than 25 years promoting tennis as a teaching professional in Oregon and Wisconsin.
Randy, a 1969 graduate of Rapid City Central, (Billy Clayton of Sioux Falls beat him for the state title his senior year) is an example of a well-rounded athlete who quickly took to tennis after excelling as a baseball and basketball player in high school.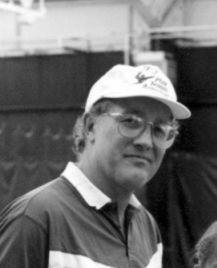 Darrell Mueller, a doubles partner of Randy's as a junior player, remembers Randy as a power player. "He had an awesome backhand smash on lobs he'd just wail on. He'd bring the mindset into the match that we were better than our opponent, even if we weren't, and he wasn't going to be intimidated."
Darrell said like most kids in the 60's, they had little extra money, and remembers hitchhiking with Randy to many junior tournaments. (Their best ride was getting picked up on I-90 out of Rapid City by Ron Wood, who happened to be headed to the same tournament.)
"I remember the excitement after Randy graduated. he got an MGB convertible that we drove 350 miles from Rapid to McKennan Park. As we pulled in to park near the courts, literally, a wheel fell off," said Darrell, "so you can see why I don't remember how we did in that tournament. We'd often camp out or just sleep in people's homes. We just loved tennis and had fun, that is what I remember the most."
Stolpe came to Sioux Falls College in the fall of 1969 and there won three conference and three NAIA district championships. Before leaving South Dakota to continue his professional teaching career in the early 1977, Randy had lots of success as a player.
He won the singles championship of the Black Hills Open 1975-77. His 7-6, 6-4 win over Bernie McGuire (later the best man at Randy's wedding) of Ellsworth Air Base earned him one of his first checks as a pro, $150, as the Black Hills Open was just becoming a money tournament.
Randy's all round game was also well-suited for doubles. Major wins for him include: SD Closed (1978) with Ron Selkirk, Black Hills Open (1974) and SD Open (1975) with Bernie McGuire, SD Open (1977) with John Simko, SD Open (1982) with Mike Hoeger.
Big wins on the way to those titles were the McGuire-Stolpe 4-6, 6-4, 6-3 over Simko and Steve Wilkinson in '75, and Stolpe-Simko over Mike Hoeger-John Mattke 2-6, 6-3, 7-6 in '77. Also in the '77 SD Open, he beat future touring pro John Mattke 6-4, 6-4 in the semis before losing the Open title to Dave Weber 7-5, 6-2. When Randy and Mike Hoeger won the '82 SD Open, they beat University of Minnesota players Hakan Almstrom and Louis McKee 6-4, 6-7,7-5.
While leading a top junior instruction program at the West Hills Racquet Club, Portland, OR, (late '70s) Randy paired with Rob Tesar (who had roots as a youngster in Sioux Falls and Minneapolis) to earn a #1 ranking in the Pacific Northwest Section. One of their top wins was the 1980 doubles title of the Canadian Grass Court Championships, beating Phil Dent and John Alexander.
He remembers a third set tie break loss to fellow Woodlake pro Ron Selkirk in the '78 SD Closed, that had to be moved indoors from Brookings due to rain. "It proved to me I could play with top players around," said Randy, who counts a later win over mentor Dave Weber in the SD Open quarters as one of his most memorable. Randy and wife Reva (Harms of Hitchcock, SD) had their biggest on court moment by winning both the husband and wife, and open mixed doubles titles at the 1984 Wisconsin Open. "Reva had worked so hard to prepare for that, I was really proud of her," said Randy.
Longtime O'Gorman tennis coach Don Barnes calls Randy one of the top tennis promoters he's known. "While in Sioux Falls during the 70's, Randy worked at tennis shops, taught and traveled with juniors and gave countless lessons to skilled and unskilled players. He'd always hang out at McKennan courts, giving tips or just talking tennis," said Barnes.
The Stolpe's live in the Milwaukee area with sons Patrick (24) and R.A. (19), both top ranked golfers. Randy remembers his father, Arvid Stolpe, stringing lots of racquets for kids in Rapid. Mother Pat and sister Sherry (later the longtime coach at RC Central) also enjoyed Randy's many sports.
For nearly 20 years Randy's been director of tennis at the four Elite Tennis Clubs, all multipurpose facilities, around Milwaukee. He was recognized in 1999 as Wisconsin USPTA pro of the year, as well as earning a Tennis Industry Award for grass roots community tennis programming.
Randy has worked with over 100 sectionally-ranked juniors and over 40 nationally ranked players. Over the past 30 years, Randy has developed his own teaching methods to motivate junior players to reach their highest potential. All the time, said Randy, "focusing on developing a lifetime interest in the great sport of tennis."