Sally Clayton Bio
In her home hangs a beautiful colored oil painting of the McKennan Park tennis complex as it stood in the 60's – white concrete courts softened by huge arching elm trees, part-stone fencing and dotted with happy racquet-wielding children. Appropriate is it that Sally Clayton did the painting. Those courts and the Clayton clan went hand-in-hand for a 25-plus year span.
The Clayton home at 510 East 21st St. in Sioux Falls was for years the unofficial tournament headquarters – housing many out-of-town juniors. Whether it was hauling whoever needed rides to area tournaments, serving up bologna sandwiches or organizing picnics – that was Sally's life for many years. It even took priority over her own solid game.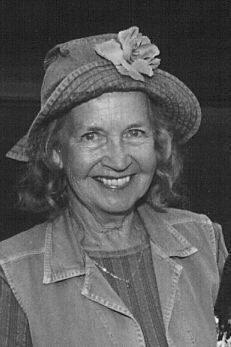 In 1966, the Northwestern Tennis Association named the Bill and Sally Clayton family "Tennis Family of the Year." Recognized were Bill and Sally's consistent tournament play and leadership in tennis organizations – as well as many state championships and high area rankings in the section by children Billy, Tom, Bob, Stuart and Kristin.
Sally first tasted success on the tennis court in 1942, winning the Fargo, N.D. Central High School Girls Tennis Tournament. While at UCLA as a student, she met Bill, just back from WWII. They married in 1946 and she taught school while Bill finished his education.
After moving to Sioux Falls in 1951 – she honed her game with partner Libby Rogers in the early morning hours at McKennan with husband Bill as instructor. Trophies for doubles started coming in 1961 and still in 1984 and 1989 she was part of winning USTA league teams that qualified for regional play. Other memories include being president of Westward Ho Racquet Club, teaching tennis with Carol Stewart at the YMCA and alternating with Lefty Johnson on drives with young tennis players around the region.
"My love for this sport has not diminished since my Aunt Ruth Sullivan gave me two hand-me-down racquets when I was ten years old," said Sally. And all Sioux Falls area tennis enthusiasts are thankful.