Wes and Betty Sandvig Family
Nearly 40 years ago, Carol Sandvig biked to Augustana's two asphalt courts to hit against the wire fences and learn the game from instructors Don Grebin and John Simko. Carol and father, Wes, were first in the family to take to the courts, but a move in 1961 to the McKennan Park neighborhood sent a passion for tennis raging through the Sandvig household.
Wes and Betty Sandvig and their four children – son Craig and daughters Carol, Chris, and Kari impacted tennis not only in South Dakota – but nationwide as players and coaches. The family is being recognized with the 1998 SD Tennis Achievement Award.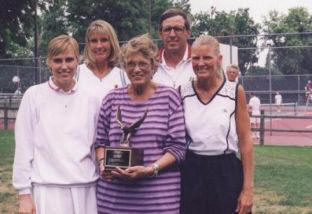 After a days work at Midwest Beach in downtown Sioux Falls, Wes would change into his white tennis shorts, pull on his Stan Smith tennis shoes and walk the three blocks to affectionately do battle with the likes of Durand Young or Lloyd "Carlie" Carlson. His kids saw the fun and exercise he so much enjoyed and the rest is history! When he'd return to work the next day, he knew where his family was – at McKennan learning the game of tennis from park instructors like Tom Line, Don Grebin, Rich Stevenson, Pam Gefke, Fred Fischer and V. Smith.
The tournaments and hundreds of trophies followed for the four children – throughout the Northwestern Tennis Association and later into Big Ten Tennis Championships.
"None of it would have been possible," said Chris, "without the tireless support and good nature of our parents. Mom transported us to tournaments, sewed dresses, ironed shorts and pleats, housed more kids than the house could handle and cooked for any player that was hungry. Mom says she had all the fun while Dad had to work."
Wes and Betty said that having such a strong interest in a healthy, exhausting sport like tennis encouraged a "wholesome" lifestyle – with priceless friendships through their greater South Dakota tennis "family."
Craig Sandvig
Craig, one of the nation's leading instructors of junior players out of Sunset Tennis Center, St. Louis, Mo., was a dominant high school player in Sioux Falls. The lanky lefty was at Washington High in 1965 when he teamed with Randy Peterson to win the state doubles – then when Lincoln High opened, became a Patriot – winning singles titles in 1966 and '67 (doubles with Greg Olson).
Recruited to the University of Iowa, he played for Dr. Don Klotz and the late John Winnie and is listed in the 'Iowa Bests' under career singles and doubles winning percentage. He finished second at flight #3 singles in 1969 and '71 at the Big Ten Championships and won the Iowa Big Ten Medal as the school's top scholar athlete for all sports.
After graduating Phi Beta Kappa, Craig attended graduate school at Washington University, St. Louis. As a player, he was ranked in the top five in the St. Louis District for several years, and he played two summers in Europe. During his 20 years as a USPTA Pro 1, Craig has coached ten state champions and many nationally ranked and collegiate players. He has been a St. Louis Area Training Center Administrator/Coach (USTA) and leader in junior tennis development.
Carol Sandvig
Carol was a top-ranked junior player growing up in Sioux Falls, capping her career with a state singles title for Washington High in 1970 (beating sister Chris). Then she played at Arizona State where her team won three national team championships, (1971, '72, '74).
Tennis and year-round sun was a good mix for Carol and she's been in the Phoenix area ever since with her tennis career. She is a USPTA teaching professional and USTA National and Sectional umpire. Her coaching career includes leading the women's team at Phoenix College ('75-'80), assistant at Arizona State and head coach for Tennis Europe for seven years and Grand Canyon University '89 to '96.
She really flourished at Grand Canyon – leading the team to second place finishes nationally in 1992 and 1995. She was named Coach of the Year by NAIA District VII and the California Collegiate Association (twice). In 1996, Carol was named the ITA/Wilson NCAA Division II National Coach of the Year and Southwest Section USPTA College Coach of the Year.
She continues to teach tennis and work as an umpire and resides in Chandler, AZ with husband Ken Cornell.
Chris Sandvig Dummermuth
Chris has spent virtually her entire life playing, teaching and coaching tennis – beyond what any woman has ever done in South Dakota history.
Highly ranked in the NWTA as a junior, Chris finished her prep career with two state tennis singles titles at Washington High (1971, '72). While at Augustana, she played on the men's tennis team, competing in the North Central Conference. Her "favorite" partner in doubles was future husband, Dave Dummermuth.
She's taught in the Sioux Falls School District since 1975 and since 1987 has coached the Lincoln High boy's team to five state team tennis titles. Five times the SD High School Activities Association has named her Tennis Coach of the Year. Her repeated state titles in singles and doubles as a player led to her being selected 1985 Female Independent Athlete of the Year by the SD Sportswriters Association. Augustana College honored her in 1991 as Alumni Coach of the Year.
Kari Sandvig Richardson
Kari learned tennis as a junior at McKennan Courts. But when Wes and Betty moved to the Twin Cities area of Minnesota, Kari played for Mounds View High School – qualifying for the state tournament during her junior and senior years.
She then competed four years at the University of Minnesota as a key part of three regional team championships. She won flight #6 singles in the Big Ten in 1978, was flight #3 doubles champion the same year and won flight #2 doubles in 1980. As a senior she played #1 in both singles and doubles and won the alumni Award as outstanding tennis player for the Golden Gophers.
Kari and husband Paul (teaching pro in St. Louis and Aberdeen, SD native) live in St. Louis, MO, with their three daughters: Elyse, Laura and Emily. She works as a speech and language pathologist in an elementary school.