James "Skip" Spensley
By Terry Nielsen
Can it get any better than this for one of Colorado's most successful attorneys?
Return in July of 2008 to McKennan Park to be inducted into the South Dakota Tennis Hall of Fame. After all, James "Skip" Spensley lived virtually his entire Sioux Falls life, ending at Washington High school in 1964, on the grounds of McKennan Park.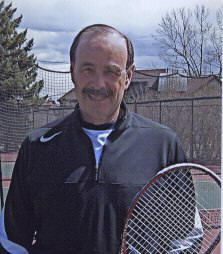 It was there that his mother Carol started raising Skip while they first lived in the old Red Cross building that sat on the northeast corner of the Park. In a way, Skip had his own "private" playground, the hallowed concrete courts at McKennan, from the early 1950's through 1964 while he and his mother lived in four different residences. None were more than a block from the tennis courts.
For becoming one of the top ranked players in the Northwestern Tennis Association, winning the South Dakota high school championship then playing in the Big Eight Conference for Iowa State, Skip's name is being added to the Hall of Fame marker alongside McKennan's tennis complex.
Skip was born Feb. 23, 1946 in a Chicago Army hospital to Carol Spensley. His mother was a physical therapist at the Veteran's Hospital as they moved to Sioux Falls when Skip was learning to walk.
Soon, the hangout of his choice was the tennis courts. At age nine he'd won his first city tennis tournament, as Don Grebin and John Simko were running the city tennis program.
The Northwestern Section chose Skip to represent SD twice in the Jaycee National tournaments and his play by the time he was 18 earned him the Jr Davis Cup Award. By then he'd won the SD Open boys singles title, junior men's title, SD boys singles and doubles, Rochester, MN's major junior tourney as well as Sioux Falls' city junior men's championship.
A starter for WHS basketball, Skip headed to Iowa State with a combination tennis/basketball scholarship and played tennis for the Cyclones as one of their top players. "We were always sixth or seventh in the Big Eight," said Skip, "but it was a great time."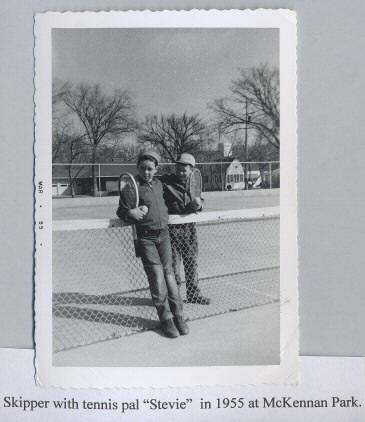 While at Washington, though SD didn't have a prep tennis "season" like they do now, each school held an elimination event to chose entrants for their respective teams to go to a state event. So teammates could meet for the state championship, which happened regularly at tennis rich Washington High. As a junior at the state meet, Skip lost to teammate and friend Jeff Clark, a senior, in the singles final. It was a three hour marathon with scores of 18-16, 4-6, 6-4 (the era before tie breaks). Mitchell's coach John Aldrich, who supervised the play, said "I've never seen such great tennis around here."
Then as a senior, it was Skip's turn. He captured the state prep title for singles and teamed with longtime partner Rich Stevenson for the doubles title.
Skip's McKennan memories center around such other juniors then as Tom and Dave Weber, Clark and Stevenson, Jack Hanson, Jamie Volin, Kenny Miller and Pam Gefke. "Bill and Sally Clayton and their clan became a second family to me," said Skip, "and helped improve my game. Their home was the best resting place after some great tennis."
Skip said being honored in 2008 with Nancy Rost stirs special memories for him. "Mom and I lived for several years in the old Red Cross House by the courts and Nancy's father's family lived in one of the adjacent apartments in the same house. Mike Rost and brother Pat Rost were my surrogate big brothers. "
After graduating from Iowa State in 1968 with a BS in engineering, he moved on to law school at George Washington, finishing in 1972. From 1975-1980 he worked for the US House of Representatives as professional staff to different subcommittees, using his combo engineering/law expertise.
"I played a few Congressional tournaments with Congressional members like Tim Wirth of Colorado, John Heinz of Pennsylvania and Larry Pressler of SD. I met a fellow with the Secret Service during that time who invited me to play on the White House tennis courts."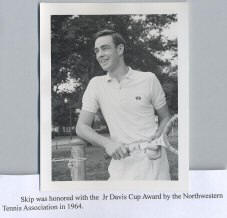 His professional career then took him to Boulder, CO in 1980 where he worked for the National Center for Atmospheric Science and the Governor's Blue Ribbon Citizen's Committee on the Rocky Flats Nuclear Weapons Facility. Later Skip was hired by Denver Mayor Federico Pena, in 1984, to head up the planning and development of the new airport for Denver, which opened in 1994. He now has a practice as an environmental attorney and consultant doing program development for various private and public clients, along with teaching some special classes at Denver Law School.
Skip has returned to the South Dakota Open in recent years and won some age divisions and still plays regular doubles. Favorite memories since Law School were his tennis years in Reston, VA starting in 1972. He won the prestigious Simon Cup for singles five of the seven years he entered the Reston Tennis Association tournament. It was then that he started partnering with Hal DeMoody, a player 15 years his senior but a top flight doubles player. Later, Hal teamed with Bobby Riggs (of Billie Jean King fame) to win three senior USTA national doubles events. Skip treasures a photo of Riggs and Hal DeMoody that reads: "Skip, to a dear friend who helped me do it!"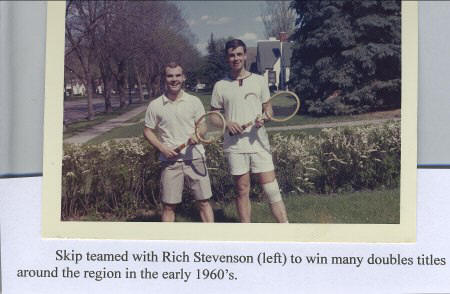 Skip married Judy Gilbert in 1969 and they had son Justin (1972) and twin daughters Jennifer and Jessica (1975). He married Carol Rand in 1990. They live in Denver where all but one of their children live with seven grandchildren.