Terry Jordre
By Terry Nielsen
Since 1991, 54 people have been inducted into the SD Tennis Hall of Fame. Terry Jordre of Aberdeen, a 2014 inductee, will go down as one of the top all around athletes ever to be inducted.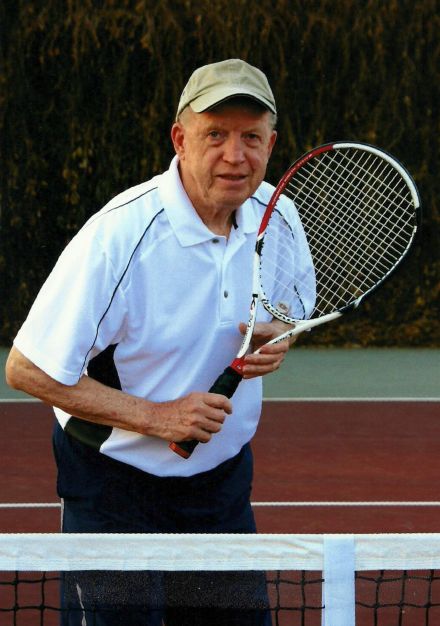 His personal sports story started in Corona, a tiny town just northwest of Milbank in Roberts County (current population around 100). Growing up in the 1950's where his parents James and Frances were teachers, Terry and brothers Paul and Galen spent many hours playing basketball, baseball and swimming. Terry's break into tennis came when his family spent four summers in Brookings while his father worked on his masters degree at South Dakota State.
As a 12 year old in 1951, Terry said that was the perfect age for him to start the game, which he did with vigor under the tutelage of Lefty Johnson, legendary tennis player and coach. "Living a half block from the college courts," said Terry," we had access any time of the day, and we took tennis lessons with the MacDougal brothers, Bob Fishback, Gene Luke and others." Starting in tournaments with such strong area players as John Simko of Sioux Falls, Larry Dodge of North Dakota and Steve Wilkinson from Sioux City was a real motivator for Terry.
Meanwhile back at Corona, Terry led his high school team to the championship game of the state B basketball tournament, losing the title to Bob Swanhorst and Cresbard in 1957. He earned all-state honors in basketball, which led him to Northern State where he was a key player in both basketball and tennis for four years, while earning his education degree.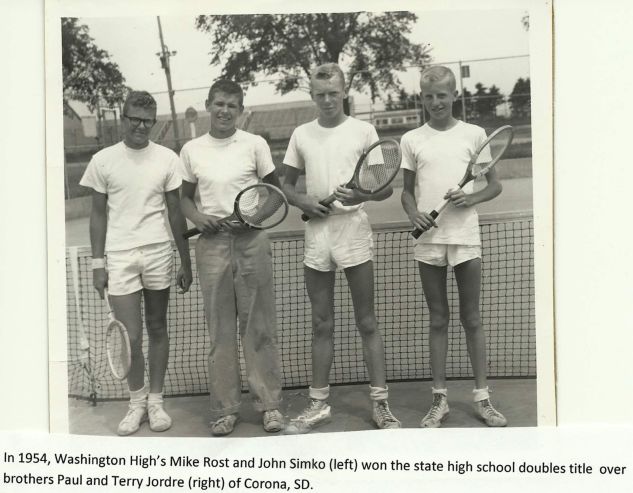 In tennis, Jordre was the top player and SDIC singles champion his first three years, denied a fourth only because the event was rained out his senior year. In 1960, the Wolves, led by Jordre and Gerald Sayler, were the NAIA district champs and made it to the national tourney in Kansas City, MO.
Meanwhile, all the scorers on the Coach Bob Wachs' led basketball team fell in love with Terry (a pass first player) his freshman year. Terry was first off the bench on the 1957-58 team that played in the NAIA national tournament. By the second game of his sophomore season, he'd cracked the starting lineup, where he stayed the rest of his career, playing with the likes of Mel Klein, Sayler, Harry Marske and Marv Rasmussen. The Wolves were 80-18 Terry's four years and won the conference title each year.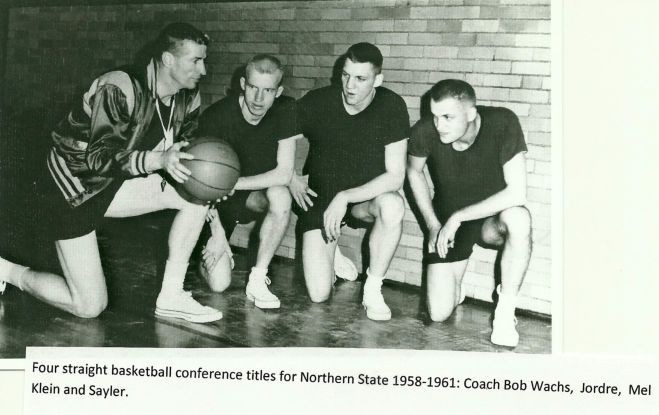 Aberdeen native and SD Tennis Hall of Famer Doug Smith recalls watching the packed Aberdeen Arena during the Jordre Northern Days. "I always regarded Terry as the 'quiet assassin'," said Smith, "unassuming to the point of being almost inconspicuous, Terry was the solid glue that held the team together, an outstanding defender who almost never was guilty of any turnovers."
Smith says he thinks of Jordre on the tennis court, also as a "quiet assassin." "Terry was very clever, always thinking, a master of placement, never hitting the ball with much pace, but instead, using his own pace against you. The kind of player who never beat himself. To win against Terry, you literally had to beat him."
A favorite high school memory for Terry and brother Paul was to represent Corona High School in the SD state tennis tournament. Representing the entire student body of 45 students, they lost the state doubles title in 1954 to Simko and Mike Rost of Sioux Falls Washington (then around 2,000 students).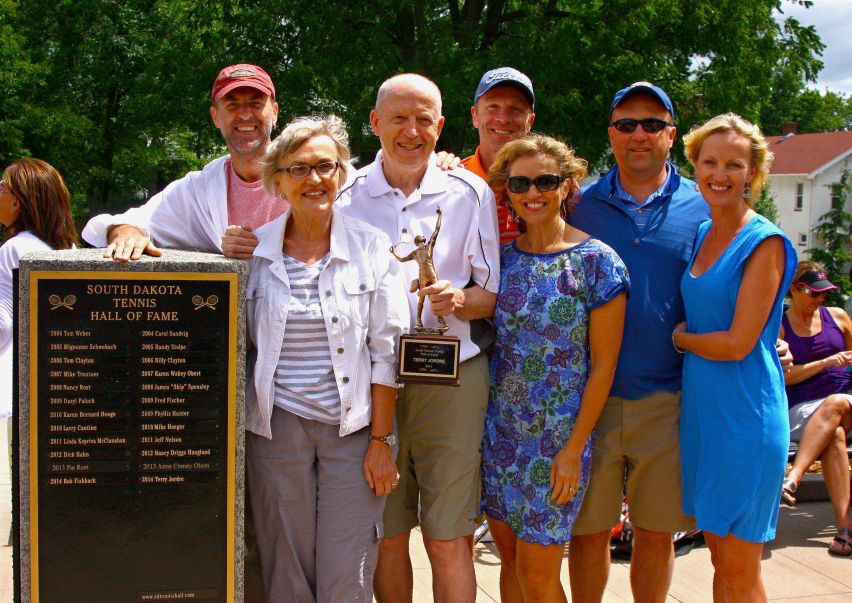 Jordre's driving force for excellence involved family, teaching, coaching, school administration and later, a photo business. He with wife Geraldine (twin sister of Terry's long time double tennis partner Sayler), raised five children ( daughters Camille and Allison and sons Shannon, Collin and Kyle) around different sites in SD. Terry's teaching, coaching and administrative work took him from Roscoe in 1961, to Aberdeen Central, to Highmore, to Bowdle (where he had his first job as administrator, along with teacher and coach,) to Platte for nine years as high school principal. That was a total of 25 years service to SD schools. He coached Bowdle to its first ever trip to the state B basketball tournament in 1973.
He turned a page in 1988 and spent the next 25 years with his business: Jordre Photo Lab. Now retired in Aberdeen at age 74, he and Geraldine enjoy birding, tennis, travel and yes, photography, especially with ten grandchildren and one great grandchild.
Longtime tournament players across the state from 1960's on, have most vivid memories of seeing that doubles team of Jordre/Sayler. It grew from a college friendship in 1957, and ended only with Gerald's death in 2005. They were one of the top all time doubles team in SD history for 47 years!!!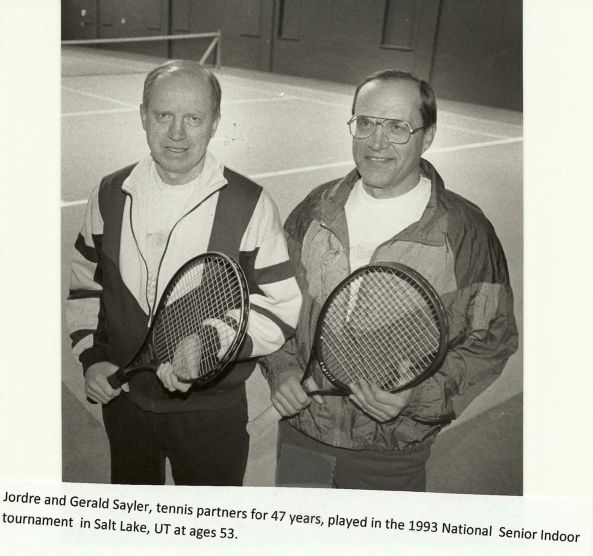 Virtually no tournaments came to the Jordre family, where they were living, so lots of travel was involved. In the late 1970's Terry started playing with sons Shannon, Collin and Kyle. They all "learned together", stroking, volleying, serving and with added encouragement from uncle Gerald (racquets, too), the boys became excellent players. The entire family provided each other with great competition as they crossed the state at such events as the Black Hills Open, SD Closed, SD Open and the C. C. Lee tourney in Aberdeen.
Kyle teamed with doubles partners such as Nick Helwig of Vermillion and JB Simko of Sioux Falls. Later, he paired with Butch Ross to win a doubles conference title while at Augustana in Sioux Falls. Collin won many events with Steve Cordts of Pierre, and Terry and Shannon qualified and played in several Equitable family tourneys in Chicago and Kansas City.
No stranger to athletic honors, Terry was inducted into the Northern State Athletic Hall of Fame in 1990 and the SD Amateur Basketball Hall in 1989. He continues to play basketball and tennis in state senior games events, with seven appearances in basketball senior games (he's looking forward to the 2015 senior games in Minneapolis). So with good fortune, look for Terry and such players as Howie Bich, Gene Applewick, Terry Pexa, Hank Bourker, Nick O'Hara, Roger Nelson and Pat Cane to give it a go!
For tennis players, key wins or losses usually stand out. For Terry it was a key loss to Simko in the 15 and under division at the SD Open, 3-6, 8-6, 6-3, the same year (1954) he and brother Paul lost the prep doubles finals to Simko/Rost. That same year in a dual meet with Sioux City, Terry defeated Steve Wilkinson 4-6, 6-1, 6-4, then teamed with Paul to beat Wilkinson/Haupt 8-6, 6-3.
Over the years playing the major SD tourneys, Terry earned trophies for first or second place in some 60 to 75 events. Typical was 1966-1967, when he beat pal Sayler twice, 6-3, 3-6, 6-3, then the next year 6-3, 14-12 (before tie breakers came on the scene).
Terry still tries to play a couple times a week, including wintertime at DownTown Tennis Inc, a single court facility on Main Street in Aberdeen. Once owned by Sayler, a sign labels the downtown facility as the "Sayler Dome." Terry says, "I'll play as long as the local guys think I am competitive enough!"
And as this writer has learned over the years when he was fortunate enough to play Terry, "being competitive enough will be NO problem for Terry Jordre."