Theresa (Bell) Ward
by Doug Smith
Coming on the heels of the tennis legacy built by the Hub City boys during The Aberdeen Era in the late 1960's and early 1970's, as a young neophyte Theresa Bell had a lot to live up to if she were to make her own mark in Aberdeen tennis.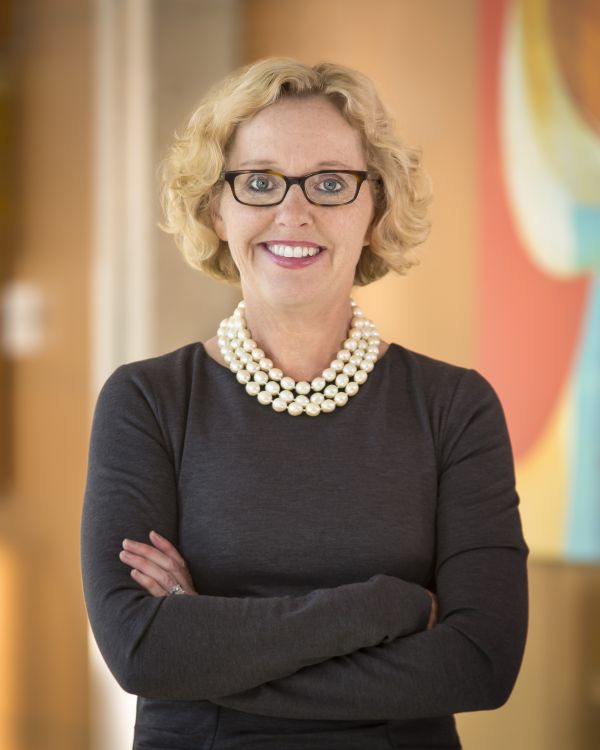 She took her first lessons at age 11 through the Aberdeen Racquet Club's alliance with the local YMCA and made her competitive debut in the C.C. Lee Open that summer, winning her first-ever tournament match. One year later she made her first road trip to play in the South Dakota Closed in Brookings. Still only 12, she had to play in the 14's because of her October birth date (erstwhile known as a "bad birthday.") Though still a relative novice, she won her first match there, which spurred her enthusiasm and determination to excel at the game. A fast study as well as a preternaturally fierce competitor, her rise after that was positively meteoric: just one year later she entered the Northern Section's singles rankings for the very first time—at the lofty position of #4. Theresa Bell was "on the map!"
Having already spent two years in the 14's, Theresa was preparing to "age up" to the 16's when the USTA suddenly changed the birthday cut-off from January 1 to October 1. As a surprised beneficiary of the new rule, Theresa enjoyed the rare opportunity to play in the same age division for three straight years. Taking full advantage of this windfall, she finished her third season in the 14's ranked #2 in the Section. Upon moving up to the 16's the next year, she finished with rankings of #3 in singles and #1 in doubles (with St. Paul's Lisa Tesar). Two years later, in the 18's, Theresa earned another #1 ranking in doubles (this time with former Sioux Falls standout Kari Sandvig).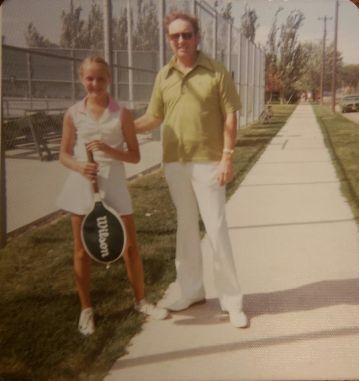 Photo: Theresa as a teenager with father Gordon Bell, Aberdeen, SD
During her high school career at Aberdeen Roncalli, Theresa anchored the #1 position for all four years and capped her senior season with a State Championship in doubles (with her sister, Maria) plus a runner-up finish in singles to the legendary Nancy Rost. Boosted by that experience, Theresa was eager to play Division I college tennis, so she headed to Tucson where she played for the University of Arizona in 1978. After her freshman year, however, she elected to return closer to her roots and played her remaining three years at Minnesota for the Gophers, reuniting with former doubles partner Kari Sandvig and finishing her senior season as a team Captain.
Photo: Theresa (4th from right) with her U of Minnesota team, early 1980s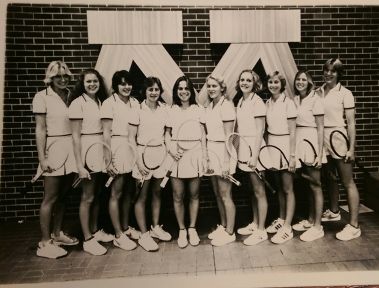 Demonstrating that one success often leads to another, with a liberal arts degree in hand Theresa parlayed her successful tennis career into a successful career in business as she signed on with Merrill Lynch and in three decades of service has been one of their star performers: for the last ten years she has been recognized as one of Barron's Top 10 Financial Advisors in Minnesota and one of the Top 100 Women in the U.S.
During her early years after college, Theresa continued to play tennis in USTA leagues on 5.0-level teams which advanced to Nationals. Eventually, however, the combination of working full-time while also raising two youngsters took its toll on her competitive opportunities, limiting her tennis activity to family recreational affairs. While Theresa's parents also played tennis, they and her brothers were first and foremost accomplished golfers, so it was almost inevitable that she too might one day catch the golf "bug"—and indeed she finally did. Improving quickly, she soon added golf to her sporting repertoire.
True to her athletic nature, she improved rapidly, is currently a 5-handicapper, and has twice won the Women's Championship at the Interlachen Country Club. This past winter she even scored her second hole-in-one. A tireless worker, she served as a volunteer for the Solheim Cup (the women's equivalent of the Ryder Cup) when it was held at Interlachen in 2002, and she co-chaired the corporate hospitality for the Women's U.S. Open held there in 2008.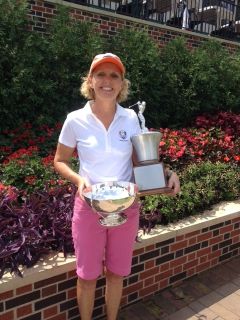 Photo: Theresa, Interlachen Country Club Golf Champion
Theresa and husband Lyle Ward, an attorney who has recently retired, live in Edina, Minnesota. Their two children, both Phi Beta Kappas, are now grown and out of college. Son Jack, also a 5-handicap golfer, graduated from the University of Wisconsin and recently joined Theresa's wealth management practice. Daughter Caroline, a recent graduate of Claremont McKenna College in California, followed in her mother's footsteps by choosing tennis as her sport, and her credentials impress: finalist in the Minnesota state high school championship four years ago, #1 singles player for Claremont McKenna and recipient of the school's Scholar-Athlete award, and four-time doubles finalist at the Division III National Championships. Armed with composite degrees in economics, accounting and literature, upon graduating Caroline promptly secured a position in Minneapolis as a credit analyst in the investment department of Traveler's Insurance. Clearly, in athletics, academics and career paths the Bell/Ward apples didn't fall very far from the family tree.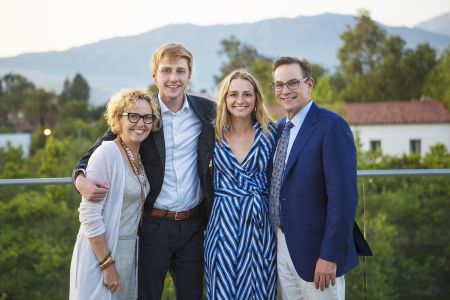 Photo: Theresa, Jack, Caroline, and Lyle Ward
Theresa says, "Tennis has taught me patience, humility, and the art of losing gracefully as well as how to compete and be comfortable in my male-dominated business career." She remains busy with her work in wealth management, and she is definitely not one to "let any grass grow under her feet." Even though her tennis outings are less frequent nowadays, she long ago made her mark in Aberdeen tennis, and until the Hub City produces anyone better Theresa Bell Ward will continue to reign, historically, as Aberdeen's best female tennis player ever!